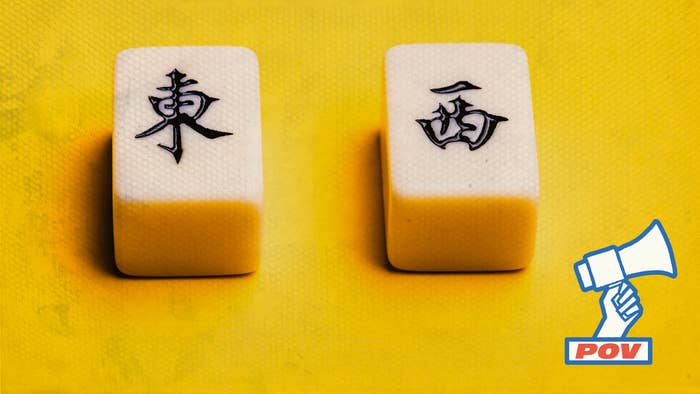 POV is a recurring first-person column wherein Complex employees have the opportunity to express their unique perspectives on an array of topics. In this column, Shirley Lim (Executive Assistant/Social Media Coordinator with First We Feast) addresses the controversy surrounding The Mahjong Line.
The Mahjong Line, a Dallas-based company owned by three white women, began its "About Us'' page with a story of one of the founders: Kate went on a quest to find her "perfect" mahjong set, only to discover that "the artwork of the traditional tiles, while beautiful, was all the same—and did not reflect the fun that was had when playing with her friends." She decided that mahjong, a traditional tile-based game that originated in China sometime in the mid- or late-1800s, "needed a respectful refresh." (The company has since changed its "About Us" page.) 
The company's website opens to a shop selling expensive American-style sets, and its FAQ section once featured an explainer titled "American vs. Chinese Mahjong." In this section, the founders discussed a time "when an American businessman returned from working overseas in China" and "brought the game with him" back to America. How very American of him. 
Fast-forward to 2021, and this obscure American brand has suddenly come under storm. In January, Twitter was aflame with criticism once people caught wind of the whitewashed version of mahjong, followed by multiple articles using "The Mahjong Line" and "cultural appropriation" in the same headline. As an Asian American, it's always unsettling to see someone exploit our origins as a means of entertainment, co-opting our culture while minimizing our profile amid a surge in hate crimes against us. Naomi Osaka said it best: "The fact that this topic is not very widely covered makes me concerned." So, in light of the controversy and the lack of coverage anti-Asian racism receives, here's why appropriating mahjong hurts the Asian and Asian American community.
Tommy Lam is an Asian American designer at Complex Networks who grew up on Long Island, New York, as the son of Chinese immigrants. His hard-working parents came to America with the intent to make money to feed and care for their family. After working many years in a Chinese restaurant as a line cook, Tommy's father saved up enough money to open his own Chinese restaurant. Today, Tommy's father has a staff of Chinese immigrants who also came to America with the same intent to make money to feed and care for their families. They all grew up playing mahjong in China. In America, they set up game nights at Tommy's house late at night, after a hard day of work at the restaurant. When Tommy was 8 years old, nothing fascinated him more than how good these guys were at mahjong. They never let him or his sister play or watch, but Tommy would peek through the bars of his staircase and observe from afar. 
"The smell of cigarettes and loud shuffling of tiles would wake my sister and I up in the middle of the night," Tommy says. "I was too young to participate, and not old enough to stay up and watch. So, like any other kid, I'd peek from the stairs, watching and plotting on ways to get to the mahjong table."
For immigrants like Tommy's family, mahjong represents something much deeper than just a passing fad or a trendy hobby.
Mahjong is deeply rooted in the culture of many immigrant Chinese families who work tirelessly to make it in America. Tommy's recollection of mahjong connects back to a vivid memory of diligent Chinese immigrants who would use the game as an outlet to decompress from a long day at work. These aren't your typical 9-to-5 jobs—this is the type of work that well-off Americans refuse to do and leave for whomever is willing to pick up the scraps. There are no such things as sick days or weekends off; the reality is that many immigrants have to work twice as hard (if not harder) to have a comfortable living situation in America. Mahjong was a game for Tommy's father and his workers to play during the few hours they had to themselves.



If you are to take inspiration from, redesign, or profit from something that is not part of your cultural identity, you need to ask yourself: Why am I doing it? Who is it benefiting? Who will it hurt?
Consider the story of Uncle King, one of the last original mahjong hand-carvers in Hong Kong. His family has been crafting mahjong sets for three generations. In an  interview with Humans of Hong Kong, Uncle King said that if it were up to him, he wouldn't have chosen this trade. However, he said that he feels a moral obligation to continue his craftsmanship because his father and grandfather did the same. Hand-carving mahjong tiles is considered a dying art in China, which Uncle King is trying to revive by holding tile-making workshops. Uncle King doesn't do this because it's simply entertaining or a hobby to him. He does it to preserve the generational skill that has been passed down to him. This lifetime dedication exemplifies the historical significance of the artisanship of mahjong tiles, which goes far beyond a passing Etsy whim.
Why are Tommy along with the Asian and Asian American community hurt by The Mahjong Line's appropriation? Well, to start off, let's try to answer a series of questions. What empowered these three women to believe that because an American man brought the game from China, it can be identified as an American game? Why should the access point of this traditional Chinese game be through three white women from Dallas? Why did they make it so painfully apparent that there was no research done into the rich history of mahjong and the birthplace of the game? By neglecting to pay homage to the game's roots, The Mahjong Line belittled the origins of a beloved Chinese game.
The anger and frustration of Asian Americans stem not only from The Mahjong Line's ignorance of Chinese culture, but also for its callous attempt to profit from their idea of what mahjong "should" look like by charging hundreds of dollars for a single set ($425, to be exact). Wouldn't it make sense for The Mahjong Line, with its "revamped" design that is made for "the stylish masses," to aim to appeal to someone like Tommy, a designer by trade? And if its goal isn't to appeal to someone like Tommy, who is its product for—white women in Dallas? 
If you did a side-by-side comparison of an original mahjong set and a set from The Mahjong Line, you would immediately realize there is zero connection. Changing the original flower tile to a tile with an image of a bag of flour is not creative; it's completely changing the indigenous aspects of the game. And, unfortunately, Kate, if you change the original characteristics of a traditional Chinese game, you will get called out for it. You just don't have that kind of sauce.
Although many Asians and Asian Americans are upset, it's important to give non-Asians the benefit of the doubt to grow and learn so that history does not repeat itself. There is always room for reflection and improvement. I asked my friend Jen Louie, a first-generation Chinese American, what her thoughts were on this controversy. She said, "If you are to take inspiration from, redesign, or profit from something that is not part of your cultural identity, you need to ask yourself: Why am I doing it? Who is it benefiting? Who will it hurt?" She also added that "it should be done with respect to the culture by properly acknowledging and sharing its history, origin, and meaning." To the women of The Mahjong Line and anyone else who has found themselves to be the culprit of cultural appropriation: Understand the difference between appropriation and appreciation.
A couple of great examples of brands doing justice to majhong are the sets created by Louis Vuitton and Maison Martin Margiela. These brands not only paid homage to the cultural roots of the game, but also tied the game to something culturally relevant and meaningful. For example, Louis Vuitton made a limited-edition mahjong set released only in Taiwan, and made of jade, which is regarded as one the most precious stones in China. Maison Martin Margiela created its version of mahjong to celebrate the third anniversary of its Hong Kong location without changing any of the cultural characteristics of the game. (Of course, these super-luxury sets are more for wealthy collectors than the everyday mahjong player.)
Whether the founders of The Mahjong Line are aware of it or not, they attempted to steal mahjong and claim it to be American. Their attempt at an apology via social media was a classic "sorry not sorry" escape plan. Until they truly understand how to take social responsibility, they will never understand the anger and hurt they've caused to the Asian and Asian American community. And if there is no desire to intently reconcile with these communities, well, then, they should leave mahjong the fuck alone.