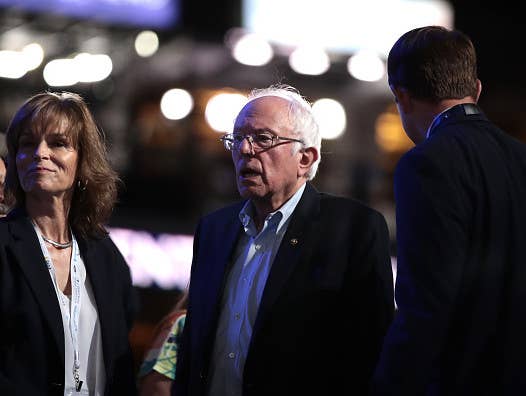 The road to victory for Hillary Clinton keeps getting more and more complicated. Just after a Pew Research Center poll showed Bernie Sanders' backers supporting Clinton in droves, the Wikileaks email scandal has many wondering if she can hold their votes. Sanders is scheduled to speak on Monday, the opening night of the Democratic National Convention, but many wonder: Will he be able to help unite the Democratic party?
The 20,000 leaked emails show egregious behavior from DNC staffers who could be called capricious at best and devious at worst. One staffer attacked Sanders' religious beliefs in hopes they could be used against him, DNC officials were trying to construct an "anti-Bernie narrative," and DNC Chair Debbie Wasserman Schultz herself sent an email from her personal account, saying, "He isn't going to be president." To be sure, it's a shameful scandal; in its wake,Wasserman Schultz announced plans to step down after the Convention and thousands of demonstrators have descended upon Philadelphia to protest what they (rightly) feel was an unfair primary season. 
"Hell no, DNC, we won't vote for Hillary," protesters yelled as they marched to the DNC on Sunday, according to The New York Times. The march was larger than any demonstration seen last week at the Republican National Convention and calls into question Clinton's ability to win over voters who feel alienated from a "rigged" two-party system.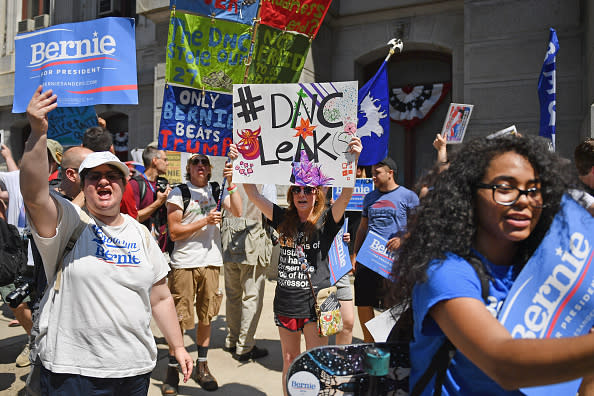 These protesters aren't just millennials, either. Florida voter Kimberly Cooper, 59, told the Times, "There are people who have been Democrats for decades and are completely angry…I am finished supporting her." Many said they'll be voting for Green Party nominee Jill Stein instead of throwing their support behind Clinton and the DNC, which they feel has betrayed them.
There is likely nothing Clinton can say that will convince these people to vote for her—all hopes lie in Sanders' hands.
But the truth is, that's a lot to ask of someone who purposefully didn't call himself a Democrat for years. Sanders chose to be unaffiliated precisely because he saw these issues and wanted sweeping party reform. The Vermont senator has already emphatically said that he plans to support Clinton and that a Trump presidency must be stopped at all costs. What else can he say?
A third party vote may feel like a protest, but Sanders can and should serve as a reminder that the reality is, we live in a two-party system.
For starters, Sanders must bring the big picture back into focus. His progressive and historic run this election season received national attention and successfully pushed Clinton's platform further to the Left. Sanders was at one point the only presidential candidate with a platform addressing issues facing Indigenous Tribal Nations, and now the official Democratic platform has adopted these concerns. He's also a big influence on the party's decision to promise a $15 minimum wage, ensure debt-free college, and rein in Wall Street. 
A third party vote may feel like a protest, but Sanders can and should serve as a reminder that the reality is, we live in a two-party system. It's the reason Sanders chose to run as a Democrat and not as an Independent. Running as a Democrat lent his campaign legitimacy. It made him more viable as a candidate—and it made the Democratic platform better for it. 
Just last week, Sanders quoted Trump and asked, "Is this guy running for president or dictator?" Right now, all Sanders really needs to do at the Democratic National Convention is remind us what we're really fighting against: a Trump presidency.