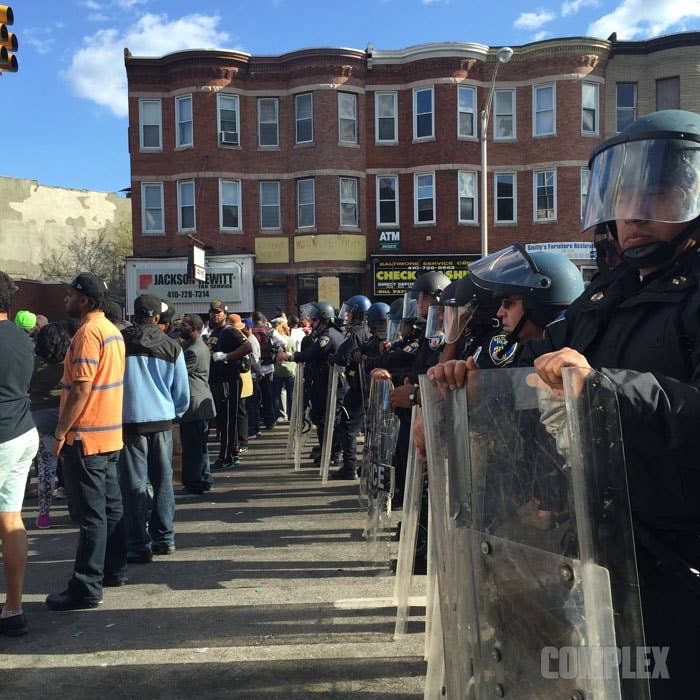 In Baltimore, at the corner of Pennsylvania Avenue and W North Avenue, there was no one to stop you from going in and out of the broken entrance to the CVS that burned the night prior during angry demonstrations over the death of Freddie Gray, who suffered fatal injuries while in police custody on April 12, 2015. Journalists, community members, and the curious stepped from the afternoon sunshine into the unlit drug store, broken glass crunching under foot on either side of the busted doors. It smelled acrid inside—burnt plastic and chemicals. The floor was sodden and each footstep brought up black liquid. Men, women, and children pushed debris into a pile near the entrance.
1.
Two men standing near scorched bags of charcoal for grilling explained why they'd come to help. "Like they're gonna clean this up," said one. "They're gonna tear it down," said the other. (A bright orange sign posted outside the CVS listed it as condemned.) "Young people," said the first man, and then he laughed.
The community was cleaning up amid clusters of conversation and the occasional heated argument about what the burnt shell of the CVS meant. One east Baltimore resident likened the actions of the previous night to a "temper tantrum" that, in daylight, needed to be cleaned up. Fifteen buildings burned last night. One hundred and forty-four cars damaged. Upwards of 200 arrests.
2.
But what networks like CNN painted as a war zone the night prior revealed itself as an epicenter of responsibility, community care, and dialogue about what comes next. College students from neighboring schools like Towson University moved among long-time residents. A band of brass instruments and drums played "This Little Light of Mine." The energy was productive and contagious, turning squabbles that could be spun by the media into symbols of "A COMMUNITY DIVIDED" into something else, something more honest.
3.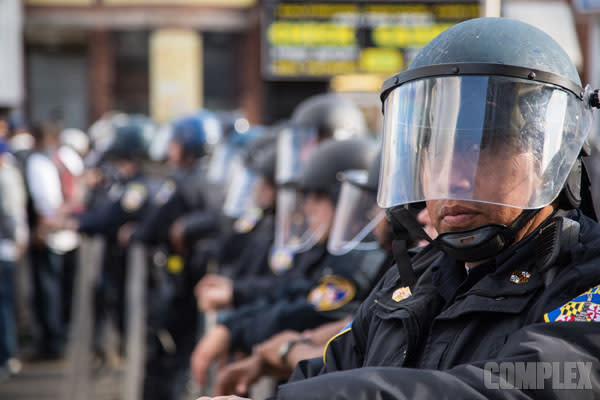 For instance: The east Baltimore man who had described Monday's violence as a temper tantrum began arguing with a woman who couldn't get to her job on W North Avenue because of the police line dividing the street that no one could cross, the line that a group of citizens had met with their own line of solidarity. She explained that her grandmother wouldn't be able to pick up her medication at CVS. "You're not gonna tell me that this ain't some bullshit," she said.
"Fuck that CVS," he said. "That's not ours."
"What did this solve?," she said. "I don't feel like it's okay that my son didn't want to go to his room last night. I don't feel like it's OK that we gotta walk outside and see this drama."
"I don't feel like it's OK that if a cop…pulls me over he can do whatever the fuck he wants."
A crowd gathered around the disagreement. A woman standing two rings away leaned into the person next to her and said, "Both of them are saying true things." She was right.