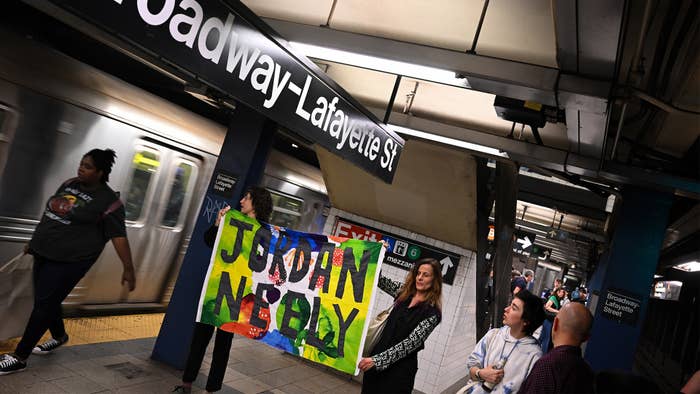 Protesters in New York City shut down subway service and clashed with NYPD officers over the death of Jordan Neely on Saturday. At least seven people were arrested.
According to The New York Post, protesters hopped onto the subway tracks at the Lexington Avenue/63 St station at around 6:15 p.m., which kept an incoming Q train from entering the station. The protesters began chanting, "No justice, no peace!" as police tried to calm the situation but the commotion caused the MTA to shut off power at the station temporarily.
Police were able to get protesters off the tracks, but the demonstration continued on the platform. The protests called for justice in the murder of Neely, who was choked to death by a former U.S. marine named Daniel Penny on Monday.
Neely's death caused a public outcry over Penny not being charged for applying the chokehold that killed the former Michael Jackson impersonator.
According to police, Neely began acting in a "hostile and erratic manner" while asking commuters for food and something to drink. Penny got into an argument with the homeless man and put him into a chokehold where he ended up dying. Penny was taken in for questioning but released without charges which angered many and caused several protests around the city.
In a statement from his attorneys, Penny expressed "condolences to those close to Mr. Neely" and that he "never intended to harm Mr. Neely and could not have foreseen his untimely death."
The district attorney's office claimed it would investigate the incident and review the medical examiner's report, which ruled Neely's death a homicide due to neck compression.