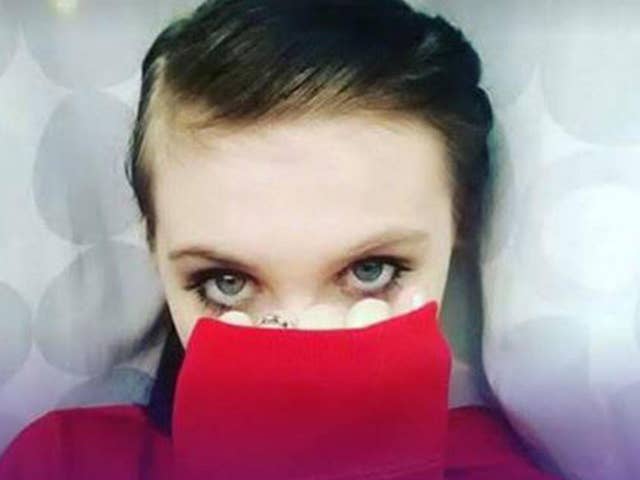 While Facebook Live is primarily seen as a tool for brands to get their content flowing as well as a tool for everyday people to give others a window into their lives, there seems to be no standards for acts of violence and, sadly, death on the social media platform. We've already seen Philando Castile die after being shot by police on Facebook Live and a BASE jumper live stream his death, and on Thursday, another tragic story came out about a 12-year-old girl who reportedly hanged herself after revealing a terrible secret while on Facebook Live.
According to the Daily Mail, 12-year-old Katelyn Nicole Davis from Cedartown, Georgia used Facebook Live on December 30, 2016 to reveal that she had been sexually abused by a relative. She then kept the camera rolling as she hanged herself in her front yard, with the video going on for another 20 minutes. A woman's voice could be heard off-screen calling Katelyn's name during the video.
The video now seems to have gone viral. It was removed from Katelyn's Facebook page, but Polk County Police Chief Kenny Dodd told Fox 5 that his department was "contacted by a police officer from California who saw it the night of the event." Since then, the department has reportedly been contacted by people from as far away as Great Britain in an effort to have the video removed from sites like Live.me and others that were duplicating the footage. It even ended up on YouTube at one point and reportedly amassed more than 40,000 views before being removed.
Through her blog, Katelyn—who reportedly used the pseudonym "Dolly" online—talked about being sexually abused on December 27. She reportedly wrote about being beaten with a studded belt and claimed that a male family member tried to rape her. The Daily Mail also reports that Katelyn wrote about how the relative told her to hang herself after she asked him to "stop being so perverted in front of my younger siblings." She had also written about suffering from depression.
Police are still investigating this situation.
If you or someone you know is in crisis and needs help, call the National Suicide Prevention Lifeline at 1-800-273-8255.