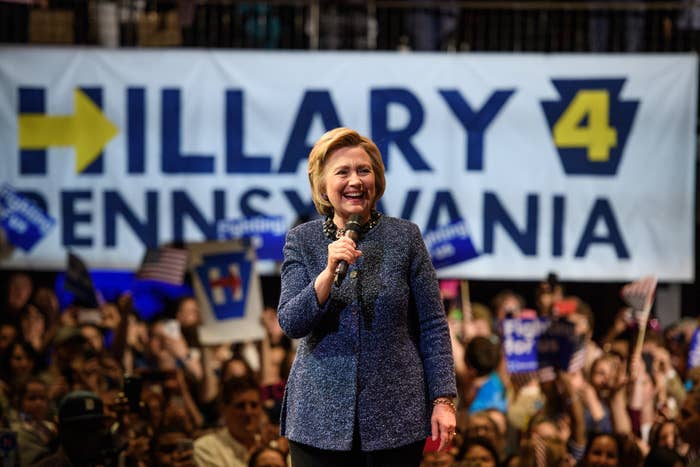 6:15 p.m. ET: Another Super Tuesday is underway. Voters are headed to the polls for primaries in Pennsylvania, Connecticut, Delaware, Maryland and Rhode Island today where Democratic candidate Hillary Clinton and Republican candidate Donald Trump are expected to win big and pick up more delegates in the process.
Democratic candidate Bernie Sanders has been ramping up his campaign efforts on the East Coast in recent weeks and intensifying his attacks on Clinton, but he is not expected to take home the majority of the votes in the five states up for grabs. The New York Times reported Sanders would "reassess" his candidacy following today's primaries, but he has stated he will not drop out before the Democratic convention in July. 
Bernie Sanders has been treated terribly by the Democrats—both with delegates & otherwise. He should show them, and run as an Independent!
Sanders has seen support in Pennsylvania from white working-class voters who are attracted to his trade policies meant to keep more companies in the U.S. Former President Bill Clinton has been campaigning for his wife in Pennsylvania as well, where he commented on the anger from voters this election cycle and praised President Barack Obama's policies.  
"The reason that there's so much anxiety, intensity, anger, blame in this election is that 80% of the American people have not gotten a pay raise since the crash eight years ago, after inflation,"  he said. 
7:15 p.m. ET: A major question tonight is whether Clinton and Trump will take their respective nominations outright. Trump has 845 delegates of the necessary 1,237 and Clinton has 1,946 pledged delegates won in primaries to Sanders's 1,192. Clinton has the backing of 518 superdelegates, who are allowed to change their vote at anytime. Sanders has 39 but has pledged to spend this summer trying to draw more superdelegates away from Clinton. It is technically possible but highly unlikely Clinton could take the nomination outright, but a major win would make it difficult for Sanders to catch up.
On the Republican side, there are 28 delegates up for grabs in Connecticut, 16 in Delaware, 38 in Maryland, and 19 in Rhode Island. Pennsylvania has a total of 71 but its unique election rules make it unclear how many of those would be rewarded to a Republican winner. Seventeen delegates are awarded to the statewide winner while the remaining 54 are unbound, meaning they are not obligated to back the winner.
8:00 p.m. ET: According to CNN, Donald Trump has already won in Pennsylvania, Maryland, and Connecticut as the polls closed at 8 p.m. At this time, Hillary Clinton has won in Maryland, but other states are still too close to call.
8:11 p.m ET: As poll results continue to come in, Senator Bernie Sanders spoke to supporters in West Virginia. He said "almost every national poll and every state poll" has him beating Trump and in many show him doing so at a larger margin than Clinton. Sanders implied that he lost the recent New York primary because it was closed, meaning Independents could not vote. 
9:00 p.m. ET: Hillary Clinton has now officially won Pennsylvania and Delaware in addition to Maryland.  Donald Trump won Pennsylvania, Maryland, Connecticut, Rhode Island, and Delaware in a clean sweep. 
9:14 p.m ET: Clinton gives a victory speech from Philadelphia, Pennsylvania. In it she focuses on pulling Bernie Sanders supporters to her side: "We will unify our party and win this election," she said. "There is much more that unites us than divides us. She repeatedly criticized Trump in her speech, bringing up his recent criticisms of her and addressing his views. 
"The other day Trump accused me of playing the 'woman card'," she said. "Well if fighting for women's health care and paid family leave and equal pay is playing the 'woman card,' then deal me in."
Meanwhile, Sanders has taken his first state of the night: Rhode Island.
10:00 p.m. ET: In long victory speech, Trump declares this his "biggest night," and called for competitors John Kasich and Ted Cruz to drop out. "I consider myself the presumptive nominee," he said. He proceeds to slam Clinton, saying, "I'll do far more for women than Hillary Clinton ever did." He brings up some of the points Sanders has made against Clinton, 
10:30 p.m. ET: Clinton has won Connecticut by a small margin. She previously own Pennsylvania, Delaware, and Maryland. Sanders won Rhode Island by a decent margin.