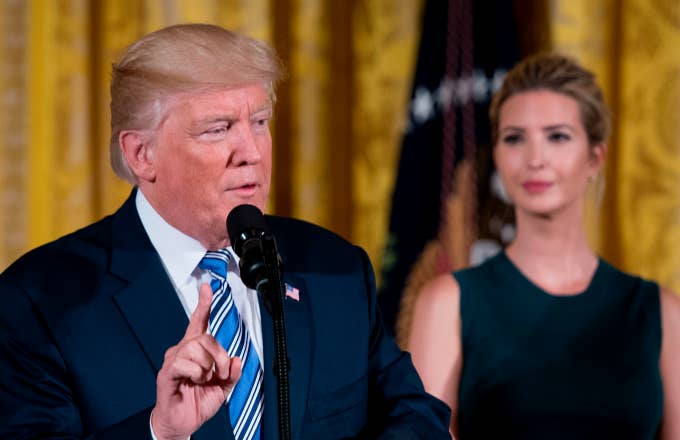 According Michael Wolff's new book, Fire and Fury: Inside the Trump White House, First Daughter (and daddy's favorite) Ivanka Trump had presidential plans of her own. The tell-all features over 200 interviews with 45 and other critical members of his administration. In the book, Wolff, a former White House adviser himself, asserts that Ivanka and Jared hatched a plan for her to become the first female POTUS.
Now, choosing between Donald and Ivanka sounds like the world's worst game of Would You Rather, but if pressed, I'd probably be #TeamIvanka. I feel a little bit better admitting that in light of the fact Fire and Fury also catalogs numerous disagreements between Steve Bannon and "Javnka." Yes, that raging lunatic, anti-Semitic, scar-faced, tub of lard actually called the couple that… according to the book, at least.
Peter Alexander, national correspondent for NBC News, tweeted this tidbit from the book: "Jared & Ivanka had made an earnest deal between themselves: if sometime in the future the time came, she'd be the one to run for president (or the first one of them to take the shot)..."
Fire and Fury is chock full of crazy tidbits and quotes. Of the 2016 meeting at Trump Tower between Donald Trump Jr. and Kremlin-linked Russian lawyer, Bannon is quoted as saying, "The three senior guys in the campaign thought it was a good idea to meet with a foreign government inside Trump Tower in the conference room on the 25th floor—with no lawyers." And as it pertains to the ongoing Russia investigation, Bannon is quoted again: "They're going to crack Don Junior like an egg on national TV." As loathsome as Bannon is, I hope he's not wrong on that one.
Anyway, Ivanka has neither confirmed nor denied these alleged presidential ambitions; although, in the past, she hasn't written a life in politics off altogether. She told Cosmopolitan in 2016, "I have learned in life to never say never! It is too limiting!"
Oh, boy.