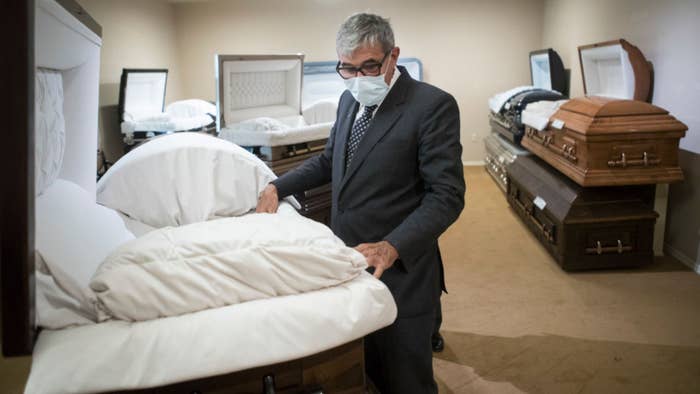 A family's grief turned into confusion after realizing something unsettling about their relative's funeral reception.
According to WLBT, the incident occurred earlier this month in Jackson, Mississippi, where loved ones gathered to mourn the loss of Mary Jean Robinson. Mary's sister, Georgia Robinson, said she and her family arrived at People's Funeral Home for the Nov. 3 wake, and immediately noticed a stranger had been placed in Mary's casket.
"Once we got in there and signed the books and everything, we were walking down to view her body, and I knew something was kind of off," Georgia told the outlet. "I could tell that it wasn't her from way back."
She said the person in the casket was wearing the clothes and jewelry they had bought for Mary's burial, but the vessel contained someone else.
"I'm looking at this body and I'm like, 'What have they done to my sister," Georgia continued. "I'm like, no ma'am, this is not my sister… This is her casket, this is the outfit that we brought her, this is the jewelry that we brought her, and I said these are her flowers, but I didn't know who that is in the casket."
Georgia said she reported the mishap to the funeral director, but he was far from apologetic, and even told the family they would have to pay for another service once the issue was fixed.
"We were telling him about the mistake, and he was very rude and very uncaring," Georgia said. "He had an attitude with my sister's, son. [He] told us that we were going to have to pay for everything all over again."
According to WLBT, the family and funeral home staff eventually came to an agreement: The business would purchase new clothes for Mary, but it wouldn't switch out the casket.
"I told him not to put anything on my sister that was on this lady," Georgia recalled. "He put the earrings on her ears anyway… It makes me feel terrible. Just to think, if we had a closed casket, we would have ended up burying someone else's loved one instead of ours."
It's unclear if the family will take any legal action over the mix-up, which the funeral home has neither confirmed nor denied. However, James Stewart, the vice president of People's Funeral Home, told WLBT that the family was happy with the services.