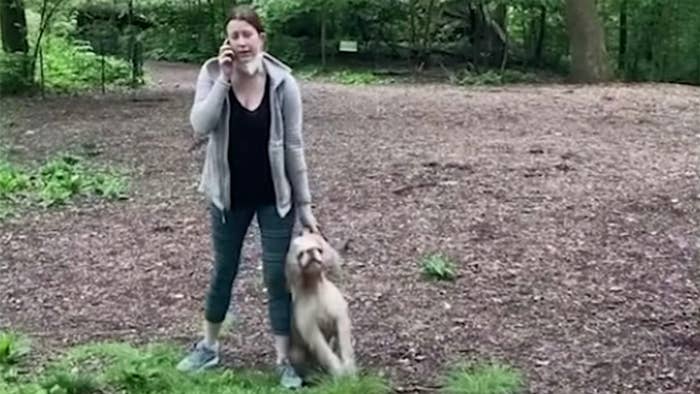 'Central Park Karen' wants the public to know what happened after her May 2020 encounter with Christian Cooper went viral.
The woman, whose real name is Amy Cooper (no relation), wrote an opinion piece for Newsweek about the confrontation, where she ran into Christian, 60, a science writer and editor. After mistakenly walking down an "unfamiliar path" at Central Park with her dog, where dogs were required to wear leashes, Cooper, who's white claimed that Christian, a Black man, yelled at her in a booming voice. "Get out of here. You shouldn't be here," she recalled him allegedly saying.
According to Cooper, Christian threatened her by saying, "If you're going to do what you want, I'm going to do what I want, but you're not going to like it," meaning that he would record her on his phone. The woman took Christian's gesture as a threat and claimed that she was "completely panicked."
"I was a female, alone in a secluded area of Central Park, with a man yelling at me and threatening me," she said. "As a victim of a sexual assault in my late teens, I was completely panicked for my safety and wellbeing."
Cooper then wrote that Christian, who was birdwatching at the time of the incident, attempted to "lure" her cocker spaniel "Then Christian, who did not own a dog, bizarrely tried to lure my dog to him with treats, immediately raising a red flag," she said.
The woman added that "instigating the incident" wasn't the first time Christian "had threatened in Central Park," pinpointing three other dog owners who were "aggressively threatened" by him. In a distressed call to a 911 dispatcher at the time, Cooper falsely reported that she was being "threatened" by Christian.
Cooper expressed that she was "in survival mode" after the video circulated on social media, being fired a day after the incident and recommended to issue a public apology from a PR company. "But it did nothing. I was forced into hiding," she continued.
Cooper went on to express that since the video's release, she's received constant death threats, has endured lengthy periods of unemployment, and didn't back from Christian despite trying to "connect directly." The woman also insisted that she's not a racist.
One month after the confrontation, Christian appeared on CBS This Morning, where he told co-host Gayle King that Cooper threw the "race grenade" on him. In the video, Cooper was heard telling the 911 dispatcher "I'm going to tell them there's an African American man threatening my life."
"She was going to tap into a deep, deep dark vein of racism, of racial bias that runs through this country … and has for centuries," Christian told King.
Although Christian recorded Cooper in Central Park, the video was uploaded to X, formerly Twitter, by his sister, Melody. "This kind of racism can kill people. It could've killed my brother," Melody said on The View about her decision to post the video.