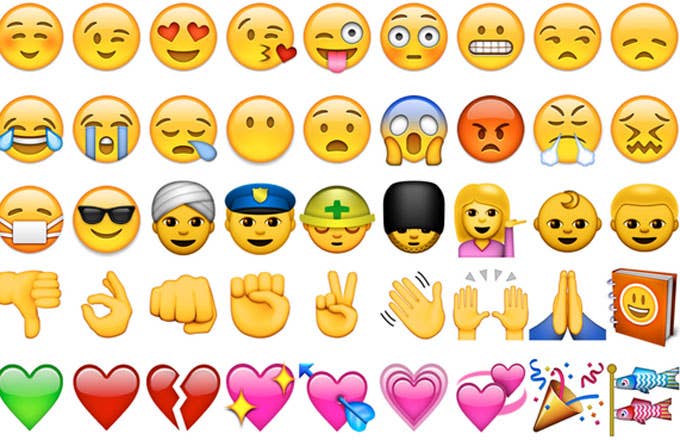 Here's a study about emojis that came not from an Ivy League institution or Elon Musk, but rather the people at the dating app Clover. And this is a study that might actually help you. 
What Clover did was analyze 90 million messages that they collected from three million of their users, and their info will help you, while also hopefully making you think twice before busting out that f**king eggplant. What they came up with was an incredibly easy to understand graph that broke down which emojis drew responses from both men and women when they were used in the opening message of a chat.
What they found was that women respond to people sticking their tongues out at them and those bulging heart eyes. What they don't respond to are flexed biceps and that bulging Grimace dick.
When it comes to men, they respond to the smirking face and the two hearts. What they don't respond to are the ring and the Vulcan salute (sorry dorky ladies).
The study was called "It's Not You, It's Your Emoji." So if you're armed with these helpful hints and you still mess it up? Then, well, it's probably just you. 

Clover also found that messages containing emojis had a five percent better chance to elicit a response from women than ones that did not, and an eight percent greater chance to draw a response from men. Additionally, only 10 percent of conversations begin with an emoji. Of course, this info will likely increase that.
Clover's CEO, Isaac Raichyk, was surprised of the low usage of emojis. "Considering 82 percent of our users are aged 18-34, we were pretty surprised to learn that only 10 percent of opening messages contained emojis," he said. "Based on our findings, we recommend singles make use of emojis to break the ice and improve their odds of success."
There you have it: empirical proof that a smirking smiley face will slightly increase your chances of getting naked with another human being. Wield this plethora of knowledge with great caution. And, as always, best of luck out there.