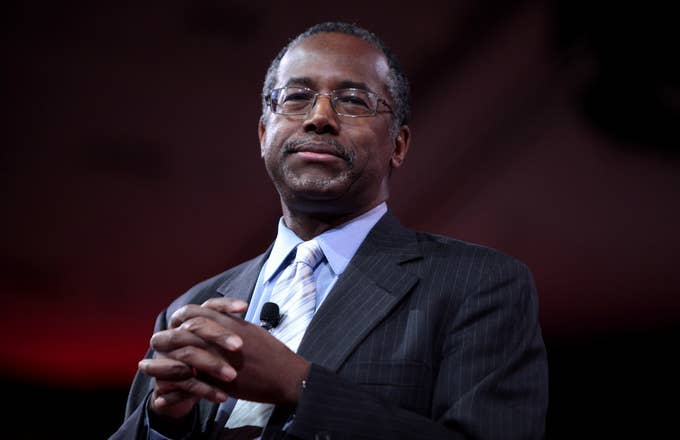 Dr. Ben Carson is president-elect Donald Trump's pick for Secretary of Housing and Urban Development, according to multiple media reports. Trump's former rival in the Republican primaries, Carson has no experience in government and previously stated through a spokesperson that he was unqualified to run a government agency. On Wednesday the doctor tweeted that he had an "announcement" coming about his role in Trump's impending presidency. 
News about Trump considering Carson to lead HUD has been circulating for days. Trump tweeted on Tuesday that he was "seriously" considering Carson for the job.
Carson himself tweeted a teaser, stating "an announcement is forthcoming" about the role he will play in making "America great again." 
Perhaps not knowing that our constitution promises the separation from church and state, Carson tweeted that there is "much work to do... ensuring that both our physical and spiritual infrastructure is solid": 
On Facebook, Carson posted a longer statement that suggests he will accept the appointment:
But it was just last week that Carson's friend and business manager, Armstrong Williams told The Hill that Carson had turned down a cabinet position, citing a lack of experience in government. "Dr. Carson feels he has no government experience, he's never run a federal agency," Williams said. "The last thing he would want to do was take a position that could cripple the presidency."
Somehow this equated to Carson landing a job offer to lead the nation's federal housing agency, a move that has people scratching their heads due to Carson's complete lack of government experience, and his own lack of confidence in his abilities to succeed as a cabinet member.
Carson's experience with the subject of housing is limited to little more than a thinly written op-ed he published for the conservative Washington Times in 2015, where he called out President Obama's neighborhood desegregation policies, describing it as "socialist."