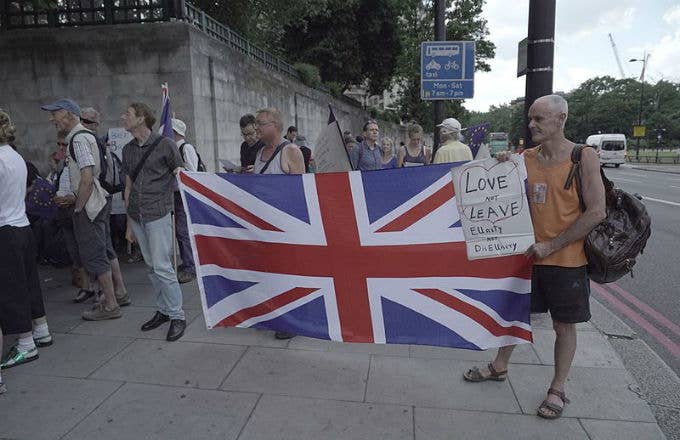 In June, the UK voted to the leave the European Union. Since then, hate crimes have increased 41 percent, according to a new report appearing in the Daily Mail. The startling statistic reflects reports of an uptick in hate crimes immediately after the vote, including one incident in which three teens called a U.S. Army veteran a "dirty immigrant" and told him to "get back to Africa."  
The Home Office, a "government department responsible for immigration, counter-terrorism, police, drugs policy, and related science and research," compared the number of racial and religious hate crimes reported this July with the number reported in July 2015. The report said police recorded 3,886 of those types of crimes in 2015, while this year had 5,468.  
In the two weeks leading up to and including the Brexit vote, data from 31 police departments showed 1,546 racial or religious aggravated offenses were recorded. In the two weeks after Brexit, the number increased to 2,241.
A breakdown of the Home Office report revealed racial crimes were the most common hate crime, at 49, 919. The other hate crime categories included sexual orientation (7,194), religion (4,400), disability (3,629) and transgender hate crimes (858).
Home Office Secretary Amber Rudd said: "Hatred has no place in a Britain that works for everyone and we are determined to stamp it out." Rudd continued, "I am pleased to see Government action is working and that more victims are finding the confidence to come forward to report these crimes."
In the weekend after the Brexit vote, police-funded website True Vision recorded a 57 increase in reported hate crimes. A rise in national racism was documented with the hashtag PostBrexitRacism.