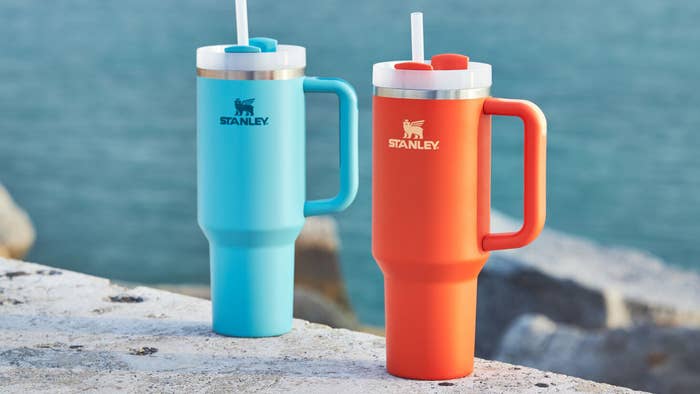 A woman has been offered a replacement vehicle by travel mug company Stanley after her tumbler seemingly survived a car fire.
"Thirsty after you catch on fire? @Stanley1913 is like no problem I gotchu," TikTok user @danimarielettering captioned a video that showed the aftermath of her car a day after it was destroyed in a fire.
"Everybody's so concerned about if the Stanley spills, but what about if it melts?" she said in the clip, which shows the singed tumbler in the car's cupholder. "Fire yesterday. Still has ice in it." She shook the tumbler to show viewers that it was still filled with ice, despite being in a car fire.
The video is a good promotion for Stanley's highly popular brand of tumblers, but instead of teaming up with her for some sort of sponsorship, the company has gone a step further.
In a response video shared on TikTok this week, the company's president Terence Reilly thanked her for the clip and offered to help her out in return. "We've all seen your video, wow, what an ordeal," he said. "We're all really glad you're safe. Thanks for sharing the video, because wow it really shows how our Stanleys are built for life. Because what it went through with you, I couldn't think of a better example of our product's quality."
He went on to offer to replace her car since she evidently doesn't need a replacement Stanley. "I've seen a lot of comments that we should send you some Stanleys, well we're gonna send you some Stanleys," he said. "But there's one more thing. We've never done this before, and we'll probably never do it again, but we'd love to replace your vehicle. All of us at Stanley, we'd really like to replace your vehicle, so check your DMs for details. Thanks, be safe."
In a video responding to the gesture, she said that it almost made her "pass out" to see them offer to replace her car.
"Helping Danielle has been perhaps the best part of an amazing year for our 110-year-old brand," Reilly added in an email shared with PR Week. "For over a century, we've been making products that are built for life and her video showcased our brand and product promise in a way that was both scary but affirming—we're not surprised that her Stanley remained intact. We can't wait to get her into a new vehicle and we're grateful that she's safe."