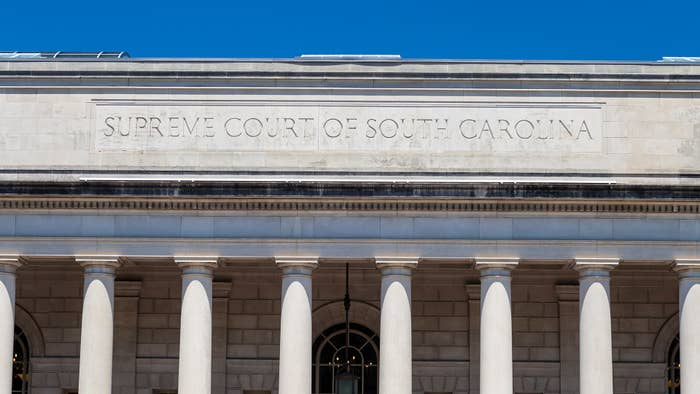 On Thursday, the South Carolina Supreme Court ruled that a ban on abortions after cardiac activity is detected violated the constitution's right to privacy, the Associated Press reports.
The law was originally passed in 2021 by Republican Gov. Henry McMaster, and banned abortions once a "fetal heartbeat" is detected which typically happens at around six weeks into pregnancy. The law included exceptions for some cases of rape or incest, instances where the pregnancy risked the life of the mother, or for fetal anomalies. The 3-2 ruling announced on Thursday saw the court conclude the law violates the state constitution's privacy protections.
"The State unquestionably has the authority to limit the right of privacy that protects women from state interference with her decision, but any such limitation must be reasonable and it must be meaningful in that the time frames imposed must afford a woman sufficient time to determine she is pregnant and to take reasonable steps to terminate that pregnancy," wrote Justice Kaye Hearn in the majority opinion. "Six weeks is, quite simply, not a reasonable period of time for these two things to occur, and therefore the Act violates our state Constitution's prohibition against unreasonable invasions of privacy." 
In a dissent written by Justice John Kittredge, who was joined by Justice George James in opposing the overturning of the law, wrote that he would "honor the policy decision made by the General Assembly" almost two years ago. "Abortion presents an important moral and policy issue. The citizens, through their duly elected representatives, have spoken," said Kittredge. "The South Carolina legislature, not this court, should determine matters of policy."
Gov. Henry McMaster criticized the decision in a statement released on Thursday, and said the court "found a right in our Constitution which was never intended by the people of South Carolina." The White House, meanwhile, praised the decision, and press secretary Karine Jean-Pierre said in a tweet that the Biden administration is "encouraged by South Carolina's Supreme Court ruling today on the state's extreme and dangerous abortion ban."