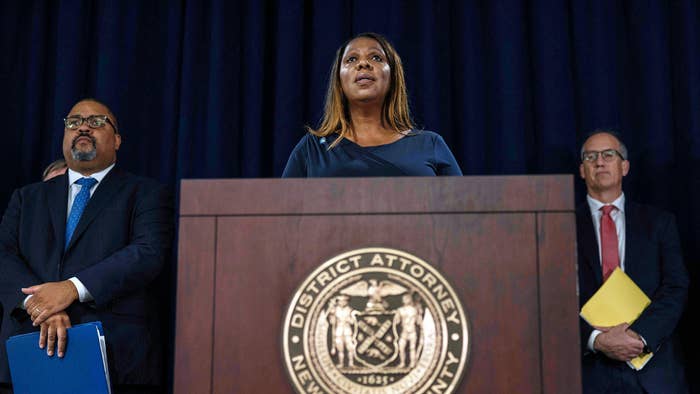 New York Attorney General Letitia James announced that she's filed a lawsuit against Donald Trump, his company, and his three eldest children over alleged business fraud, the Associated Press reports.
In the 220-page suit, James accused Trump of inflating his net worth in order to negotiate better loan agreements. Her office is seeking $250 million in penalties.
"Donald Trump falsely inflated his net worth by billions of dollars to unjustly enrich himself, and cheat the system, thereby cheating all of us," said. 
The Trump Organization allegedly engaged in over 200 instances of fraudulent business practices over the course of ten years, including deflating the value of properties in order to pay less taxes. James' office said it "uncovered substantial evidence establishing numerous misrepresentations" across Trump Organization statements to banks, insurance companies, and the IRS.
The suit calls for Trump and the other defendants to be barred from seeking loans in New York, and for an independent monitor to be appointed to the Trump Organization for five years. The evidence points to numerous potential criminal violations, too, including the falsifying of business records, issuing false financial statements, insurance fraud, conspiracy, and bank fraud.
In a statement, Trump's attorney Alina Habba said the lawsuit is "neither focused on the facts nor the law—rather, it is solely focused on advancing the Attorney General's political agenda." James, a Democrat, was sued by Trump in federal court in December in an effort to halt her civil probe against his company's business practices. The lawsuit was ultimately dismissed by U.S. District Judge Brenda K. Sannes, who ruled that James' investigation was not motivated by "retaliation."
"It is abundantly clear that the Attorney General's Office has exceeded its statutory authority by prying into transactions where absolutely no wrongdoing has taken place," Habba said. "We are confident that our judicial system will not stand for this unchecked abuse of authority, and we look forward to defending our client against each and every one of the Attorney General's meritless claims." 
Trump also issued a response, writing on Truth Social that he "never thought this case would be brought—until I saw her really bad poll numbers. Trump also called James a "racist."
In a separate post, Trump called James a "crime fighting disaster."