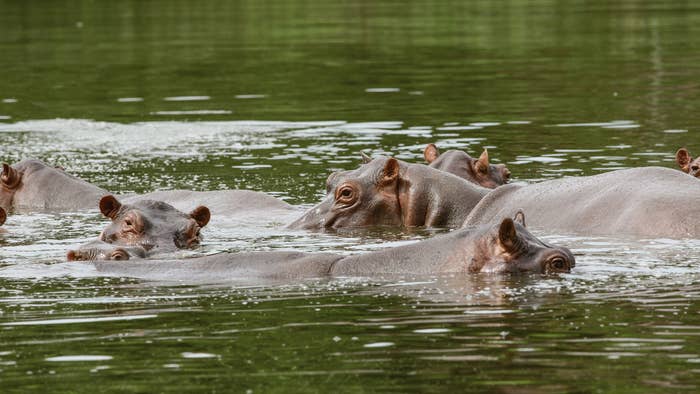 One of the hippos descended from Pablo Escobar's infamous 'cocaine hippos' has died after it was hit by a car in Colombia, per CNN.
Colombian officials confirmed the death of one of the hippos, which have continued to be a concern for the South American country after they were labeled as invasive species. The hippo died in the crash on Tuesday, April 11, while the person who drove the car was treated for injuries by first responders at the scene. The incident happened on a road between the cities of Medellín and Bogota and has already provided further evidence for the risk the hippos pose to both the general public and the local ecosystem.
"Situations like these reaffirm that the presence of hippos in the region is an environmental and social problem, which requires inter-institutional articulation to search for comprehensive, in-depth, and timely solutions," said officials in a statement. Hippos have roamed the areas near Escobar's ranch 155 miles outside of Medellín since he died in 1993. Local authorities relocated the majority of animals at his ranch but were unable to do so for the hippos due to their size.
Escobar had the hippos illegally brought to Colombia sometime in the '80s. He collected numerous exotic animals throughout his lifetime. The hippos moved on the ranch after his death and continued to reproduce along the Magdalena River ever since. Environmental authorities have estimated there could be as many as 130 hippos in the Antioquia province, but the number could rise to 400 in the next decade. They do not have a natural predator in Colombia, so they've been able to thrive thanks to the lack of threat and favorable climate conditions.
Last month, Colombia announced it is looking to get rid of at least 70 of the hippos due to the expanding population. While the animals are attributed to more human deaths than any other large animal in Africa, there have been no documented attacks in Colombia. The country is looking to export the hippos to Mexico and India and will focus on the hippos in the rivers instead of the site of Escobar's ranch because that remains a controlled environment.