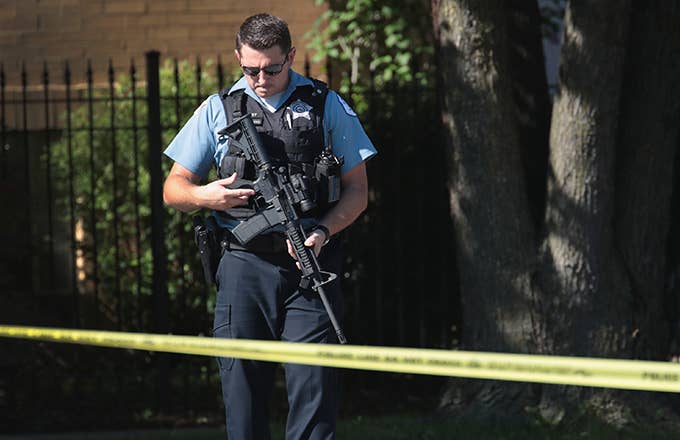 Sometimes people get a little heated when they play video games, especially when it comes to the more competitive series like Call of Duty and various ongoing esports titles. But now there's a disturbing trend calling "swatting" that's had a huge impact on numerous gaming communities over the last few years, and now it's taken an innocent man's life.
"Swatting" is when gamers—typically very angry and pathetic gamers—report a false crime to emergency services, fooling them into sending police to another person's address. The Wichita Eagle reported that a 28-year-old man has been shot in Wichita by an officer after receiving a call about an alleged homicide and hostage situation that was falsified. Esports site Dexerto points out that the Call of Duty competitive scene has been quick to discover the man shot in Kansas was the victim of "swatting" following a $1.50 wager.
Call of Duty gamers 'M1ruhcle' and 'Baperizer' got into a heated discussion following their loss during a match, with one of them baiting the other into "swatting" them, providing an address that wasn't his own. Taking the bait, "Baperizer" got someone to call a swat team on the address by claiming that a man had shot his father and was now holding the rest of his family hostage. This was the call that led to the fatal incident. Deputy Police Chief Troy Livingston explained, "A male came to the front door, as he came to the front door, one of our officers discharged his weapon."
Police are investigating the circumstances following the incident, although Livingston explained, "We have a lot of information to go through. We were given some misinformation on the [original] call." Four other people were inside the home at the time of the incident, and they have been taken in for questioning without injuries.
The man responsible for carrying out the '"watting" is allegedly behind the CWL Dallas bomb hoax evacuations earlier this month. This time he has blood on his hands. 
UPDATED 12:13 p.m. ET: A Los Angeles area man named Tyler Barriss was arrested Friday on suspicion of making the hoax phone call that ultimately led to a SWAT team shooting Andrew Finch in Kansas Thursday, according to multiple reports.
As previously reported, the hoax "swatting" phone call was allegedly sparked by an online dispute by Barriss and another man playing Call of Duty. KABC noted that Barriss may have a history with such threats.
"In October 2015, Glendale police arrested a 22-year-old man with the same name for making bomb threats to KABC-TV," KABC reported. "He was charged with two felony counts of a false report of a bomb to an agency of business and one felony count of criminal threats."
Authorities have yet to officially confirm if Barriss is the same person who made the 2015 bomb threat. According to an NBC report, Barriss was taken into custody in South Los Angeles, and sources indicated he was living at a transitional recovery center.