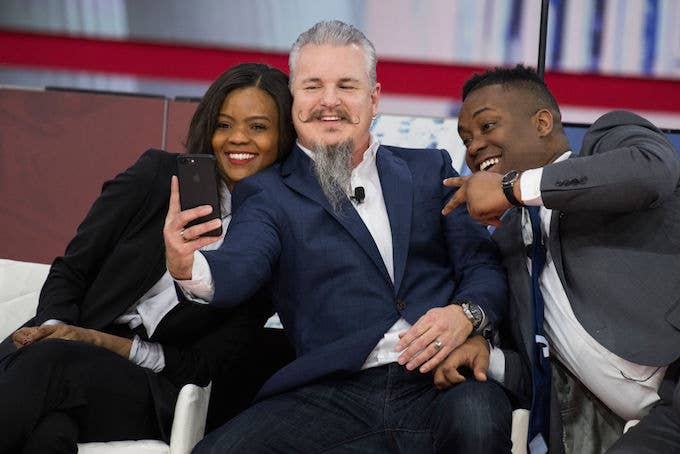 YouTuber Candace Owens is being dubbed by some as the next Tomi Lahren. The black, 28-year-old conservative is experiencing an expedient rise in popularity through the right-wing media circuit, and like the fallen Omarosa, could become its next outspoken token.
A new story from the Ozy chronicles the start of Owens' career in conservative media. She used to be a liberal living in Stamford, Connecticut, attempting to jumpstart a database for reporting online bullying. Progressives allegedly criticized the site, Social Autopsy, for the possibility of its use to dox people. Somehow the backlash was so substantial that it caused Owens to rethink her political standing and switch sides if you will. "I realized my friends were my enemies, and my enemies were my friends," Owens said to YouTuber Dave Rubin, according to Ozy.
She found a friend in Breitbart News, who published a positive story on her database. She's now a frequent headliner at Republican rallies, and was a featured speaker at the Conservative Political Action Conference in February hosting a panel titled "An Affair to Remember: How the Far Left and the Mainstream Media Got in Bed Together." "I uploaded a video onto YouTube five months ago, and I am sitting on the CPAC stage today," the 28-year-old said during her appearance.
Her first YouTube video, a "coming out" as a conservative garnered over 258,000 views. Her channel Red Black Pill, inspired by the Matrix, now has dozens of videos which have led to Fox News appearances and other radio and TV interviews. The videos feature titles like "How to Escape the Democrat Plantation" and "WTF? Black Lives Matter Has a List of Demands for White People!"
The videos from the former Vogue employee and University of Rhode Island journalism grad brings to mind the early days of mayonnaise Tami Lahren's "Final Thoughts" segments on The Blaze. Her videos include a mix of outrage, conservative appeals, and rare specificities.
Owens is of course, not without her conservative critics. According to Ozy, Eugene Craig, a former vice chairman of the Maryland GOP, called Owens "an opportunistic person who, for the development of her own celebrity, uses and attacks Black culture while claiming to do minority engagement."
"So original," Craig said. "She's a Tomi Lahren in blackface."