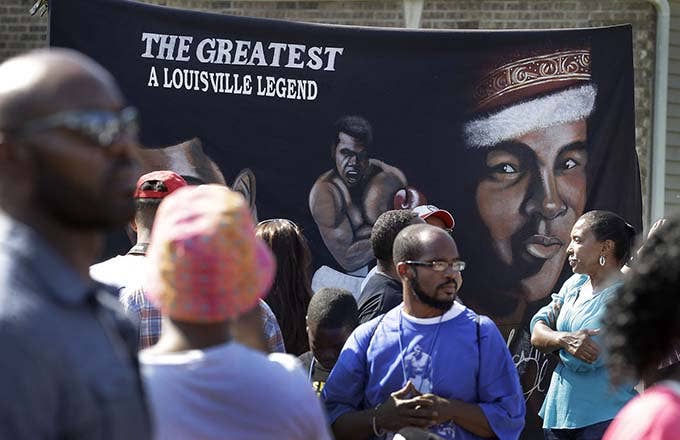 Muhammad Ali's son, Muhammad Ali Jr., was detained by immigration officials at Fort Lauderdale-Hollywood International Airport on Feb. 7. The boxing legend's son was questioned about his religion and ancestry, a family friend told the Hollywood Reporter.
Ali Jr. and his mother, Khalilah Camacho Ali, were returning from a Black History Month event in Jamaica, according to the family friend, Chris Mancini.
Camacho Ali was released shortly after they were detained after showing a photo of herself with her ex-husband, but Ali Jr. reportedly remained detained for approximately two more hours. Ali Jr., 44, is a native-born U.S. citizen.
"From the way they were treated, from what was said to them, they can come up with no other rational explanation except they fell into a profiling program run by customs, which is designed to obtain information from anyone who says they're a Muslim," Mancini said. "It's quite clear that what triggered his detention was his Arabic name and his religion."
A U.S. Customs and Border Protection spokesman told the Hollywood Reporter that Ali Jr. was indeed held for questioning, but "it wasn't because he's a Muslim and it wasn't because of his Arabic-sounding name."
"We treat all travelers with respect and sensitivity," the Customs agency said in a statement. "Integrity is our cornerstone. We are guided by the highest ethical and moral principles."
The family believes President Donald Trump's efforts to stop Muslim immigration into the United States played a role in their being detained, according to Mancini.
"This has never happened to them before," Mancini said. "They're asked specifically about their Arabic names. Where they got their names from and whether they're Muslims. It doesn't take much to connect those dots to what Trump is doing."
Camacho Ali and Ali Jr. are reportedly considering filing a federal lawsuit.