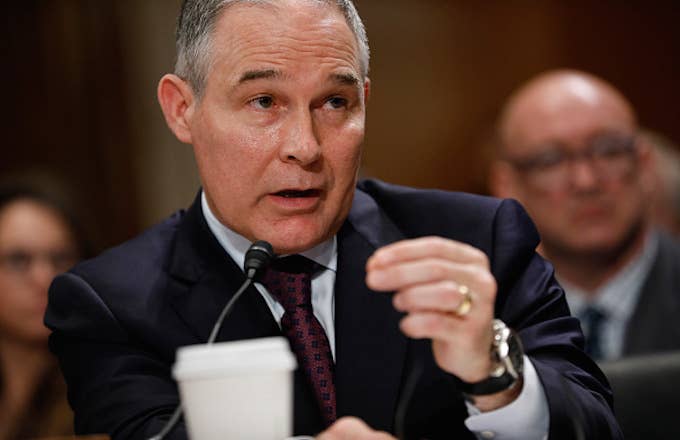 The Environmental Protection Agency's own employees are lobbying to stop Scott Pruitt, President Donald Trump's nominee to run the agency, from getting confirmed. The employees are calling on their senators to vote against Pruitt's confirmation.
The employees say their call is a last resort for workers who fear Pruitt is the exact wrong choice for the post, according to the New York Times.
"Mr. Pruitt's background speaks for itself, and it comes on top of what the president wants to do to EPA," said John O'Grady, a president of the union representing the EPA's 15,000 employees nationwide, according to the Times.
The employees say Trump does not have the EPA's best interests in mind.
"It seems like Trump and Pruitt want a complete reversal of what EPA has done," said Nicole Cantello, an EPA lawyer. "I don't know if there's any other agency that's been so reviled. So it's in our interests to do this."
The union has publicized its lobbying efforts on Facebook and Twitter, urging members to call their senators.
The Times reports the campaign has a low likelihood of success. Only one Republican, Susan Collins of Maine, has said she will oppose Pruitt's confirmation. If Pruitt is confirmed, the workers who stood against him are likely to have a hard time.
"[I]t's going to be a blood bath when Pruitt gets in there," said Christine Todd Whitman, who was the EPA administrator under George W. Bush.