Tony Robbins Heard Saying Racial Slurs in Unearthed Video
Robbins also recalls kissing a skeptical audience member without her consent.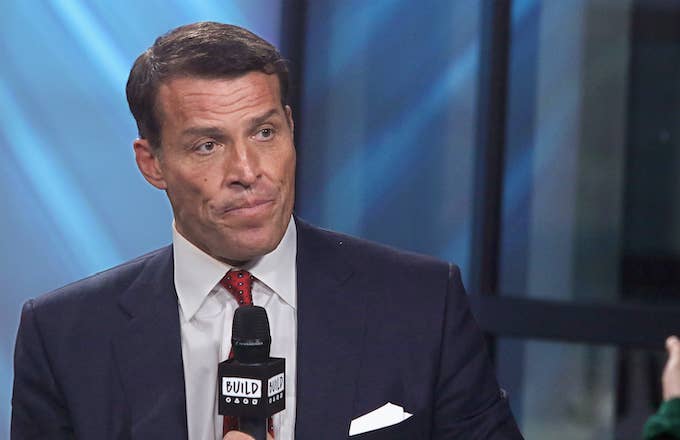 Getty
Image via Getty/Jim Spellman/WireImage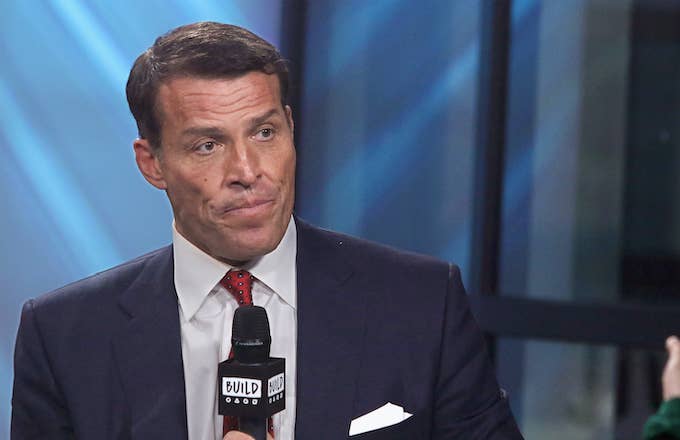 Tony Robbins has been hit with another scandal.
Days after BuzzFeed News reported on Robbins' growing sexual misconduct allegations, the online publication has shared an unearthed video in which the famed motivational speaker is heard using racial slurs. According to BuzzFeed, the footage was taken in the 1980s during a small-crowd presentation. The video shows the self-help guru recalling an exchange he had with a "militant black" audience, who questioned why he only used "white examples" during his talks. Robbins said he then led the audience into an exercise that was intended to "free" them from racial offense.
"As long as someone calls you a n***er and gets that kind of response I've seen right now, where you're ready to explode, and what you've done is given that person absolute control of you," Robbins recalled in the video. "You have no control in your life, you are still a slave."
Though the audience was audibly shocked, Robbins kept going.
"And I said, 'I'd like to have you be free, 'cause I'm free and I'm white [...] I suggest here's the way to do it," he continued. "[...] I get them to stand up, and I was like, 'Alright, just do what I do just for a minute if you really want to be free and if you want to have some fun."
Robbins then said he told the crowd to follow his lead and repeat after him, singing: "I'm a n***er, you're a n***er, be a n***er too [...]"
He then claimed that the exercise proved effective, as black and white audience members were singing the N-word and "honky" without any tension. 
"What do I got them doing? Changing the what? Changing the word association," he said. 
Robbins has called the report "an attack." His attorneys have also released a statement defending the decades-old presentation.
"By all accounts, the presentation was positive and was accepted in the context in which it was conducted: a passionate discussion about racism and how to rise above it [...] any suggestion that Mr. Robbins is somehow racist or insensitive to the African-American community is absurd and false."