James Comey Breaks Silence, Says Trump Is a 'Morally Unfit' President Who Treats Women Like 'Pieces of Meat'
The former FBI director sat down for an interview with ABC News.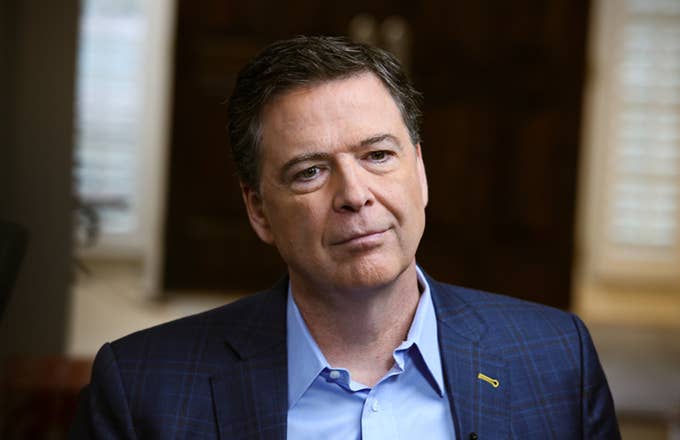 Getty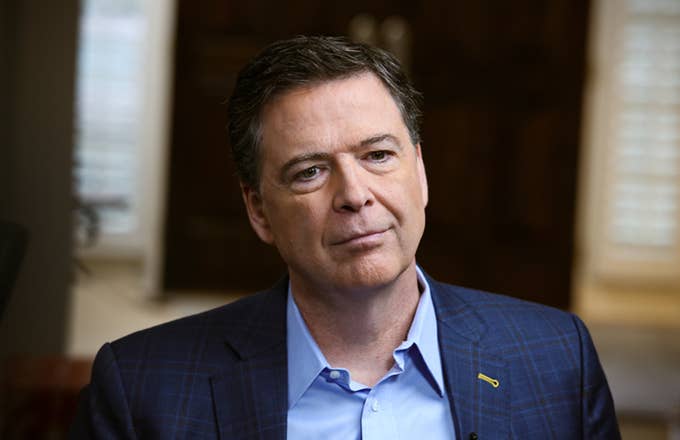 Former FBI Director James Comey has been quiet since he was abruptly fired last year, but he ended his silence during an interview with ABC on Sunday night.
Sitting down with 20/20 anchor George Stephanopoulos for the beginning of a media tour as he promotes his tell-all book, A Higher Loyalty, Comey described Donald Trump as a "stain" on everyone who works for him. He also says he thinks "it's possible" that the Russian government has information about Trump that they could be used as blackmail. A transcript of the full interview is available here.
After his time working with the president, Comey says he believes Trump is unfit for his job. "Our president must embody respect and adhere to the values that are at the core of this country," he explains. "The most important being truth. This president is not able to do that. He is morally unfit to be president."
Getting more specific, Comey adds, "A person who sees moral equivalence in Charlottesville, who talks about and treats women like they're pieces of meat, who lies constantly about matters big and small and insists the American people believe it, that person's not fit to be president of the United States, on moral grounds. And that's not a policy statement. Again, I don't care what your views are on guns or immigration or taxes."
In his book, Comey compares Trump to a mob boss. At one point in the interview, Stephanopoulos asks Comey how strange it must feel to make that comparison.
"Very strange," Comey responds. "And I don't do it lightly. I'm not trying to, by the way, suggest that President Trump is out breaking legs and—you know, shaking down shopkeepers. But instead, what I'm talking about is that leadership culture constantly comes back to me when I think about my experience with the Trump administration. The loyalty oaths, the boss as the dominant center of everything, it's all about how do you serve the boss, what's in the boss's interests. It's the family, the family, the family, the family. That's why it reminds me so much and not, 'So what's the right thing for the country and what are the values of the institutions that we're dealing with?'"
Getting into the details of his first meeting with Trump just days before the inauguration, Comey says the president-elect was briefed on Russia's attempt to interfere with the election. But instead of taking in the ramifications on the fate of the country, Trump's team immediately tried spinning it from a PR perspective.
"The conversation, to my surprise, moved into a PR conversation about how the Trump team would position this and what they could say about this," Comey says. "I don't remember any questions about, 'So what are they going to do next; how might we stop it? What's the future look like? Because we'll be custodians of the security of this country.' There was none of that." Comey adds, "It was all, 'What can we say about what they did and how it affects the election that we just had?'"
For the most part, Comey avoided commenting on the ongoing Russia investigation. But he did admit that he thought there was some level of obstruction of justice involved when Trump cleared the Oval Office so he could ask him to drop the FBI's investigation into Michael Flynn. "If he didn't know he was doing something improper, why did he kick out the attorney general and the vice president of the United States and the leaders of the intelligence community?" Comey asks. "It's certainly some evidence of obstruction of justice."
Comey says he was just as surprised as everyone else that he was fired in the middle of an important ongoing investigation: "I thought it's crazy to fire me. I'm leading the investigation of Russian influence—in particular, whether anyone in the Trump orbit had coordinated and conspired with the Russians. That makes no sense at all."
The interview follows repeated attempts by Donald Trump this weekend to attack the character of Comey.