The date was May 30, 1921 when a rumor fueled by anger and misinformation spread through the town of Tulsa, Oklahoma, and sparked a race riot that over the next 48 hours would change the complexion of the city and its black economy for years to come.
Dick Rowland, a 19-year-old black man, was accused of assaulting Sarah Page, a 17-year-old white woman, in an elevator at the Drexel Building in Tulsa. It's never been made clear what exactly happened, but here is the basic account. Page operated the elevator that Rowland used to access the "Colored" restroom during his job as a shoe-shiner. This day, upon exiting the elevator, Rowland tripped and grabbed hold of Page's arm to keep himself from falling. She screamed and Rowland fled the elevator as a nearby white store clerk came to investigate the commotion. She was apparently distraught from the incident, which led the clerk to assume that she had been assaulted by Rowland. The clerk then called the police.

Fleeing the hotel, Rowland hid in the Tulsa neighborhood called Greenwood. At the time, Greenwood was entirely black due to segregation laws. Its inhabitants included black lawyers, business owners, and doctors and it's said that and a dollar would circulate 19 times before leaving the community. It's been reported that "there was affluence and education in Greenwood not seen anywhere else in the country for African-Americans, and each day more people were coming to carve out a piece of the dream for themselves, adding to the prosperity of the neighborhood." The official report on the riot also deemed "pre-riot Greenwood, on a per capita basis, one of the most business-laden African American communities in the country." All of this earned the neighborhood the name "Black Wall Street."
Soon after fleeing, Rowland was arrested in Greenwood and taken to the prison where a crowd of angry white Tulsans were assembled to take justice into their own hands. This was the first in a string of events that would irrevocably change Greenwood and lead to what some have characterized as America's worst race riot. Fearing a lynching, some 25 black residents of Greenwood armed themselves and went to defend the jail. Their arrival further electrified the crowd of whites, which had grown to more than 1,000 (some armed). The black defenders were turned away by the sheriff, but by 10 p.m. they had returned with 75 men to stand against the white crowd which had reached more than 2,000.
According to the official Oklahoma report on the riots, the event began with a single exchange. It reads:
A white man approached a tall African American World War I veteran who was carrying an army-issue revolver. "Nigger," the white man said, "What are you doing with that pistol?" "I'm going to use it if I need to," replied the black veteran. "No, you give it to me." "Like hell I will." The white man tried to take the gun away from the veteran, and a shot rang out.
Over the course of the night, hundreds of African Americans lost their lives and thousands more were left homeless as the entire neighborhood of Greenwood was razed and burned to the ground. The riots and fire effectively erased the economic oasis that was Black Wall Street.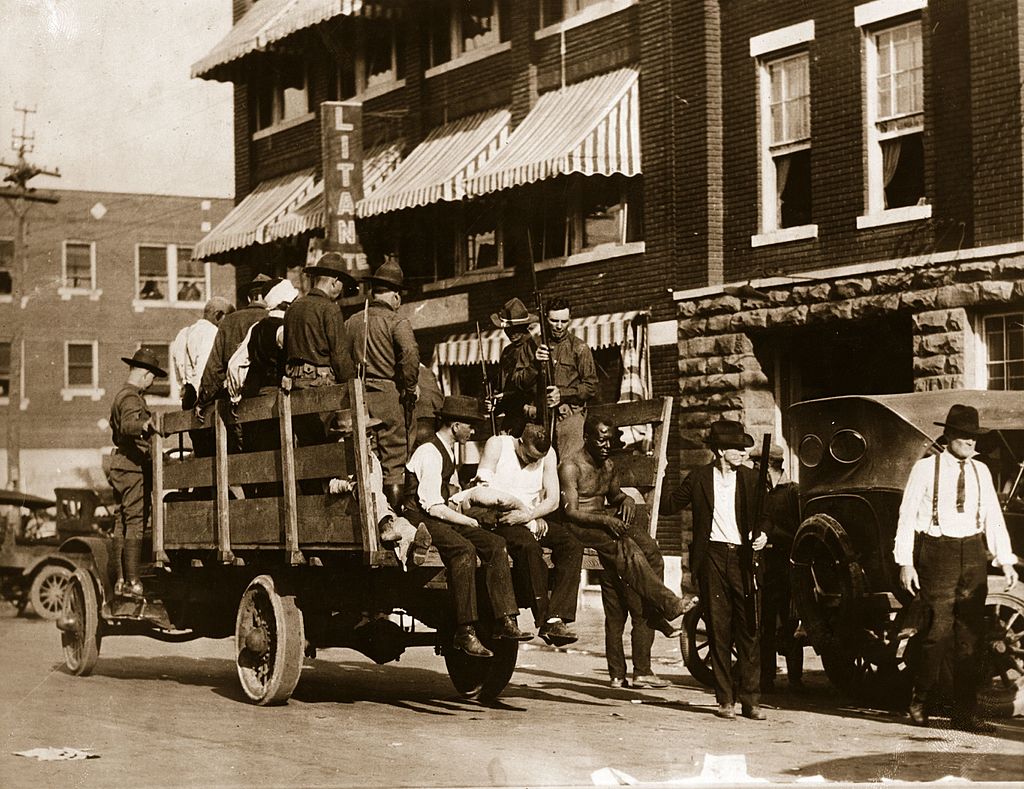 Greenwood eventually rebuilt, but things changed with desegregation. Given the opportunity to spend money in neighborhoods African Americans couldn't previously access, many spent elsewhere and eventually moved out of Greenwood, taking business with them. Black Wall Street never re-emerged in Tulsa, but its promise lives on.
Shareef Abdul-Malik says he grew up "organizing dollars" and helping his family in Washington DC, where his father was a street vendor and his mother was a secretary. Neither job was glamorous, but their work imbued him with respect for the idea that one could earn money to provide for their family while contributing to the community in which they live. After attending Howard University, where he studied sociology and community development, Abdul-Malik says he got an idea for a business that he hoped would spread the values he learned as a child. In 2014, the young entrepreneur founded WeBuyBlack.com, an online marketplace for people to support black-owned businesses and a vehicle for black consumers to better circulate their dollars within their own communities.  
"It was shocking to find that a dollar would circulate in the Asian American community for over 30 days, in the Jewish community for 20 days, in the white community for 17 days, but in the black community for only 6 hours," Abdul-Malik explains. "After reading an article that noted black-owned businesses were the second largest employer after the government, and that the black community was predicted to spend upward of $1 trillion in the coming years, I found an obvious place to start."
A dollar would circulate in the Asian American community for over 30 days, in the Jewish community for 20 days, in the white community for 17 days, but in the black community for only 6 hours.
While the number of black-owned business have been steadily increasing for a number of years, the unemployment rate among the black community is currently 8.3 percent. While this was the lowest unemployment since 2007— before the recession—there are myriad areas to address when it comes to communities of color's economic prospects. African Americans still have higher levels of unemployment than any other demographic. White unemployment is almost half that at 4.5 percent, Hispanic unemployment is 6.3 percent, and Asian unemployment is 4 percent.
Valerie Wilson, an economist at think tank Economic Policy Institute told CNN the black unemployment rate "would be unacceptable if that were the national rate." According to the Economic Policy Institute, "Wages of black workers are more responsive to aggregate labor market changes. Doubling the national unemployment rate is estimated to reduce real hourly wages by at least 8 percent for the median black worker, compared to 3 percent for the median white worker." This means that while the decline in unemployment can overall be seen as positive, the wages of people of color were disproportionately impacted over the course of the recession and its recovery compared to whites. Furthermore, despite the aforementioned increase in the number of black-owned businesses, they still only make up 7 percent of all U.S firms.
There's been a resurgence of conversations around systemic racism and its implications the past few years, especially due to mounting tension ignited by racist police brutality and the formation of movements like Black Lives Matter. (These conversations are further complicated by post-racial dismissals like "but we have a black president). As David Horsey wrote in the LA Times:
A great many Southern blacks moved north seeking a better deal [after the Civil War]. Some found it, but many also found they were blocked from getting better-paying jobs, from putting their children in the best schools and from buying homes, even in poor neighborhoods. The economic rules and the legal system were rigged against them.The cost of this exploitation is almost incalculable in monetary terms. The extreme damage done to community life, however, is all too obvious. It is the same damage evidenced in any poor community but compounded by generations of neglect: poor health, undermined family structures, inadequate education, underemployment, crime, addiction, incarceration and social alienation.
Abdul-Malik's WeBuyBlack.com aims to combat this legacy by promoting black-owned business and ensuring that entrepreneurs and businesses can find customers for their products. The site has two very unique and prominent features. Its Affiliate program allows users to refer customers to WeBuyBlack.com and receive a percentage on every purchase they make. The second feature, Circulation Points, grants one point for every $20 someone spends on WeBuyBlack.com, which can then be spent like dollars to purchase products. The goal of these programs, Abdul-Malik says, is to provide incentives to support black-owned businesses and reduce the competitive advantage that larger, non-black businesses often have. 
"There are so many Black people that are creative in areas such as art, design, fashion, and cooking. Black people possess a natural talent and you can actually experience our culture on the site," Abdul-Malik says. "One of the first sales we received on the site came from a white women who lived in Italy. She emailed us to say she was truly fascinated in what we were doing and she believed it would be very impactful, akin to the Black Lives Matter movement if not more. She really wanted to know how she could support us."
Angela Williams, founder of Forever Regal and a vendor on WeBuyBlack.com, says she wants  generations of black Americans to come to profit from the website's model.

"Getting the black community as a whole involved is vital," she explained. "We are all working together to build something amazing that impacts future generations. It is so much bigger than simple online transactions. We are building a sense of pride, ownership, and community."
We built this platform to allow the world to finally buy from our people directly, to experience our culture directly, and to bridge the gap of that disconnects black people of America to our family abroad.
Abdul-Malik echoes that sentiment and adds that he built WeBuyBlack.com to improve the overall situation for black Americans beyond basic economics. 

"We built this platform for our children so that they can avoid joblessness, poverty, homelessness, crime, and imprisonment. We built this platform to help our dollars circulate at a rate equal to or better than any other race of people. We built this platform to allow the world to finally buy from our people directly, to experience our culture directly, and to bridge the gap of that disconnects black people of America to our family abroad."

Since WeBuyBlack.com's launch, it's seen vendors from UK, Kenya, Nigeria, South Africa, Spain, Australia, the Netherlands, Norway, and Sweden, among others. There are currently more than 400 vendors and another 1,500 black-owned businesses are in the process of gaining approval to sell. 

"I believe that WeBuyBlack.com will unite us all as it will end that which divides us," Shareef says.