Now You See Me: A Look at the World of Activist Johnetta Elzie
Johnetta Elzie found an audience as an activist by documenting unrest in Ferguson, but when will she get the recognition she deserves? Complex Original
Image via Complex Original Last May, the New York Times Magazine published a feature on the contemporary civil rights movement in America and its two most formidable organizers: DeRay Mckesson and Johnetta "Netta" Elzie. In nearly 7,000 words, writer Jay Caspian Kang defines the contemporary protester as "part organizer, part citizen journalist" and describes in detail Mckesson's earnest radicalization from public-school administrator to civil rights activist.
Elzie, the movement's most prominent woman, doesn't get the same sort of treatment. The piece writes her off in three paragraphs.
"I hated it," she says. Mckesson shares her dissatisfaction: "He still hasn't read it."
The story was pitched to the pair as an examination of their joint work and impact, but it was narrowed during the editing process to focus on Mckesson's journey. Much of the original story, which featured Elzie more prominently, was hacked away, relegating her, like so many women in liberation movements throughout history, to the background.
"It was erasure," Elzie says, not even bothering to look up from the text she's typing on her phone. We're in been-there-done-that territory. "Fuck that story."
Elzie's voice is usually a merlot—velvety smooth and light, with a long finish. When speaking she often elongates the ends of words, making you pay closer attention. Not now. This particular "fuck" is so crisp and unbothered, it's startling. She's not losing sleep over a New York Times profile—or a Complex one, for that matter. If she has a meaningful fuck to give on the issue, it's not here; it's not now.
Fortune named her one of the world's 50 greatest leaders in the same year ZeroFox, a national cyber and social media security firm, submitted reports to state officials labeling her a high-risk "threat actor." Her activism applied pressure to the Clinton and Sanders presidential campaigns to develop concrete platforms around racial justice and revitalized the national discussion about police brutality against people of color. (As for a particular affiliation, Elzie says, "When I speak for myself, I call it 'The Movement' and I say that I'm a protester, or that I'm a Ferguson protester. I don't refer to myself  as a 'Black Lives Matter protester.' Does the media do it? Yes. Can I control what the media does? No.")
A former Southeast Missouri State journalism student, Elzie won the 2015 Howard Zinn Freedom to Write award from the PEN American Center literary society for the This Is the Movement protester newsletter she co-produces with Mckesson. Founded during the 2014 Ferguson protests as a "social media enhancement," the newsletter provides tens of thousands of subscribers across the world with detailed statistics, first-person accounts, and reported pieces on police brutality and social justice efforts in America. She opposed attempts by Rev. Al Sharpton and his National Action Network to marginalize the role of youth protesters in Ferguson, and scolded Black Thought on proper pronoun usage when addressing her gender non-conforming friends. Her activism has earned her the adulation and support of filmmaker Ava DuVernay and OG activist Diane Nash, and helped her amass a Twitter following of over 95,000.
As a black woman protester, "exposure" for Elzie has hardly been a challenge. However, the same cannot be said of her due acknowledgement and recognition.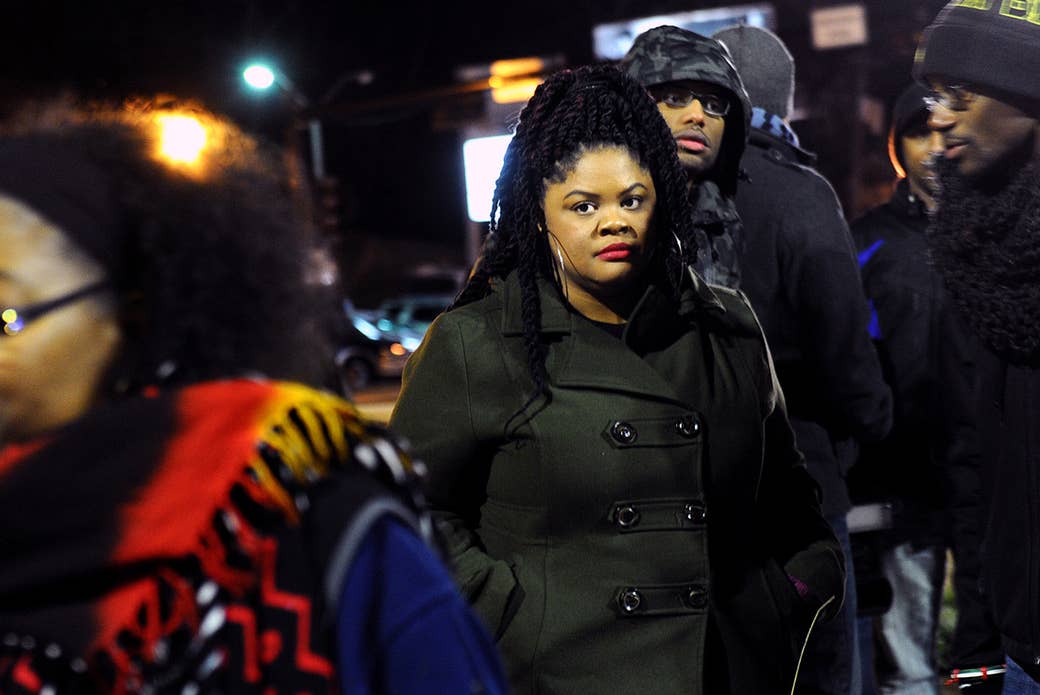 I meet Elzie outside of her childhood home in North County St. Louis on the bright and chilly first day of February. Her neighborhood is typically Midwestern: rows of red-brick ranch-style homes differentiated only by small personal touches—ornate bird baths, and topiaries. The street is quiet save for the occasional hum of retirees gliding by in Buicks and Cadillacs. She emerges from her cherry-red Toyota wrapped in a monochromatic ensemble that works as both a fashion and political statement: black ballerina flats, black leggings, black hoodie with "so damn black." stamped across the front, black Marley braids pulled into a high ponytail calling attention to a stunning set of almond eyes. Her lipstick is dark rouge. Her eyebrows are perfect.
It's been years since Elzie's family lived here, but her memories bubble up easily. "Stop! Collaborate and listen! Dunn-dunn-na-dunn. Dunn-nuun-nunnn-nunn-nun!"—it doesn't take but five minutes for her to explain her infamous childhood "Ice Ice Baby" routine. She saunters across the front lawn, then stops as if thunderstruck: "Oh, and Skittles!" She giggles at the memory of her pet turtle: "Skittles, he was irresponsible. Wouldn't eat! I had to let him go in the creek in the backyard." There's more, of course: learning to ride a bike, accidently shaving off half her eyebrow, play-fighting with cousins, the magic and mayhem of family karaoke nights.
Before and after Ferguson, that's how she divides her life now. Before, she had the luxury of a permanent place to call home. Now, "the work" and fear for both her and her family's safety has turned her into a kind of fugitive. Within a week of our meeting she will have traveled to southern and northern California, D.C., and Atlanta. She'll host a forum on social justice at Twitter headquarters, attend protests and speaking engagements at universities, and check in on friends. "I can't stay anywhere too long," she says. "Especially St. Louis. I don't want to put my family in danger."
Harassment finds her online and in real life nearly every day. She's called a "black bitch," threatened with physical violence, and told how awesome it would be if she committed suicide. Flying into a city, there's always the chance she'll find local police waiting at her arrival gate (it's happened on multiple occasions). Her mere presence at, say, the St. Louis Galleria mall to do some Christmas shopping has been enough to stir up local cops. Still, she insists, "I have no choice but to live. That's what they hate, right? The fact that we're still alive. That we can still smile."
"St. Louis and Ferguson started a national conversation in a way no other instance of [police violence] had."
Elzie's new life began on August 9, 2014, when Twitter alerted her to the death of Michael Brown and how the teenager's body had been left on Canfield Green Drive for four hours by the Ferguson Police Department. The killing occurred just an eight-minute drive from her childhood home. Living elsewhere in St. Louis at the time, she arrived at the scene in a few hours. "They had tried to wash his blood from the street with soap and water but it was still there," she recalls. "His body was gone but the blood was still there." Elzie began tweeting incessantly, becoming one of the most earnest and relentless documentarians of the shooting's long aftermath.
During the subsequent weeks of protest and unrest, her audience swelled from "around 2,000" to more than 50,000. Utilizing Twitter's power to succinctly dispatch real-time observations to a potentially limitless audience, Elzie changed from a concerned citizen to an unofficial spokeswoman for the new fight for justice in America, headquartered from what became the birthplace of the new civil rights movement. "St. Louis and Ferguson started a national conversation in a way no other instance of [police violence] had," she says.
Elzie never asked—or planned—for this platform. She wasn't groomed for the spotlight. She didn't spend years working within structured administrations learning bureaucratic skills like her partner, Mckesson, who worked within the Baltimore and Minneapolis public school systems. She is a young woman who saw injustice and decided to act, bringing the sobering reality of state-sanctioned oppression into the palms of millions around the world.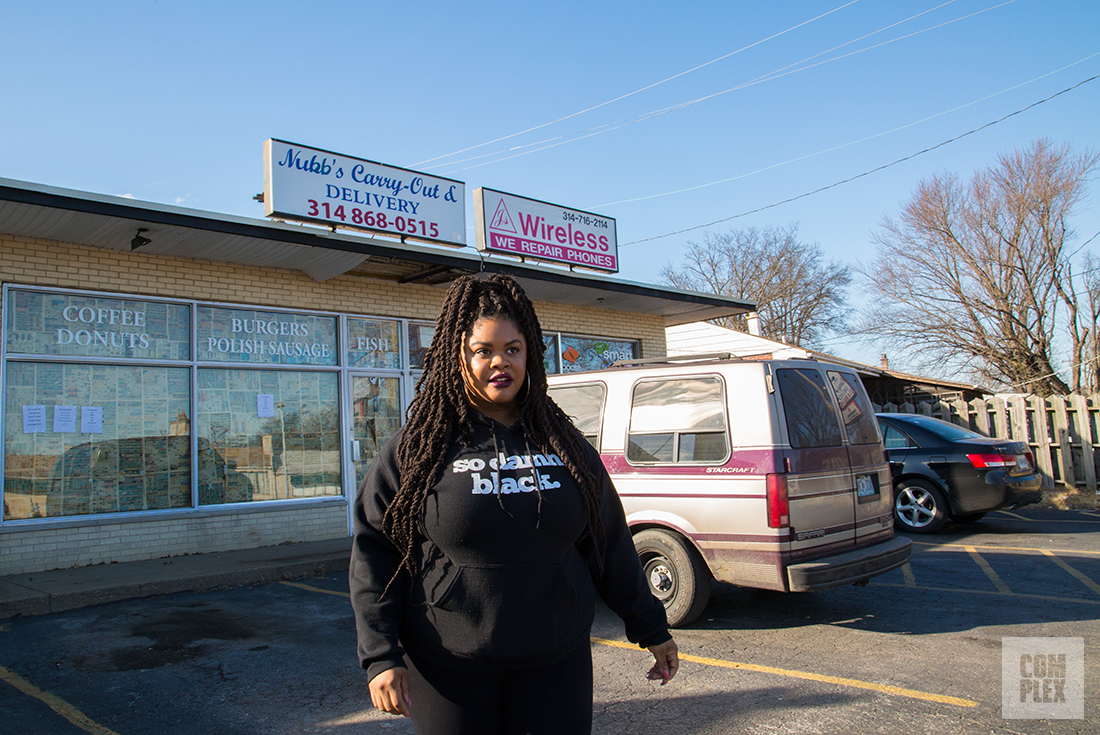 We drive five minutes from her old home along Jennings Station Road until we arrive at a busy intersection. Nestled at the south end of a nondescript strip mall, between a convenience store and a half-block of houses, stands what used to be one of Elzie's greatest refuges: Ree's Hair Explosion, her mother Relonda's beauty shop.
All traces of the salon are gone and the storefront is now a poorly maintained check-cashing, bail-bondsman hybrid. "The sign was way better," she sighs. "The windows weren't so dingy. You can tell when a person loves their place. Ain't no love in that."
Until she was about 11, when her mother sold the shop, Elzie spent almost every day there. "It was a safe haven," she says, "like a spa for black women. My mom was a therapist, a love doctor, a magician. Women would come in battered and broke, but then they'd get their hair washed, scalp cleaned. My grandma's religious, so some might even get a prayer."
Pressed against the newspaper-covered storefront window, she returns to reality. In a January interview with Essence, she said she often feels lonely. I ask what she meant. The day before was the two-year anniversary of her mother's death from lupus and this week it's been difficult balancing the needs of Elzie the activist and Elzie the daughter. Her father is barely present in her life. Her mother was "her world."
"I'd been posting on Facebook leading up [to the anniversary]," she says. "'Please, please see my humanity. Know what I'm going through this week. Know that it's stressful. Know that I am crying. That I might be depressed. That anything might be triggering today.'" Her voice shakes as her eyes water. Other members of her family "aren't big on crying," but all bets are off when it comes to Mom. She goes on: "People were still messaging me: 'You ignored me,' or, 'What about your sisters in the movement?'"
This is the hardest swallow of fame and acclaim. Our heroes—we want all of them, all the time.
"It's a mind-fuck," she says, "that being so visible makes people forget that I'm a person. Why can't I take a day or two—or just a moment—and be a grieving child? Why do I have to force other black people in the movement for liberation to see my humanity?"
But these misunderstandings cut both ways, and oftentimes friends and family from Before Ferguson don't get her life now. "The movement space feels like an alternate reality," she says. "People who were there to support me all the time aren't around anymore. There's a part of my life that they don't understand. I went back to the protests. They went back to their lives."
"Oh God, if the women left? The movement would last maybe a week. Maybe."
Our talk pivots to the cheerier side of visibility. On a personal level, Elzie's 15-year-old sister will have more opportunities thanks to her big sister's new vast and powerful personal network. Wider reaching is the special satisfaction of the therapeutic moments shared among the women who approach her after every program or speaking engagement. "Black girl moments," she calls them. "We're a secret club. I love that."
To grasp the injustice of Elzie's erasure, you need to know how vital that "secret club" is to today's movement. Black women are not merely important to this movement—they are its single most critical faction. It was crowds of mostly women, Elzie told the Atlantic last year, who were present en masse during the early days in Ferguson. Umaara Elliott and Synead Nichols organized the Millions March NYC demonstration that brought more than 50,000 protesters denouncing police brutality to the streets in December 2014. Naomi Daugherty, Ashley Bland, Jennifer Pagan, and Kailynd Beck started the student collective "MU 4 Mike Brown" in the weeks after Brown's death on the campus of the University of Missouri, directly inspiring the formation of Concerned Student 1950 and inciting the spirit of activism that led to the MU football team's strike and ousting of the University's President and Chancellor in November 2015. To ignore these facts is to corrupt the truth.
So, how would the movement fare without women? "Oh God, if the women left?" She erupts into incredulous laughter. "The movement would last maybe a week. Maybe."
The company she keeps reflects her understanding of gender diversity and also her sense of inclusivity and expansiveness; her activist crew keeps her sane. There's Alexis Templeton, Brittany Ferrell, Leon Kemp Sr., Reggie Cunningham, Brittany Packnett, Kayla Reed. And of course her friend in the blue vest.
"I always cry when I talk about DeRay," she says. "The yin and yang is deep."
Yin and yang. The relationship of connected, oppositional forces that, in this case, brings out the best in each other. Or, as she puts it: "DeRay's got 9-to-5 and respectable Twitter on lock. I got 'hoop after work' Twitter."
They met in Ferguson, when Mckesson was commuting back and forth between St. Louis and Minneapolis to participate in the Michael Brown demonstrations. (Mckesson first made the 600-mile drive on Aug. 16, a week after the shooting.) Their braided appeal is rooted in inclusivity. Together they offer an all-encompassing view of Blackness. Mckesson is dark-skinned, gay, and operates with a politician's poise. Elzie is mocha-brown, straight, and a high priestess of clapback-tivism. "Everybody ain't black and straight and going to church," she says.
She's the foil to Mckesson's composure. "I don't have the patience or the filter," she says. "I don't need to be on TV with Wolf Blitzer trying me. My reaction would've been completely different." Speaking about Mckesson, she gets protective. "He's like my best friend, my counselor, my little brother, my big brother. I wish my mom were here so she could meet DeRay. That's how much he means to me."
The yin and yang, having known each other for just 18 months, are preparing now to face a new challenge: public office. "I have this friend from Baltimore. Who might do this thing. In Baltimore," she offers coyly, just days before Mckesson officially announced his mayoral bid. He entered the race at the final hour: 9 p.m. on Feb. 3—83 days before the April 27 primaries.
I ask if Mckesson's serious, or if he's entering the arena as an act of disruption.
"Real deal," she responds.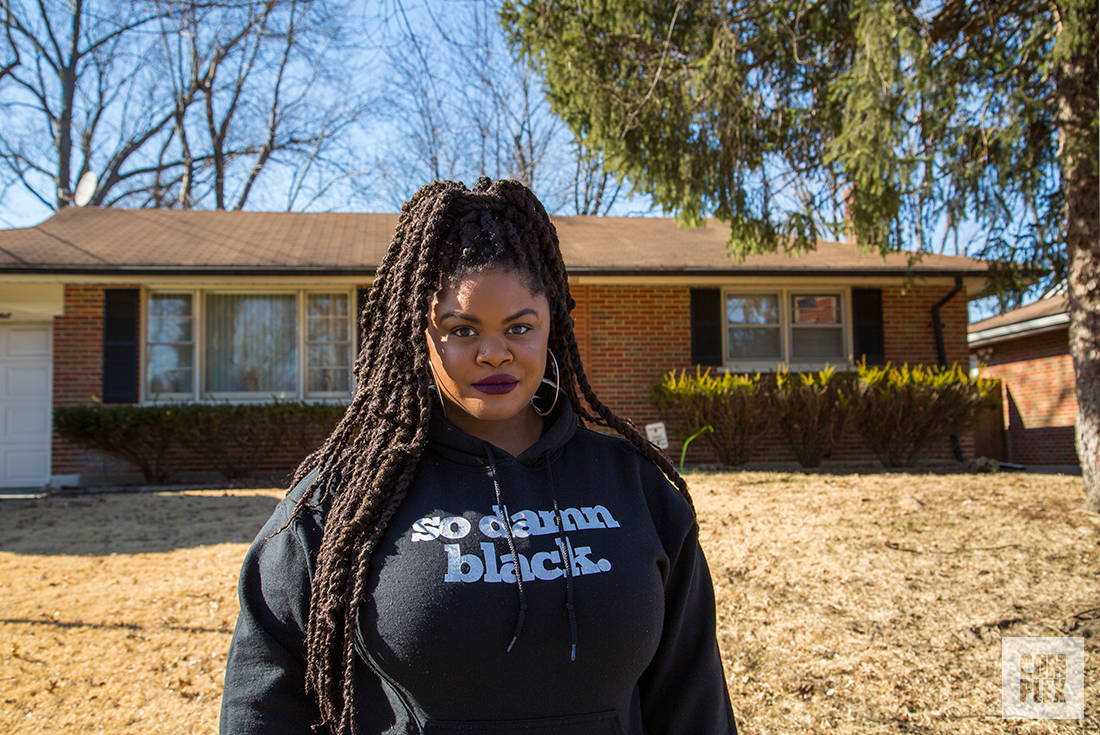 Perhaps Mckesson's decision to run for mayor of Baltimore will quiet the major critique of the movement, which is that these activists are undisciplined and leaderless. Echoing the sentiment of many from the original civil rights era, Oprah told People in January 2014 that she "think[s] it's wonderful to march and to protest, and it's wonderful to see all across the country, people doing it. But what I'm looking for is some kind of leadership to come out of this to say, 'This is what we want.'"
The Dr. King model of leadership is precisely the kind of hierarchy- and respectability-based movement that Elzie doesn't want: "They keep wanting to put us in the civil rights movement box. And we're not in that box. We're not respectable enough to be that. People didn't change who they were when they came outside. No church told us to go. No organization told us to go. There was no start button. People saw what happened to Mike Brown and didn't leave. We just went."
Today's movement believes that everyone involved has the potential to be a catalyst for change. The participants are not searching for a leader, nor are they worried about how outsiders might perceive their mission. "I don't think it's possible to get free," she says, "while you're worrying about how some white person is experiencing your fight for your freedom. Fuck all that. Too often people go into the spaces of oppressed people and tell them how to be free. Your job is to listen and to be engaged."
We end our day at MoKaBe's, a loud, kitschy diner that serves as a safe haven for the ostracized and the outspoken in St. Louis. Upon entering, Elzie is immediately wrapped in a warm embrace by Mo Costello, the lesbian owner of the cafe.
Costello opened her shop to Elzie and other protesters as a temporary asylum from police deploying tear gas and terror during the riots. We order a sandwich melt. Mine will be ten bucks, but Elzie's is on the house, of course. The gesture is clear: It's the least we can do.
There's a misconception about today's activists that because so much of the most visible work they do occurs online, that they can turn off their attention when they need to—what people dismiss as "hashtag activism." That misunderstands the situation for Elzie. She doesn't have the luxury of an off button, even in a diner, sharing sandwiches, on a Monday afternoon.
Ordinary citizens can let their attention oscillate. She can't. In MoKaBe's, where so many marginalized people often gather to feel safe and supported, there are reminders everywhere of the work to be done. "Say Her Name" posters plaster the storefront windows. Flyers for "Trans Prisoner Letter Writing Night" are tacked by the bathrooms alongside handbills for upcoming alt-rock performances. There's no such thing as life independent of the struggle for progress.
Elzie will always be striving and fighting; unceasingly both spokesperson and shield. As she puts it: "I'm black and I stand for black people."
Aaron Randle is a Howard U bred writer living in Kansas City, Mo. He tweets here.