The domestic violence incident that took place between Ray Rice and his now-wife Janay during this past NFL offseason was awful. But what made it even worse was that the league only suspended Rice for two games—two games!—for getting into a physical altercation with a woman. That won't happen again, though, thanks to a new domestic violence policy that the league is putting into place.
According to ESPN's Adam Schefter, the new rule will call for NFL players to get suspended for six games for breaking the league's domestic violence policy. And if they do it again? They're out of the league forever:
The NFL didn't stop there, either. In addition to suspending NFL players, the league is also going to suspend any and all NFL personnel for domestic violence incidents. So from players to coaches to front office types, everyone involved with the league will be subjected to the same suspensions: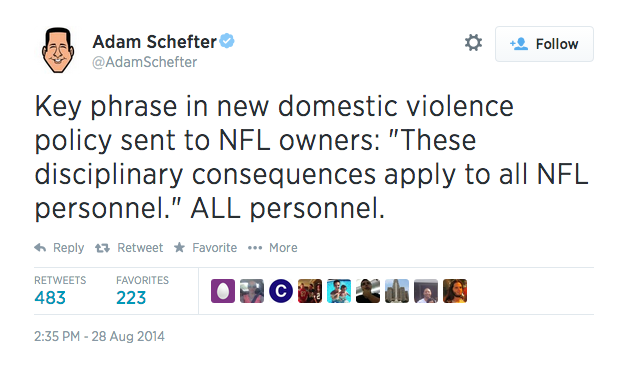 Is the NFL late here? Of course. They should have had a strict policy like this in place already. But it's nice to see at least one good thing come out of the terrible Ray Rice situation. It's a shame that it took that incident to get the NFL to act accordingly. But at the very least, they've now got a much-improved policy in place for dealing with other players and NFL personnel who may get into trouble for domestic violence.
Now let's see if this policy actually works. Only time will tell.
[via @AdamSchefter]