Kobe's back in action in the Lakers purple and gold, and we couldn't be happier. Yesterday, Kobe gave some tips on what makes him such a great defender, but apparently Steph Curry didn't take notes.
In the Lakers preseason game against the Warrior last night, Kobe stripped Curry and went coast to coast for his first slam dunk of the season, and his first in game dunk since injury last year. Laced up in the custom pair of Kobe 9 Elite PE's in hometown Lakers colors, the Mamba is finally looking likes he's returning to top form, which isn't just great for the NBA, but for sports in general.
If that wasn't enough proof that Kobe's back, the Mamba dug into his bag of tricks and pulled out that vintage fadeaway jumper we've seen about million times before. Let's hope Kobe can stay healthy and because if the Lakers have any chance of even smelling the playoffs, they're going to need the Mamba from his prime.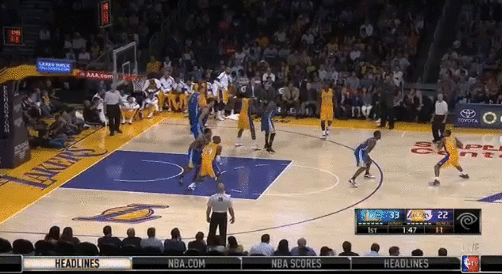 [Dime]
RELATED: Only Kobe Can Make an Airball Look This Good
RELATED: Nike Debuts Yet Another PE for the Kobe 9 Elite