We now have the frontrunner for most bizarre play of the 2014 NFL season, courtesy of Carolina's Philly Brown. Even cooler, he may have done it wearing soccer boots.
We'll try to explain but things get a little messy so bear with us. After going three-and-out, the Chicago Bears punted on fourth down. On the ensuing return Brown was unable to field the punt after being interfered with. After getting up visibly upset, Brown noticed the ball was still loose, picked it up and ran 79-yards for a touchdown.
Now to the cool part. From here it appears that Brown was wearing a pair of Nike Mercurial Superfly IV soccer boots for his and dash to the end zone. Kickers and punters are no longer the only ones opting for soccer boots on the gridiron, as earlier in the season we saw Anquan Boldin opt for the mercurials in a Sunday night showdown with, coincidentally, the Bears.
Got all that? If not, just watch the GIF below and marvel at Brown's boot-clad heads up play.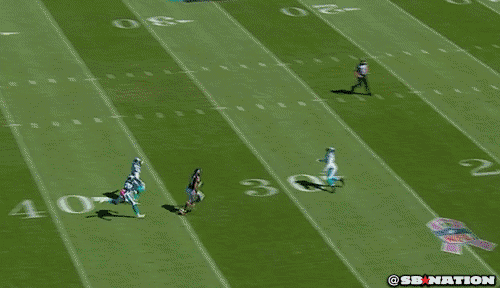 Image via SB Nation
RELATED: Move Aside Butt Fumble Because We Now Have the Butt Punt
RELATED: Today's Browns-Ravens Game Was a LeBron Lovefest