Since 1956, the NBA's highest individual honor is the regular season Most Valuable Player. Awarded to the year's best performer, the Maurice Podoloff trophy is widely considered the end-all, be-all of NBA end of season acknowledgements. However, it's virtually impossible to rack up steady Ws, much less approach MVP territory, without a strong supporting cast. There's no question that a fierce starting lineup is imperative, but one of the most overlooked members of the roster is the sixth man.
The Sixth Man of the Year Award was introduced in 1983, celebrating the most impressive bench player of the season. A player who's able to come off the bench and give his team a much-needed boost is a priceless asset to any franchise, and this year LAC's Jamal Crawford took home the trophy for the second time in his career. Looking back on some of the more underappreciated stars and sneakers over the years, Sneaker Report presents The Sneakers Worn by the Last 10 NBA Sixth Man Winners.
Riley Jones is a freelance writer from Charlottesville, VA and a contributor to Sneaker Report. With an unshakable affinity for basketball and all things pop culture, he can be found on Twitter @rchrstphr.
RELATED: The Sneakers Worn by the Last 25 NBA Finals MVPs
RELATED: 10 NBA Players That Deserve a Signature Shoe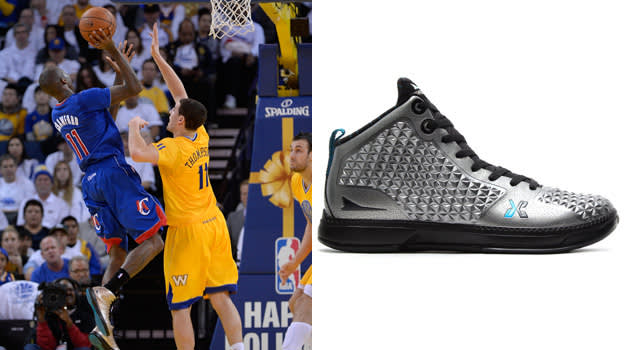 No. 1 – Jamal Crawford (Los Angeles Clippers)
Year: 2013-14
Sneaker: Brandblack J Crossover
Stats: 18.6 ppg, 3.2 apg
The latest player to receive the Sixth Man of the Year recognition is Jamal Crawford of the Los Angeles Clippers. He also snagged the award for the 2009-10 season, making him the only player in the last decade to win it twice, the first since Detlef Schrempf in 1992. This year, Crawford also debuted his first signature shoe with the up-and-coming Brandblack.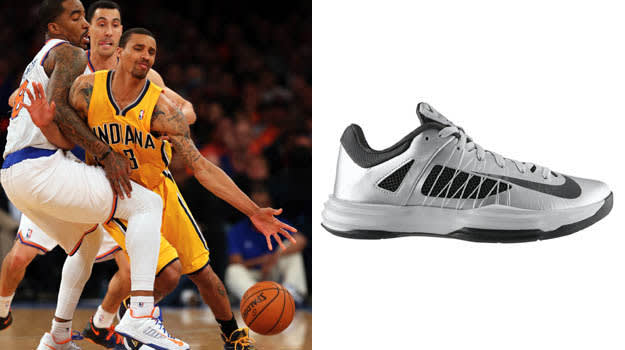 No. 2 – J.R. Smith (New York Knicks)
Year: 2012-13
Sneaker: Nike Hyperdunk Low
Stats: 18.1 ppg, 5.3 rpg
The Knicks are currently in the middle of a rebuilding period, but last season, J.R. Smith was putting up numbers off the bench in the Nike Hyperdunk Low. Never one to stick with one pair for too long, J.R. also experimented models like the LeBron X Elite.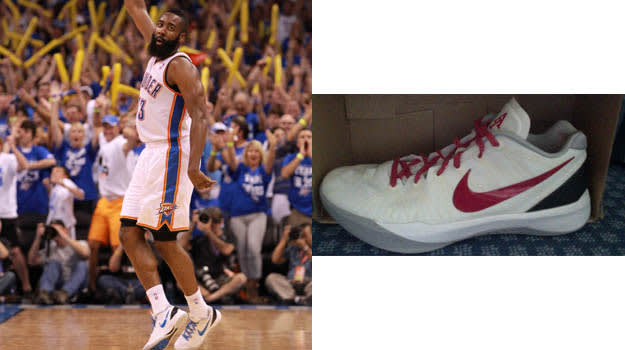 No. 3 – James Harden (Oklahoma City Thunder)
Year: 2011-12
Sneaker: Nike Hyperdunk 2011 Elite Low
Stats: 16.8 ppg, 4.1 rpg
James Harden's real breakout season was his debut with the Houston Rockets last year, but in 2011-12, he was coming off the bench and showing flashes of the greatness we're used to today.  During his final stretch with OKC, Harden favored the Nike Hyperdunk 2011 Elite Low. Unfortunately for fans, this model was never officially released, remaining a true PE for players like Harden and Andre Iguodala.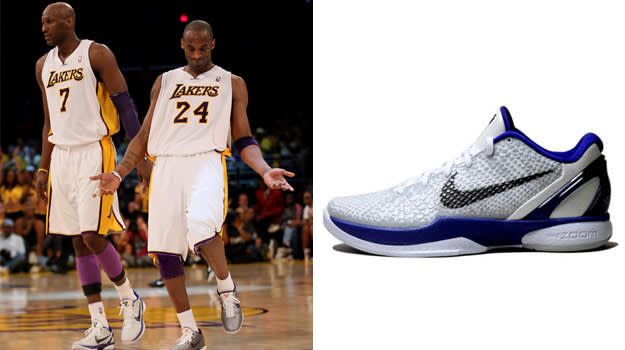 No. 4 – Lamar Odom (Los Angeles Lakers)
Year: 2010-11
Sneaker: Nike Zoom Kobe 6
Stats: 14.4 ppg, 8.7 rpg
It was all good just a few years ago. While Lamar Odom's current status remains up in the air, he was a force to be reckoned with during the 2010-11 season. Coming off the bench with a hot and healthy Kobe by his side, Odom dominated the paint in his teammate's sig model.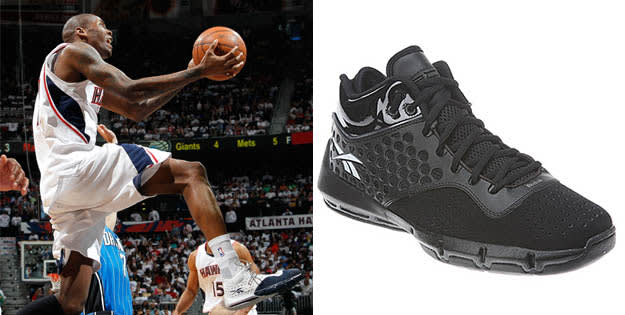 No. 5 – Jamal Crawford (Los Angeles Clippers)
Year: 2009-10
Sneaker: Reebok ATR Make it Rain
Stats: 18.0 ppg
So nice, he won it twice. Before Blake Griffin came aboard and turned the Clippers into a left coast powerhouse, they were relying on scrappy veterans like Jamal Crawford to contribute off the bench. These days, Crawford is all about Brandblack, but his history with Reebok runs deep—he was even involved in the 2006 S. Carter campaign. With his stock higher than ever, could we see a Roc Nation Sports deal in the future?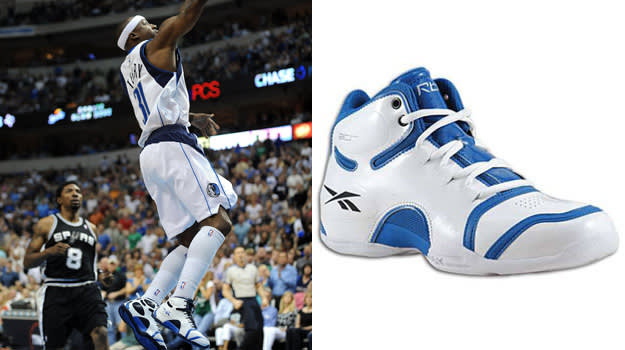 No. 6 – Jason Terry (Dallas Mavericks)
Year: 2008-09
Sneaker: Reebok ATR Talkin' Krazy
Stats: 19.6 ppg
Remember when the Dallas Mavericks were one of THE teams to beat in the Western Conference? It wasn't that long ago, and while forward Dirk Nowitzki may be one of the most underrated players in the game, Jason Terry's off-the-bench play also had a lot to do with their success. During this award winning season, Terry wore the Reebok ATR Talkin' Crazy, a model which was notable for its dry erase side panels, allowing players to bring their trash talk to life.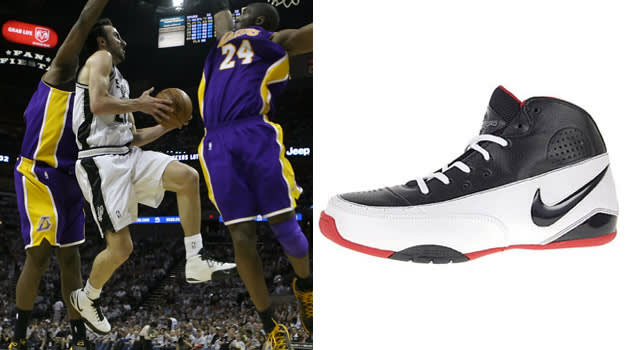 No. 7 - Manu Ginobili (San Antonio Spurs)
Year: 2007-08
Sneaker: Nike Zoom Touch
Stats: 19.5 ppg, 4.8 rpg, 4.5 apg
With numbers like the ones that Manu Ginobili was putting up in '07-08, it's hard to believe he wasn't a permanent fixture in San Antonio's starting five. The fearless Argentine is known for his tenacious play style, and the responsiveness found in the Nike Zoom Touch was the perfect match.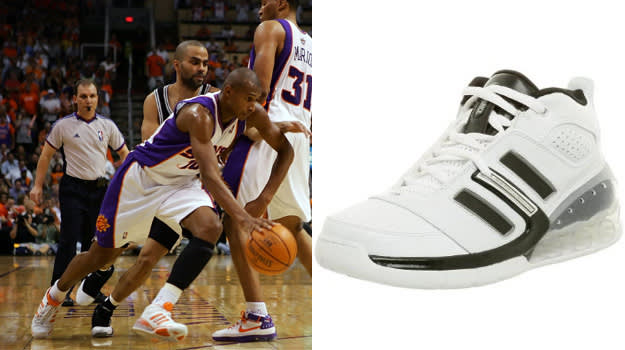 No. 8 - Leandro Barbosa (Phoenix Suns)
Year: 2006-07
Sneaker: adidas Bounce Artillery 2
Stats: 18.1 ppg, 4.0 apg
Although Leandro Barbosa's numbers have trailed off in recent years, his run during the mid-late 2000s was downright impressive. After consistently improving, Barbosa took home the Sixth Man of the Year in his fourth season in the NBA, averaging nearly 20 points a game in the adidas Bounce Artillery 2.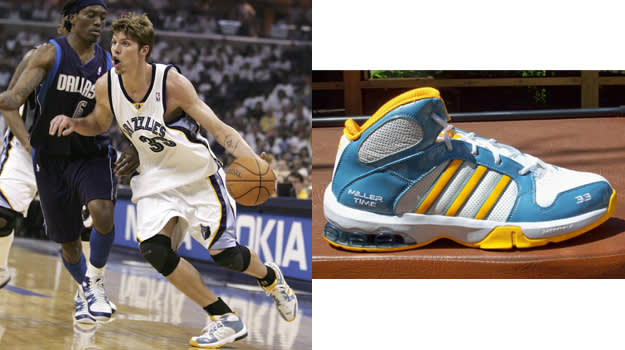 No. 9 - Mike Miller (Memphis Grizzlies)
Year: 2005-06
Sneaker: adidas A3 Decade II
Stats: 13.7 ppg, 5.4 rpg
From Memphis to Minnesota to Washington to Miami and back again. Mike Miller's NBA tenure has taken him everywhere but the west coast, and now he's back where he paid his dues, helping the Memphis Grizzlies take on the Oklahoma City Thunder in the first round of the playoffs. In 2006, he won the Sixth Man Honors in a flashy player exclusive of the adidas A3 Decade II.
No. 10 - Ben Gordon (Chicago Bulls)
Year: 2004-05
Sneaker: Nike Air Huarache 2K5
Stats: 15.1 ppg
Averaging 15 points per game in the Nike Air Huarache 2K5, Ben Gordon became the first rookie to be named the NBA Sixth Man of the Year in 2005. Shortly thereafter, Gordon's sharp shooting ways earned him a spot in the starting lineup, and he was averaging 20+ by his 3rd season in the league. Although he never broke out as the elite superstar some had envisioned, Gordon has had a solid career and currently plays for the Charlotte Bobcats.
Riley Jones is a freelance writer from Charlottesville, VA and a contributor to Sneaker Report. With an unshakable affinity for basketball and all things pop culture, he can be found on Twitter @rchrstphr.
RELATED: The Sneakers Worn by the Last 25 NBA Finals MVPs
RELATED: 10 NBA Players That Deserve a Signature Shoe