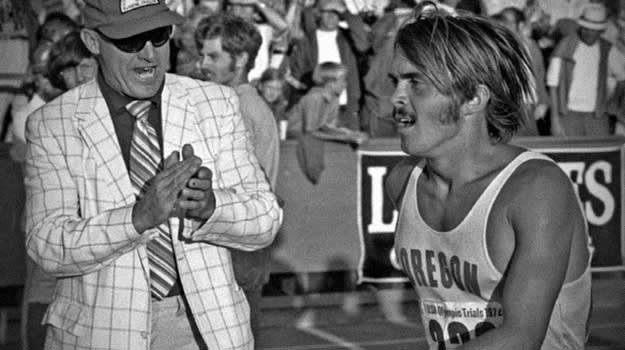 As the legend goes, Pre really wasn't a runner, he was a rebel that just happened to run. What made Steve Prefontaine, one of America's greatest runners, a rebel? It was more than his long-hair-don't-care swagger or his iconic status as a U.S. record holder in every long-distance event from 2 - 10k meters, it was a result of the details that proved Pre put in work. From his first shoe with Nike to his three most important training aspects, here are 10 Things You Didn't Know About Steve Prefontaine.
RELATED: The 100 Best Running Sneakers of All Time
RELATED: The 10 Best Running Blogs You Should Read Today
RELATED: The 10 Best Men's Running Shoes for Beginners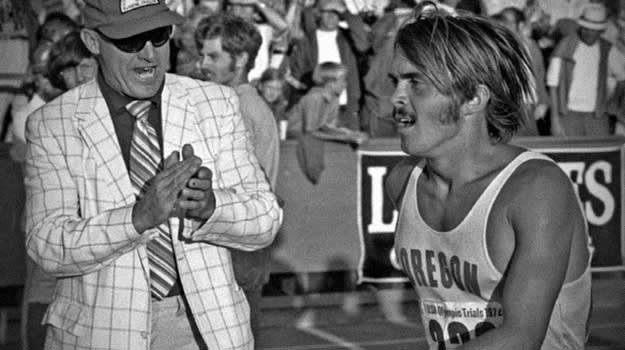 No. 1 - Nike's First Signature Athlete

Pre was the first athlete to sign with the Nike company for $5,000 in 1974. Under the tutelage of Bill Bowerman, coach at the University of Oregon and Nike co-founder, Pre became an aggressive and successful runner sporting the Nike Montreal spikes and Boston flats, as well as a number of handmade shoes by Bowerman himself. These were the early days of track and field, a truly innovative time for the future of running shoes.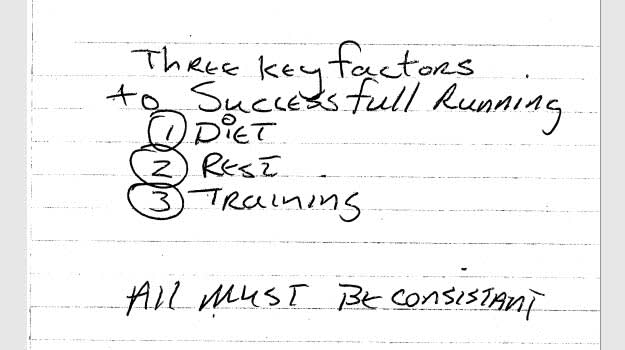 No. 2 - Steve's Steps to Success
As recorded in an original copy of Pre's notes for a keynote address held in Oregon for the Junior College Cross Country Championships, Steve's three key factors to success were diet, rest, and training. He went on to talk about the importance of training as an individual and as a team, along with an answer to why athletes choose cross country, "You probably choose x-country because you were too small to play football," something that struck home for the short-statured runner.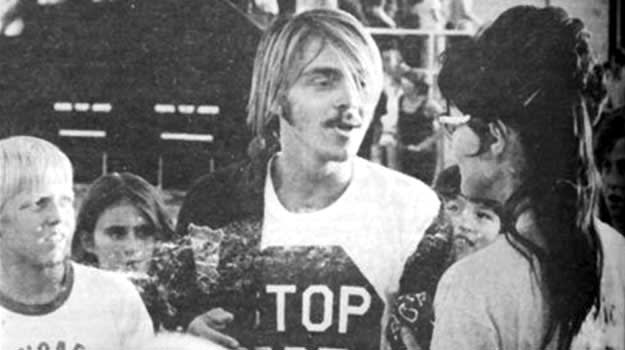 No. 3 - DJ Pre
If you thought three state titles and an undefeated run in his last two years at Marshfield High School was enough? Naw brah, Pre also put in work as a DJ in a radio station at his local Oregon radio station.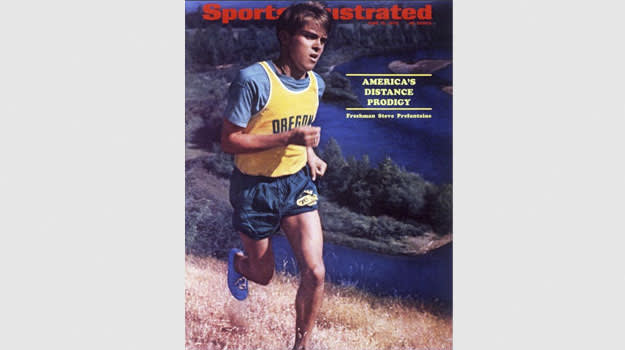 No. 4 - America's Distance Prodigy

Making it to the cover of Sports Illustrated when he was just 19 years of age, Pre was in his freshman year and had so far only lost three races in his collegiate career.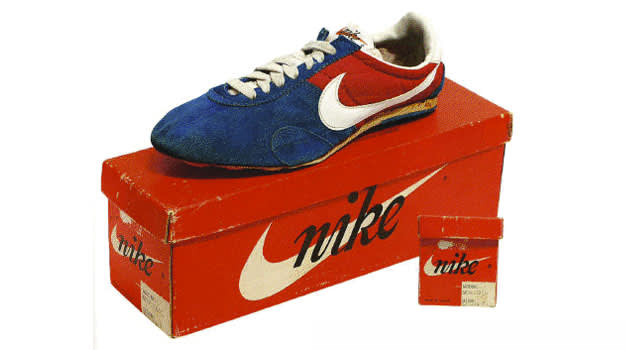 No. 5 - Pre's Sneaker Closet

Although Pre's legacy is so engrained in Nike's history, the track star was known to wear a plethora of other brands including adidas, North Star, Puma, and Oniksuka Tigers for various races and events. From 3 oz trainers hand-made by Bowerman to setting the world record in Pumas in 1971, Pre made moments in a wide variety of trainers. Most notable are the adidas racing shoes he wore to the 1972 Munich Olympics or his most popular pair of Nikes, the Montreal Spike (shown above) that Steve wore for his last race in 1975.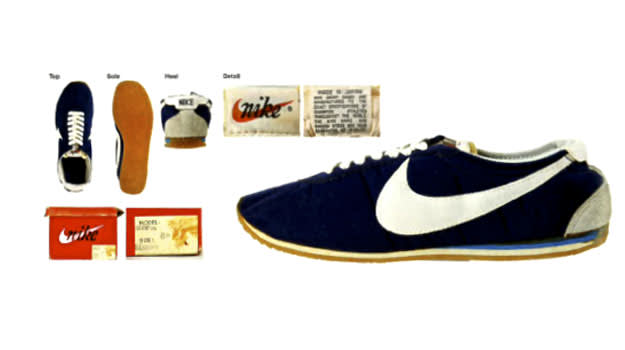 No. 6 - Pre to Bill
Bill Rodgers, who finished 3rd in the 1975 World Cross- Country Championships at Rabat, Morocco, was noticed by Pre who suggested a pair of Boston 73's in the following letter from 1975. 

April 9, 1975
Mr. Bill Rodgers
Jamaica Plain, Mass. 02130
Dear Bill,
First of all congratulations on a fine race in Rabat. You have really improved this last year and hopefully will continue to until the Olympic games.
The reason I'm writing is because Jeff Galloway told me you were interested in training in our shoes. I'm sending you a pair of Boston 73's and a training shoe. Any comments would be greatly appreciated. Just feel free to drop me a line and let me know what you think.
Wishing you continued success for 75.
Sincerely,
Steve Prefontaine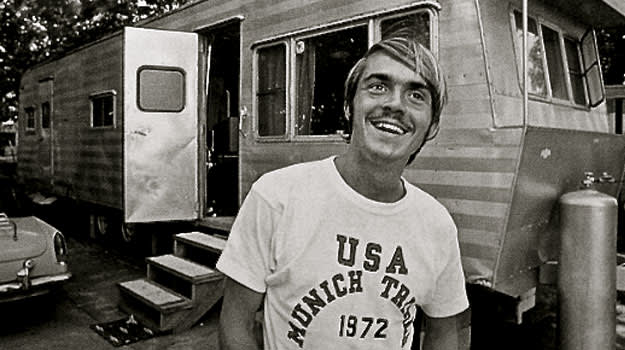 No. 7 – Bubble Gum Music
Pre enjoyed listening to Marvin Gaye, and Joan Baez. Pat Tyson said that he liked "Bubble gum music. Not stoner music." So we're thinking Pre would have had more Suit and Tie than Indicud on his Shuffle today.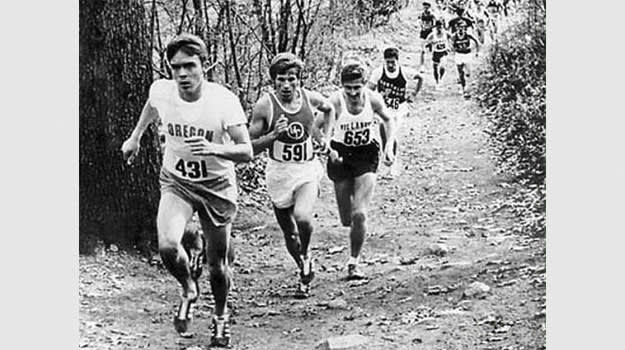 No. 8 - Naked Mile

Pre used to go "streaking" or naked runs on Marcola trails each Sunday with teammate Pat Tyson. Perhaps an early instigator of Nike's more experimental "training camps."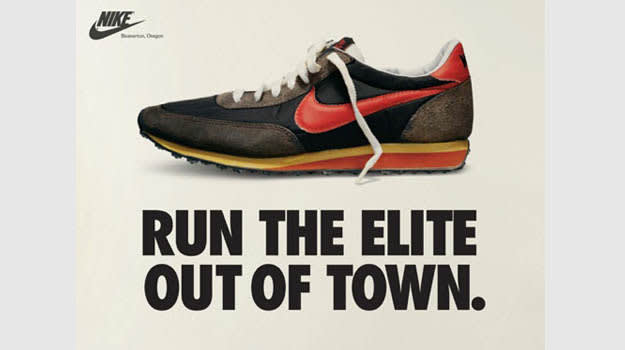 No. 9 - Nike Pays Tribute

In 2007, Nike paid tribute to the founding fathers Bowerman, Knight, Pre, and Bill with a Nike Vintage Collection, profiling the most popular runners from 1977. This description just about sums it up, "1970s-grade nylon. Weird Swooshes. Aged laces. Weathered foam. And, of course, that velvety suede-like suede."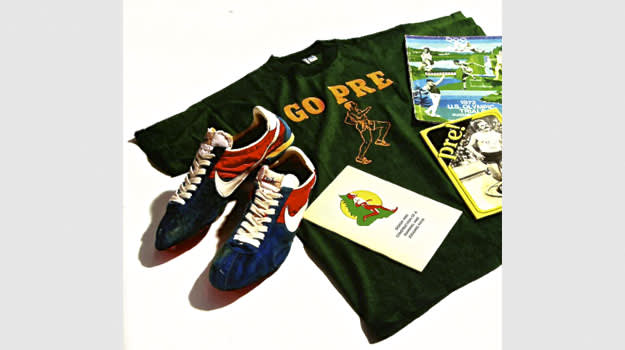 No. 10 - A Legacy
From his first arrival the University of Oregon in fall of 1969 to his collegiate year in the summer of 1973, Pre won seven NCAA titles with three in cross country and four in the three-mile track. He was the first collegian to conquer the feat in track and the second ever in cross country. Overall, he set more than a dozen American records from the 2000 meters to six miles before his unfortunate 1975 death in a car accident in Eugene, Oregon.
RELATED: The 100 Best Running Sneakers of All Time
RELATED: The 10 Best Running Blogs You Should Read Today
RELATED: The 10 Best Men's Running Shoes for Beginners