There's got to be a moment in every day when former Charlotte Hornets executives wonder what could of been if they never traded Kobe Bryant to the Lakers for Vlade Divac following the 1996 NBA Draft. Divac was no slouch in the league, but in comparison to Bryant and his overall impact both on and off the court, Charlotte most certainly got the short end of the deal.
We've seen other Kobe 9 Elite's surfacing over the months including the "Masterpiece", "Perspective" and "Inspiration".  Today, we get our first look at the latest colorway which commemorates that faithful draft day trade and what could of been if Kobe never donned the Laker purple and gold. Dubbed, for now, the Kobe 9 Elite "Draft Day", the latest colorway features a white upper with teal and purple accents, similar to the colors of the late Charlotte Hornets.
No concrete release date is set but stay tuned for more updates, pictures and release information as it comes in the next few weeks.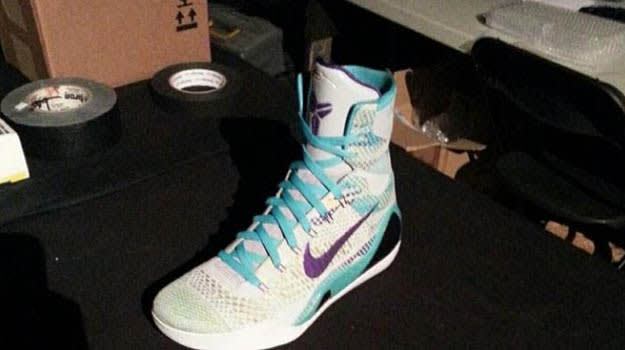 RELATED: Breaking Down the Nike Kobe 9 Elite