In what has been a lightly debated topic, the intriguing thought process behind a player wearing the signature shoes of their opponent has reared its head into the basketball conversation. One person opposed to the idea is Denver Nuggets head coach Brian Shaw.
"I don't think that I would ever do I. Not in the game you're playing against them. When I came (into the NBA) in 1988, shortly after that (Michael) Jordan started with his Jordan One. They only made them in red, white and black, Bulls colors. I remember Nike wouldn't let you wear his shoes in a game. They only let him wear it. You could order them through your account, but you couldn't wear them in the games. And then, when they started making different colors and they started allowing guys to wear them in the games, obviously the most important thing is that it's a shoe that fits your foot and you're comfortable in it, then you'll want to wear it.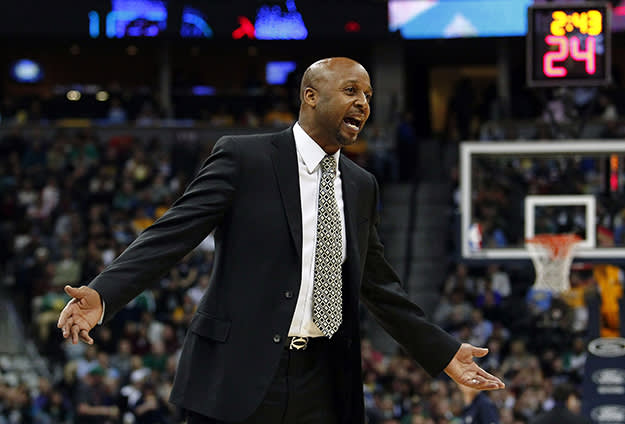 Shaw doesn't want his players wearing KD VI's against Kevin Durant and doesn't want to see any LeBron's on the court when LeBron James is the opposition. Shaw went on to bring up a personal experience he had with former teammate and long time signature shoe athlete Kobe Bryant:
"But, I always thought that that gave, like being on the Lakers, when guys would wear Kobe's shoes when we were playing against him, he always would, in his mind feel 'I got him, because he's wearing my shoes.' So, the guys who do wear KDs, we were talking yesterday; 'Are you really going to wear these tomorrow when we play him?' So, it was a debate back-and-forth about the comfort of the shoe as opposed to what message it sends when you're wearing a guy's shoes."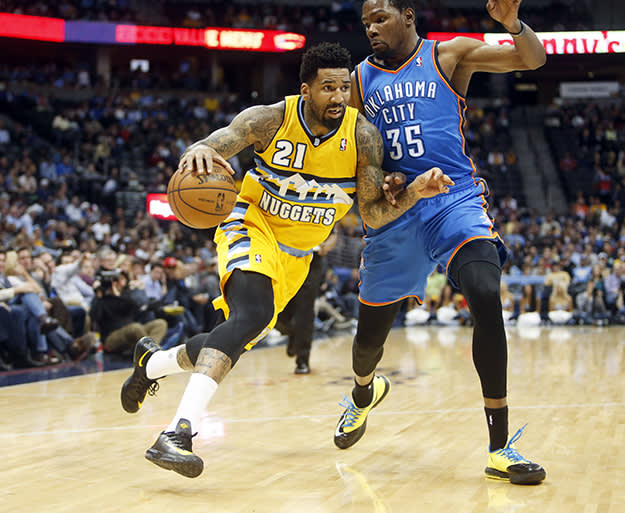 That would seem like a bad situation considering the Nuggets and Thunder faced off against each other last night. The Thunder have a signature shoe athlete in Kevin Durant who has the current Nike Zoom KD VI model currently being worn by multiple NBA players. Luckily for the Nuggets, the only player on the team who wears the KD VI is Wilson Chandler who missed the game with a strained right groin. Chandler actually wore the KD VI in OKC's last visit to Denver and had 13 points on 6-for-15 shooting.
As far as signature shoe wearing athletes go, Oklahoma City's Durant doesn't seem to mind:
"It's flattering to me. I don't look at it as an advantage at all. But it's moreso just cool to see a KD on another guy's shoe. I was growing up watching people wear Jordans and play in Jordans a lot. Now to have my own signature shoe and to have my peers wearing it, it's pretty fun to see."
Should a player be wearing an opponents signature shoe? Does it create a competitive advantage? Should coaches even feel some type of way about this? Maybe everyone should have a signature shoe. Who knows, but one player who can attest to the lack of a competitive advantage is Gordon Hayward who just dropped a career-high 37 points against Kevin Durant and the Thunder earlier this week in a win for the Jazz.
H/T to the Denver Post
Rafael Canton is a freelance writer from Queens, NY and contributor to Sneaker Report. Anytime there is a conversation about the NBA, music, or nutella, he can be found in the thick of the discussion. He can be found on Twitter @RafelitoC7.
RELATED: The 10 Most Ridiculous Things Basketball Players Have Said About Their Signature Shoes