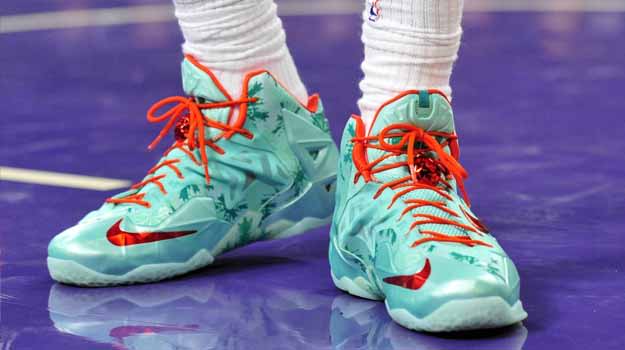 Hopefully sports fans won't have to see this much of the short-sleeved uniforms again in the NBA, but we won't hold our breath in the meantime. It's safe to say that not everyone looked stellar yesterday in adidas' latest Big Color uniforms, but some players took the new look a step too far by adding sock and sneaker combos that were close to unforgivable.
Take at look at the most offensive to the best Christmas Day looks spotted yesterday in the NBA.
RELATED: The Jordan Melo M10 Already Has a "Christmas" Edition
RELATED: The Jordan CP3.VII "Flight Before Christmas"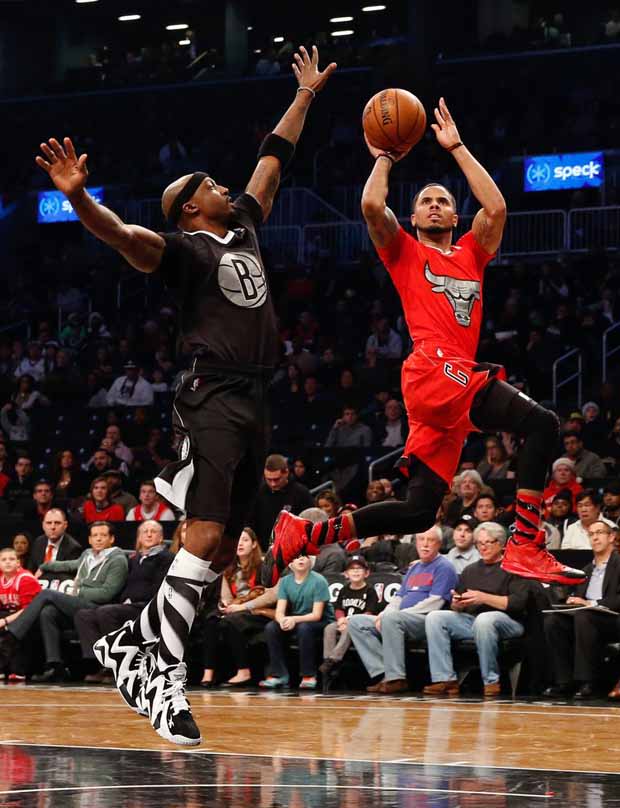 D.J. Augustin and Jason Terry
Verdict: Losers
Jason Terry wasn't the only player to wear these striped NBA leggings, but we really wish he hadn't paired them with the Reebok Kamikaze IIs. While it's debatable, it can be argued that this is taking a good thing too far. D.J. is an equally offensive contender with the Jordan CP3.VII PEs and a matching red and black sock.
Mirza Teletovic
Verdict: Winner
Something about the black and white twist on the traditional candy cane inspired crew sock is just perverse enough for us to embrace. Paired with the oppositely cheerful "Christmas" PEs, the socks and shoes balance each other out enough to make this a passable combination.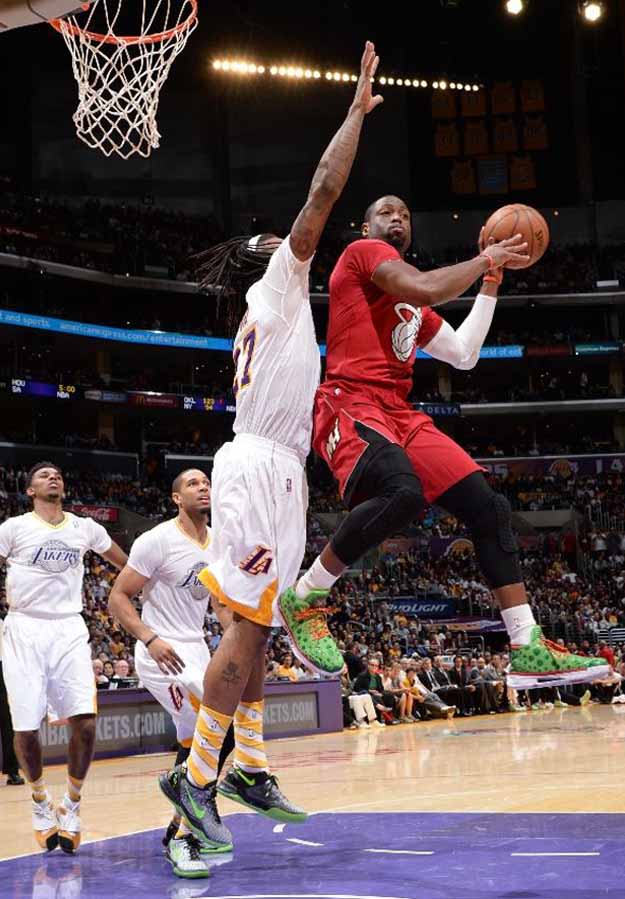 Dwyane Wade
Verdict: Loser
Wade broke out his signature Li-Ning's in a Christmas colorway yesterday, sporting the Way of Wade 2 in a spotted green rendition. We'll let you decide if these are winners or losers, but we have to applaud him for not being afraid to try new things.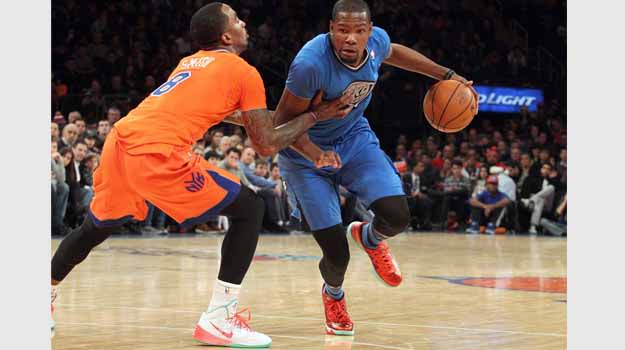 J.R. Smith and Kevin Durant
Verdict: Losers
They can't help the short sleeved jerseys, but they can help the full length leggings (twins!), yawwwwn socks and predictable red and green player exclusives. Here is J.R. in the Nike Hyperdunk 2013 PE and Kevin Durant in the Nike KD VI "Christmas." <!--nextpage-->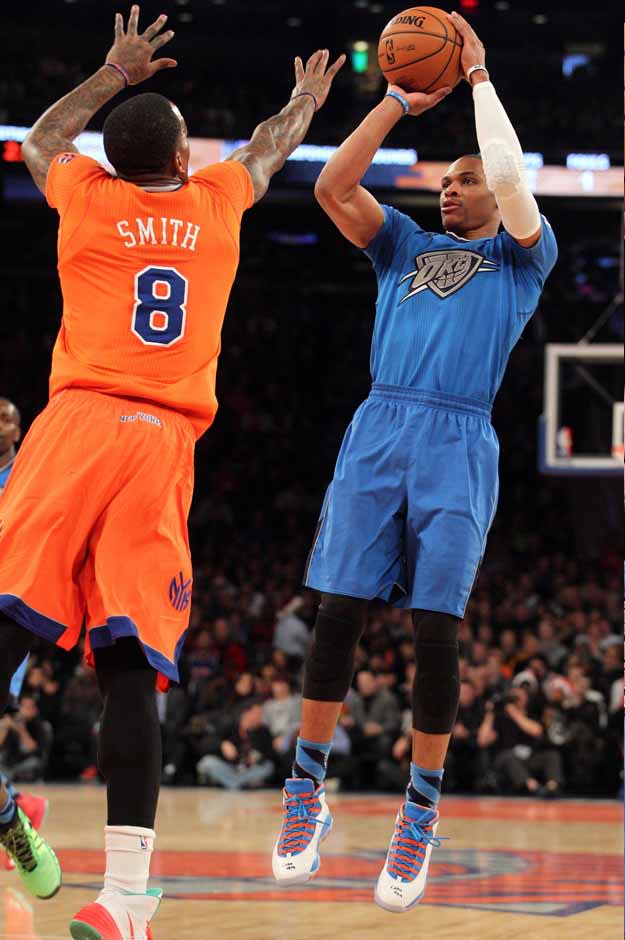 Russell Westbrook
Verdict: Winner
After seeing the asymmetrical leather overalls that Westbrook wore to the game, we expected far worse from the player on the court. But Russell surprised us, opting for a blue and black sock and matching Air Jordan 10 PEs.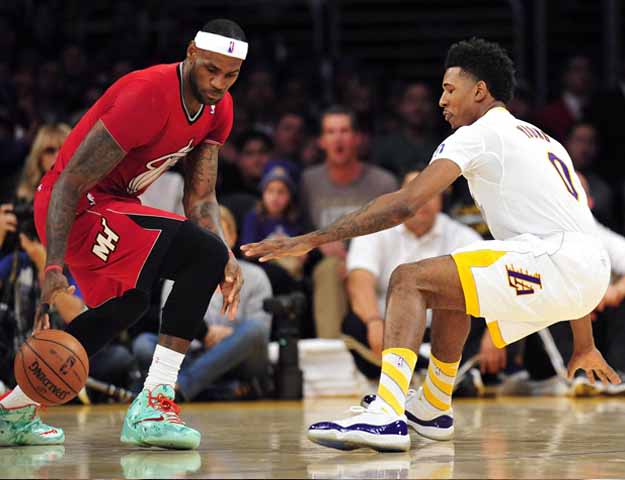 LeBron James and Nick Young
Verdict: Winners
Either those fit issues have been resolved for LeBron and his latest signature shoe, or he sucked it up for the "Christmas" edition of the LeBron 11. The mint green and blinged-out red might have been a predicable choice for the PE, but it looks great on the court. Nick Young's Air Jordan 11 Low customs went well with his NBA Lakers edition socks as well, keeping the look clean with plenty of crisp white.
RELATED: The Jordan Melo M10 Already Has a "Christmas" Edition