The college basketball schedule was relatively quiet, but history was made. Stefanie Dolson  recorded the second triple-double in UConn Women's Basketball history and led UConn to an easy 114-68 win over the Oregon Ducks. On the men's side, Shannon Scott had a solid overall game of 13 points, 9 rebounds, and 4 assists in Ohio State's win over American University.
The NBA schedule packed a mighty punch with a full slate of games last night. Paul George continued his dominant start to the season with 35 points as Indiana held on in overtime to defeat the New York Knicks 103-96. Kemba Walker scored 31 as the Charlotte Bobcats defeated the "other New York team" Nets 95-91 causing all new York fans to sob uncontrollably. Dirk Nowitzki also dropped 35 points as Dallas managed to pull off an awesome 123-120 comeback win against the Houston Rockets. Check out the Shoes That Won Last Night.
Rafael Canton is a freelance writer from Queens, NY and contributor to Sneaker Report. Anytime there is a conversation about the NBA, music, or nutella, he can be found in the thick of the discussion. He can be found on Twitter @RafelitoC7.
RELATED: The Shoes That Won Last Night: Marcus Smart Erupts for 39 Points, DeMarcus Cousins Shows Off in Win for Sacramento Kings
RELATED: The Shoes That Won Last Night: Cam Newton Has Signature Game for Carolina Panthers, Russell Westbrook Leads Thunder to Comeback Win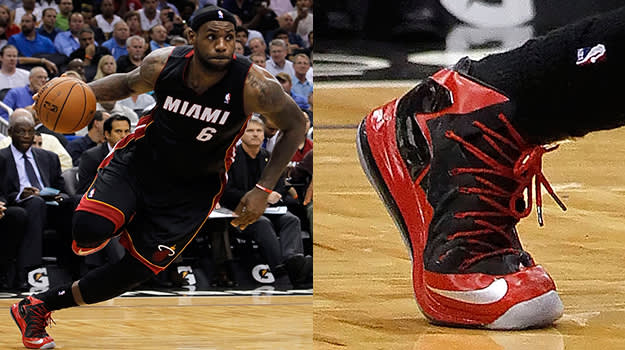 Shoe: Nike LeBron X PS Elite PE
Player: LeBron James
Game: Miami Heat vs. Orlando Magic
The Miami Heat are reigning NBA champions and they are going to have nights were they play down to their competition. Last night was not one of those nights. LeBron James won't let his team play beneat their best level because of the intensity he plays with. The King had 21 points, 6 rebounds, and 7 assists for Miami  as they rolled over the Orlando Magic 120-92. James put up all of those numbers in just 29 minutes which shows how easily he can affect a game.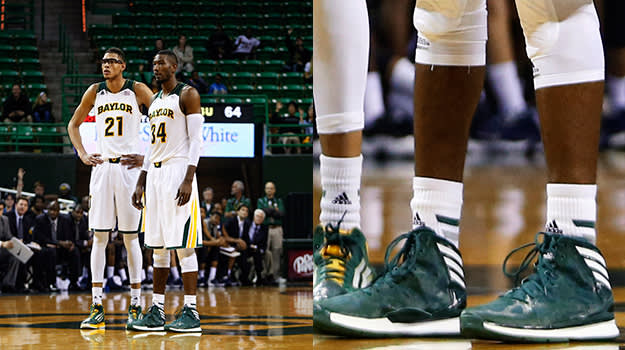 Shoe: adidas Crazy Shadow 2
Player: Cory Jefferson
Game: Baylor Bears vs. Charleston Southern Buccaneers
Baylor is looking like one of the best college teams in the nation and they've gotten out of the gates fast with four wins in a row to start the season. Cory Jefferson has been important  to the success of the team as they continue their in-season journey. The senior forward for the Bears has been solid this season in his second consecutive season as a starter. Last night he had 16 points, 11 rebounds, and 3 blocks in Baylor's 69-64 victory over Charleston.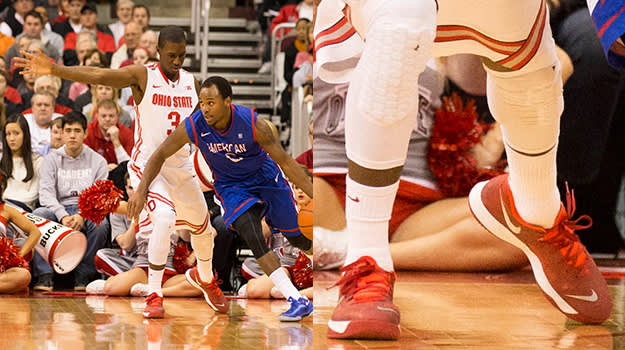 Shoe: Nike Hyper Quickness
Player: Shannon Scott
Game: Ohio State Buckeyes vs. American University Eagles
Shannon Scott and the Ohio State Buckeyes were able to pull off a good 63-52 win against American University last night. Scott was great in the game last night with 13 points, 9 rebounds, 4 assists, and 3 steals in the victory. Scott knows how to contribute in different ways and is not a ball dominator in Ohio State's unselfish starting lineup. Expect random players across the starting lineup getting recognition from us with their diverse ability.
$80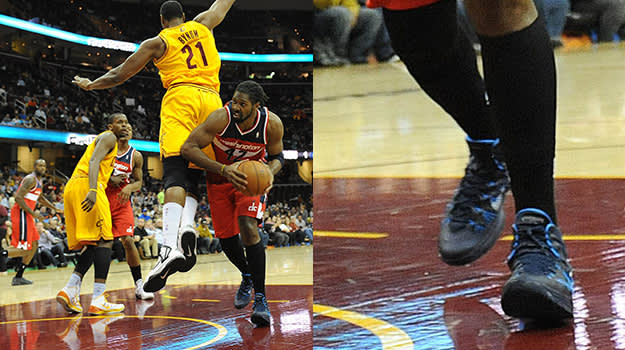 Shoe: Nike Hyperdunk 2013
Player: Nene
Game: Washington Wizards vs. Cleveland Cavaliers
The Washington Wizards have struggled this season, but they're looking to get back on the right path. If Nene is healthy and ready to go, the Wizards could make their first playoff appearance in six seasons. Nene had 24 points, 8 rebounds, and 6 assists for the Wizards as they went on to win a close 98-91 game over the Cavaliers. The Wizards were up by 20-plus, but almost blew the game, but a win is a win no matter how bad you play in parts of it.
$140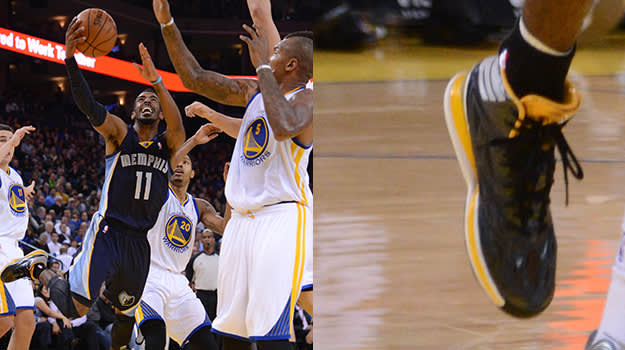 Shoe: adidas adizero Crazylight 3
Player: Mike Conley
Game: Memphis Grizzlies vs. Golden State Warriors
The Memphis Grizzlies got off to an ugly start and they play ugly basketball. Everything about this team is rather ugly. That's why they run by the motto of "Grit n Grind." One of the keys to their team is point guard Mike Conley who has been great early on this season. The Grizzlies were able to get a great road win against the Golden State Warriors in overtime 88-81 and Conley was all in the center of it. Conley had 19 points, 6 rebounds, and 4 assists in the win and had the Grizzlies offense running decently which is great for them.
$112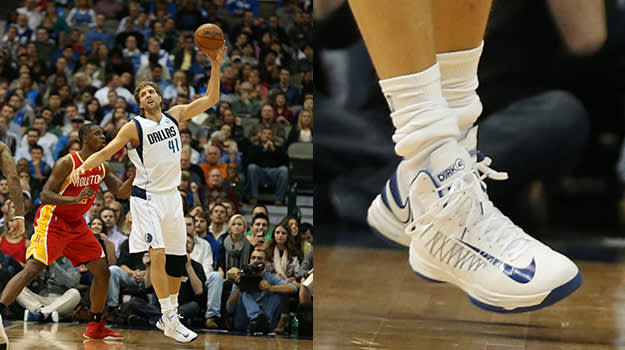 Shoe: Nike Hyperdunk 2012 PE
Player: Dirk Nowitzki
Game: Dallas Mavericks vs. Houston Rockets
Dirk Nowitzki keeps reminding us that no matter what, he's always going to be a great player. He might decline athletically and lose some overall physical skills, but no one can take away his jumper. It was hump day and Nowitzki kept it moving with a great 35 points, 7 rebounds, and 4 assists as Dallas managed a major comeback in their 123-120 victory over the Rockets. This game was an offensive showcase and lacked defense, and where else would Nowitzki be able to show off his sweet shooting form than in a matchup of two bad defensive squads.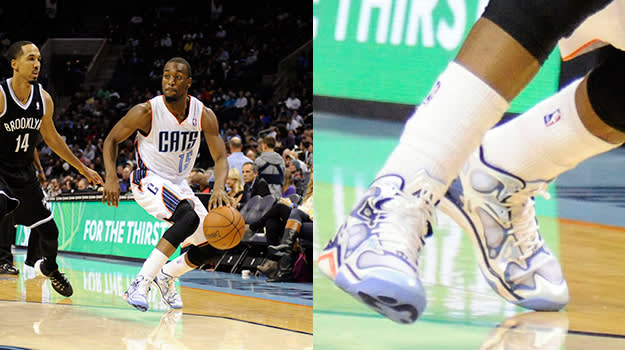 Shoe: Under Armour Micro G® Anatomix Spawn
Player: Kemba Walker
Game: Charlotte Bobcats vs. Brooklyn Nets
Many critics and fans expected the Charlotte Bobcats to have another terrible season. Also, they've missed star free agent acquisition Al Jefferson for most of the year. The Bobcats continue to truck through all of that and are now 6-6 after defeating the Brooklyn Nets 95-91. Kemba Walker came through in the clutch with a strong performance of 31 points and 5 rebounds in the win. The UConn product was able to slice and dice the Nets defense, get into the paint repeatedly and cause problems in the Anatomix Spawn.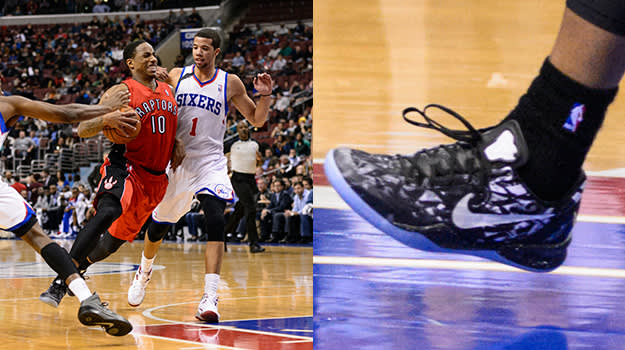 Shoe: Nike Kobe 8 System
Player: DeMar DeRozan
Game: Toronto Raptors vs. Philadelphia 76ers
Despite the mediocre start from the Toronto Raptors, they still have a great chance to make the playoffs in the East because... it's the East. There are only four teams with plus-.500 records in the early part of the season. The Raptors can make some headliens if they keep getting production from shooting guard DeMar DeRozan. DeRozan lit up the Philadelphia 76ers for 33 points in the Kobe 8 System while showing his evolved dynamic range with 3 triples knocked down throughout the course of Toronto's 108-98 victory.
$140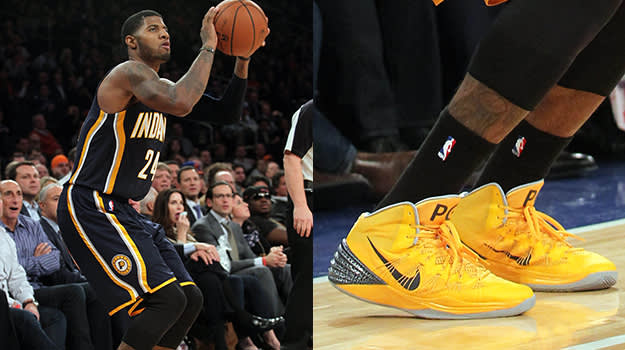 Shoe: Nike Hyperdunk 2013 PE
Player: Paul George
Game: Indiana Pacers vs. New York Knicks
It has been a pleasure to watch the evolution of Paul George throughout the past year. The Pacers All-Star is continuing his maturation process and it's evident how much he has progressed by his performance last night against the New York Knicks. George was the king of the midrange as the Pacers went on to win in overtime against the struggling New York Knicks 103-96. George scored 35 points and also was able to do other things with 5 rebounds, 4 assists, 5 steals, and 2 blocks in the win. George was knocking down pull up jumper after pull up jumper. He of course knocked down three key free throws to take the game to overtime after being fouled on a three point attempt by the Knicks' Iman Shumpert.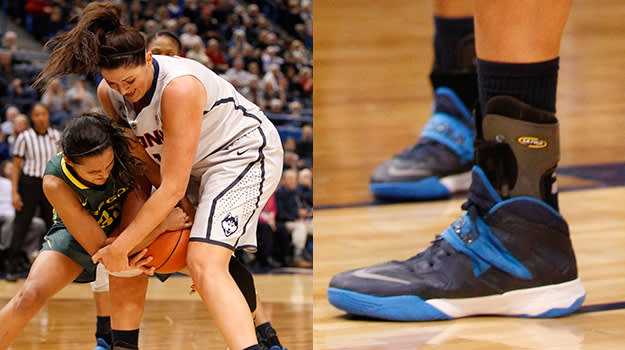 Shoe: Nike Zoom Soldier VII
Player: Stefanie Dolson
Game: UConn Huskies vs. Oregon Ducks
Some people don't realize how hard it is to get a triple-double in basketball. It's even harder to get it in the college ranks. Stefanie Dolson got it done last night as she led UConn to a 114-68 rout of the Oregon Ducks. Dolson recorded just the second triple-double and first triple-double since 1989 with 26 points, 14 rebounds, and 11 assists in the win. Talk about making history.
$112
Rafael Canton is a freelance writer from Queens, NY and contributor to Sneaker Report. Anytime there is a conversation about the NBA, music, or nutella, he can be found in the thick of the discussion. He can be found on Twitter @RafelitoC7.
RELATED: The Shoes That Won Last Night: Marcus Smart Erupts for 39 Points, DeMarcus Cousins Shows Off in Win for Sacramento Kings
RELATED: The Shoes That Won Last Night: Cam Newton Has Signature Game for Carolina Panthers, Russell Westbrook Leads Thunder to Comeback Win