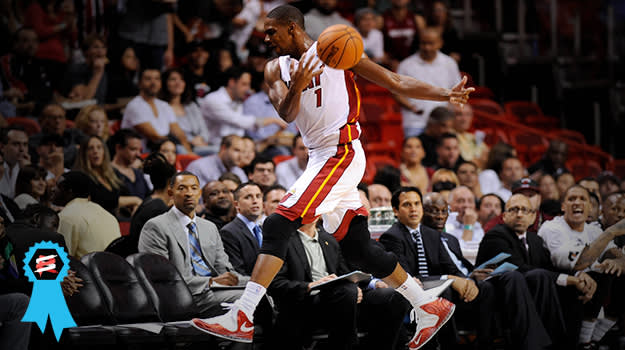 The NBA schedule was relatively light, but was far from unexciting. DeMarcus Cousins powered Sacramento to a rare 107-104 win by defeating the Phoenix Suns with Boogie Cousins scoring 27 points and grabbing 12 rebounds for the Kings. Not to be outshined, Miami Heat All-Star Chris Bosh scored 19 points for the Miami Heat as they routed the Atlanta Hawks 104-88.
Marcus Smart had one of the best offensive performances in the young college basketball season as he dropped 39 points on the Memphis Tigers in a 101-80 win for Oklahoma State. Jabari Parker continued to impress as he had a sweet all-around game going for him inDuke's 83-74 win over East Carolina. Parker had 21 points, 9 rebounds, and 6 blocks in the 9-point win. Here are the Shoes That Won Last Night.
Rafael Canton is a freelance writer from Queens, NY and contributor to Sneaker Report. Anytime there is a conversation about the NBA, music, or nutella, he can be found in the thick of the discussion. He can be found on Twitter @RafelitoC7.
RELATED: The Shoes That Won Last Night: Cam Newton Has Signature Game for Carolina Panthers, Russell Westbrook Leads Thunder to Comeback Win
RELATED: The Shoes That Won Last Night: Ben Roethlisberger Leads Steelers to Rare Win, Belmont upsets North Carolina Tar Heels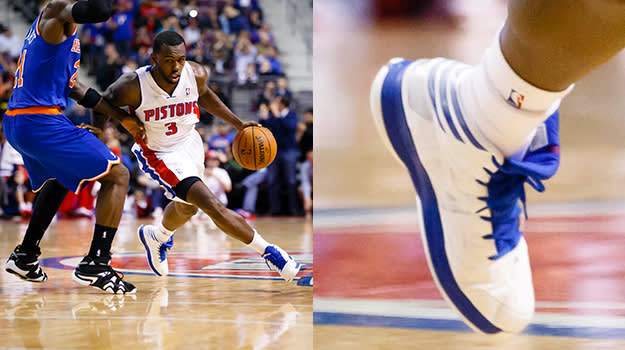 Shoe: adidas Crazy Shadow 2
Player: Rodney Stuckey
Game: Detroit Pistons vs. New York Knicks
In a struggle between two 3-6 NBA teams, the Detroit Pistons managed to pull off a 92-86 over the slumping New York Knicks. Guard Rodney Stuckey had a great game off the bench for Detroit with 21 points and 5 assists. Stuckey was recently benched because of his lack of range which further hurts Detroit's starting lineup which is a team that lacks spacing. Stuckey seems to have handled the demotion well with performances like this and his solid 13.4 points per game average in 8 games.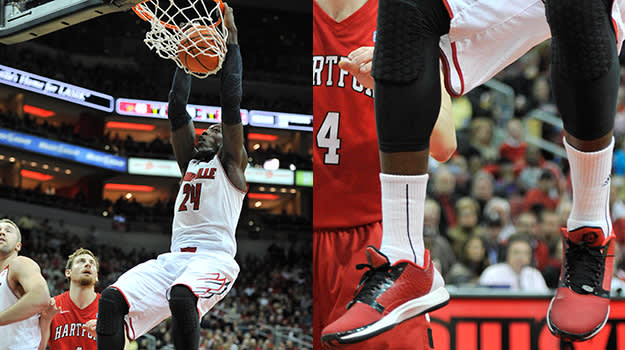 Shoe: adidas D Rose Engelwood Low
Player: Montrezi Harrell
Game: Louisville Cardinals vs. Hartford Hawks
The Louisville Cardinals are a great team and they make quick work of teams like Hartford last night. The Cardinals won in a rout 87-48 with Montrezi Harrell getting in on the action. Harrell played the role of dominant big man last night scoring 20 points and collecting 9 rebounds for the Cardinals in their easy win over the Hawks. Harrell was wearing the D-Rose Engelwood Low last night.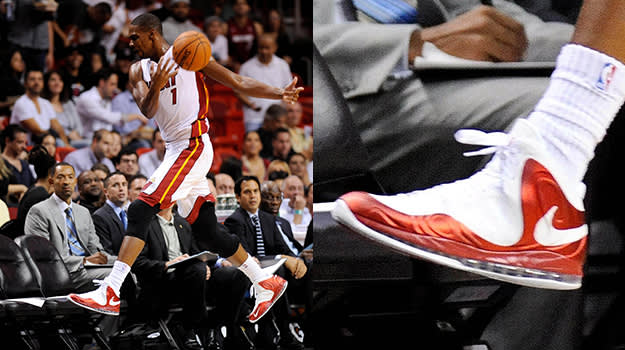 Shoe: Nike Air Max Hyperposite PE
Player: Chris Bosh
Game: Miami Heat vs. Atlanta Hawks
The Miami Heat are regaining their championship form after a lethargic start to the season. One key player to the Heat's championship hopes is their third and sometimes forgotten star Chris Bosh. Bosh was not forgotten last night as he pulled off a solid game with 19 points and 5 rebounds for Miami in their easy 104-88 win over division rival Atlanta Hawks. Bosh was his normal self knocking down midrange jumpers and moving the ball in Miami's quick moving and free flowing offense.
Shoe: Nike Hypervenom Phantom FG
Player: Robinho
Game: Brazil vs. Chile
It's just a friendly. but that's not all that meets the eye. It's a chance to display skills and a competitive match. Robinho wearing the Hypervenom, stuck to that when he nailed the game-winning goal at the 79' mark in Brazil's 2-1 victory over Chile. Robinho passed the ball to defender Maicon, who crossed for Robinho to nod the ball home and give Brazil the lead for good.
$225
Shoe: adidas adipure Crazyquick
Player: John Wall
Game: Washington Wizards vs. Minnesota Timberwolves
The key to some of the best players in the NBA is their ability to affect the game in different ways when their jump shot isn't falling. John Wall is learning how to help his team when his jump shot isn't falling and that's an encouraging sign. Wall shot a horrid 5-for-17 in the Wizards' 104-100 win over the Minnesota Timberwolves, but was able to get his teammates involved with 16 assists to offset his rough night from the field. The Wizards are going to need Wall as they rebound from a rough 2-7 start after going through a tough early season schedule.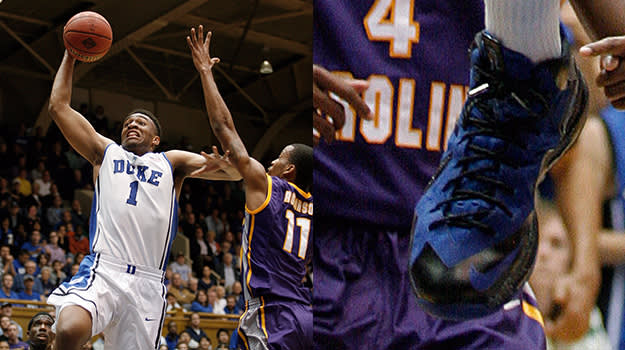 Shoe: Nike LeBron X PE
Player: Jabari Parker
Game: Duke Blue Devils vs. East Carolina Pirates
What else can we say about Jabari Parker? Coach K must be really excited to have the new toy in Parker and must be equally disappointed to have him for only a year, as it's almost a foregone conclusion that Parker will leave Duke for the NBA after one season. Parker was electric again with 21 points, 9 rebounds, and an astounding 6 blocks in Duke's relatively close 83-74 win over the East Carolina Pirates. We're still salivating over those 6 blocks and the all-around game of Parker. NBA players are on notice, and better be worried in a year.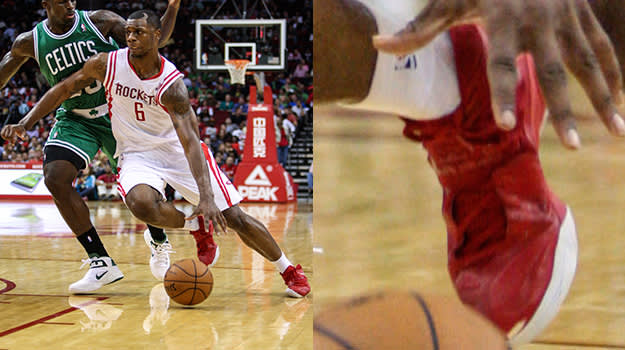 Shoe: Nike Zoom Soldier VII
Player: Terrence Jones
Game: Houston Rockets vs. Boston Celtics
Everyone that talks about the Houston Rockets mentions their weakness at the power forward position, but never fear, Terrence Jones is here. The Rockets need some help at that position and Jones provided some production last night for the Rockets in their 109-85 blowout win over the Boston Celtics. Jones led the team in scoring with 24 points and also worked hard on the glass with 2 rebounds and also contributed 2 blocks. If he keeps playing like this, the Rockets won't be asking for help from outside parties and trades.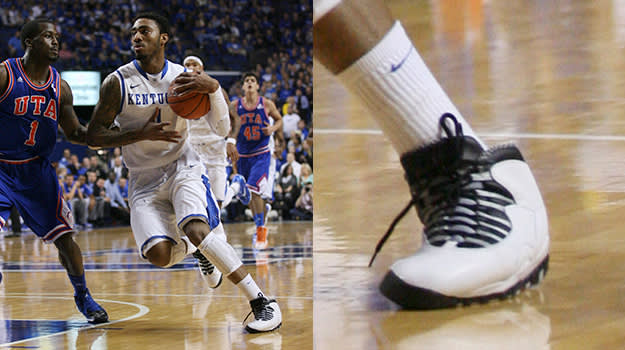 Shoe: Jordan X
Player: James Young
Game: Kentucky Wildcats vs. Texas-Arlington Mavericks
Julian Randle might get all of the attention for the Kentucky Wildcats, but James Young is a very important part to the team. The Freshman guard can be lights out from the perimeter and he was exactly that last night for Kentucky. The Wildcats dismantled the Texas-Arlington Mavericks with Young knocking down 5 triples and scoring 26 points for the Wildcats in their victory pushing the team's record to 4-1.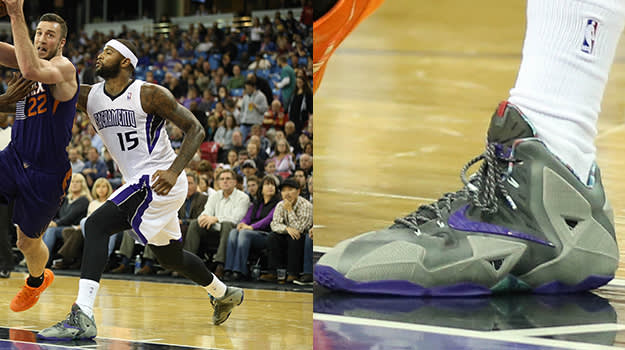 Shoe: Nike LeBron XI
Player: DeMarcus Cousins
Game: Sacramento Kings vs. Phoenix Suns
If the Sacramento Kings are going to make any progression this season from their past seasons of struggle, they're going to need some growth from DeMarcus Cousins. The Kings center dominated the Kings' 107-104 win over the Phoenix Suns with 27 points, 12 rebounds, 3 assists, 4 steals, and 2 blocks. Cousins bulled his way through the smaller Phoenix Suns front line and made some key buckets and grabbed some important rebounds as the Kings managed to make a comeback from a six-point deficit to start the fourth quarter.
$200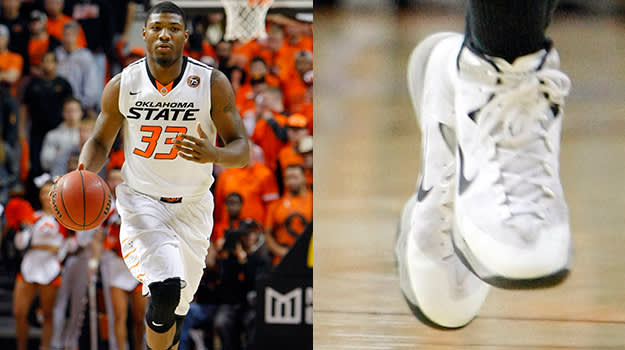 Shoe: Nike Hyper Quickness
Player: Marcus Smart
Game: Oklahoma State Cowboys vs. Memphis Tigers
Marcus Smart is easily one of the best college basketball players in the nation. He has struggled initial through the beginning of the season y failing to score more than 16 points in his first three games of the season. He finally awoke with a wild 39 point explosion against the Memphis Tigers. Oklahoma State won the game easily at 101-80, but Smart captured all of the attention. The star sophomore made 5 triples and also managed to have 5 steals and 2 blocks in the win showing his multi-faceted talents on both the offensive and defensive end.
Rafael Canton is a freelance writer from Queens, NY and contributor to Sneaker Report. Anytime there is a conversation about the NBA, music, or nutella, he can be found in the thick of the discussion. He can be found on Twitter @RafelitoC7.
RELATED: The Shoes That Won Last Night: Cam Newton Has Signature Game for Carolina Panthers, Russell Westbrook Leads Thunder to Comeback Win
RELATED: The Shoes That Won Last Night: Ben Roethlisberger Leads Steelers to Rare Win, Belmont upsets North Carolina Tar Heels