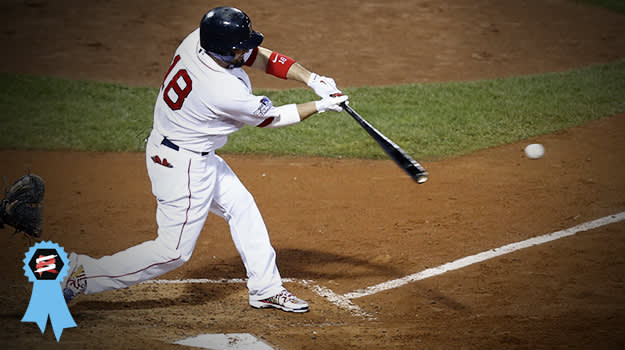 The MLB season is officially over and the Boston Red Sox take home the World Series crown. Boston defeated the St. Louis Cardinals 6-1 behind a great pitching performance from John Lackey and some key hitting from Shane Victorino. Now expect some wild celebrating as well as a special edition of the champagne and campaign from the Boston faithful. It might get a little wild, but we'll give Boston a pass for whatever happened last night.
The second day of NBA action was heavy with a 14-game schedule on Wednesday night. The Philadelphia 76ers pulled off an unbelievable upset of the Miami Heat behind Michael Carter Williams having a great debut. Kevin Durant scored 42 points in an OKC win, Klay Thompson scored 38 points in a Golden State rout, and Kevin Love had 38 points in a Minnesota overtime win. It was a dramatic night filled with some great season debuts in The Shoes That Won Last Night.
Rafael Canton is a freelance writer from Queens, NY and contributor to Sneaker Report. Anytime there is a conversation about the NBA, music, or nutella, he can be found in the thick of the discussion. He can be found on Twitter @RafelitoC7.
RELATED: The Shoes That Won Last Night: Miami Heat Win on NBA Opening Night, Indiana Pacers Have Block Party Against Orlando Magic
RELATED: The Shoes That Won Last Night: Boston Red Sox Take 3-2 Series Lead, Seattle Seahawks Win Third Game in A Row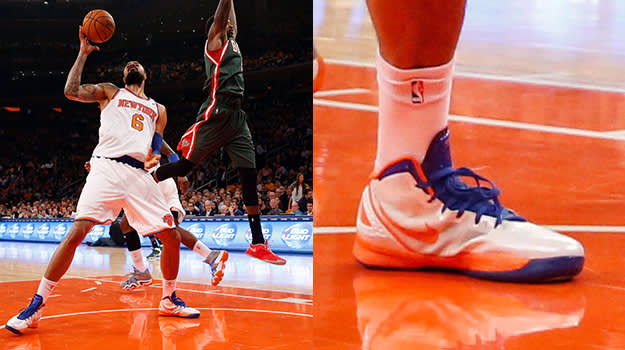 Shoe: Nike Hyperdunk 2011 PE
Player: Tyson Chandler
Game: New York Knicks vs. Milwaukee Bucks
A ton is expected of Tyson Chandler on a regular basis. The Knicks All-Star center had a disappointing Playoff stretch that hurt his standing in the NBA among his fellow centers. Chandler proved that he's still the imposing force he's always been. The Knicks defensive anchor had 10 points, 6 rebounds, 3 steals, and 5 blocks in the Knicks 90-83 victory over the Milwaukee Bucks. Chandler intimidated, contested, and blocked shots as well as having some nice putbacks at critical points in the Knicks' close contest.
$100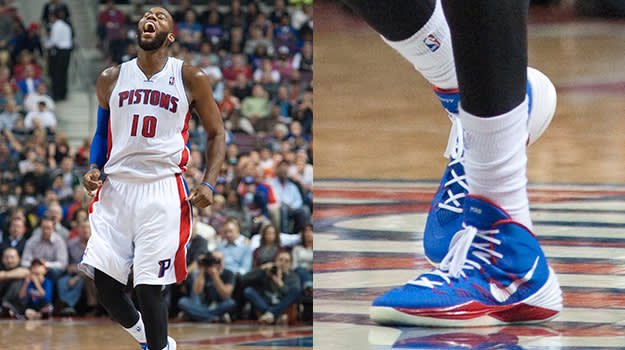 Shoe: Nike Hyperdunk 2013 PE
Player: Greg Monroe
Game: Detroit Pistons vs. Washington Wizards
There are some increased expectations that come with the Detroit Pistons and Greg Monroe. The Pistons defeated the Washington Wizards 113-102 and Monroe led the charge. Monroe had a beastly 24 points, 16 rebounds, and 3 assists. Remember, Monroe will be a free agent this season and why not boost that salary with some monster performances like last night's? Despite missing some players the post player of choice Monroe made some great passes and dominated for the Pistons last night.
$140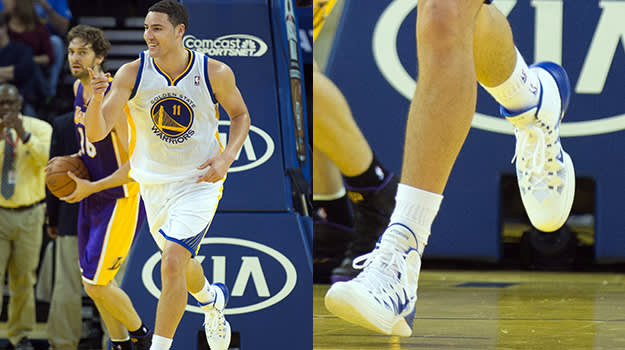 Shoe: Nike Hyperdunk 2013 PE
Player: Klay Thompson
Game: Golden State Warriors vs. Los Angeles Lakers
When you look up the word automatic, you're probably going to find Klay Thompson in the dictionary. The Golden State Warriors guard's jump shot looked like clockwork. Thompson shot 15-for-19 on mostly jumpers and scored 38 points in Golden state's 125-94 destruction of the Los Angeles Lakers. The "Splash Brothers" are back in business and as Walt "Clyde" Frazier says "oh how sweet it is."
$140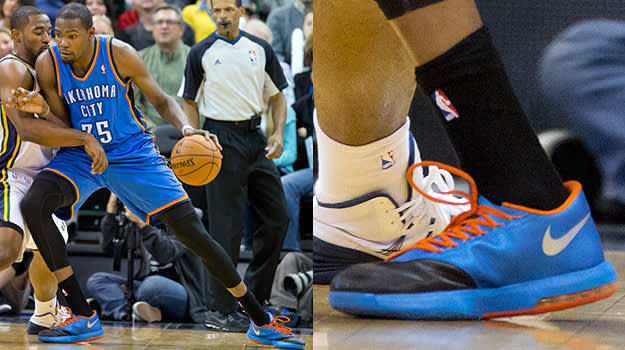 Shoe: Nike Zoom KD VI
Player: Kevin Durant
Game: Oklahoma City Thunder vs. Utah Jazz
With Russell Westbrook out because of injury, expect some wild performances from Kevin Durant. KD shot just 9-for-24, but got to the charity stripe a whopping 24 times in the Thunder's 101-98 win over the Utah Jazz. There might be some tough matchups for the Thunder down the road, but with Durant in the lineup, the Thunder will always be in every game. Durant also had 6 rebounds and 3 steals in the win which should be coming on the regular. Durant's all-around game has taken a step up.
$130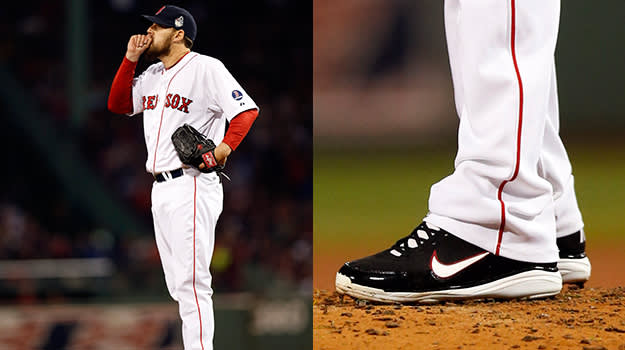 Shoe: Nike Air Show Elite 2
Player: John Lackey
Game: Boston Red Sox vs. St. Louis Cardinals
Just a year ago, John Lackey was considered a bust of a signing for the Boston Red Sox. The pitcher really brought it all together in the Red Sox's World Series clincher. In Game Six, Lackey pitched 6.2 innings and gave up just 1 run in the 6-1 Boston victory. Lackey had 9 strikeouts and the Red Sox won. The end. Oh wait, the parade is still going to happen so there will be even more time to celebrate the great season Boston had this season.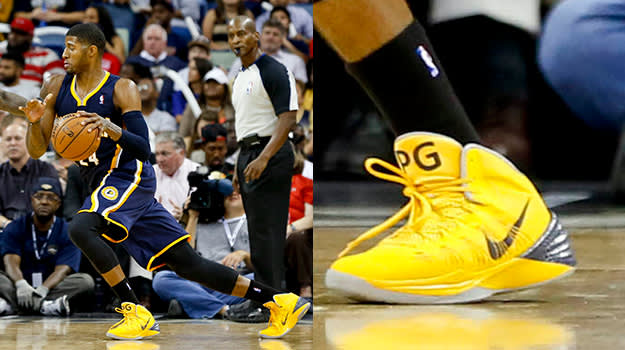 Shoe: Nike Hyperdunk 2013 PE
Player: Paul George
Game: Indiana Pacers vs. New Orleans Pelicans
Indiana has the spice. The Pacer got to a 2-0 record after completing a comeback against the New Orleans Pelicans. Paul George had a key 32 points, 6 rebounds 5 assists, and 2 steals in the 95-90 victory. George made several big shots in the first half to keep Indiana within striking distance. Indiana was down by 16 early but made the comeback. Of course, the Pacers were happy to get the win and also happy to not have that weird looking mascot Pierre the Pelican.
$140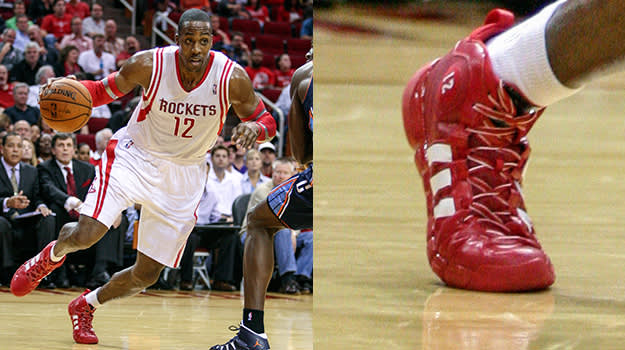 Shoe: adidas D Howard 4
Player: Dwight Howard
Game: Houston Rockets vs. Charlotte Bobcats
Dwight Howard's starting to remind us of his old self that was patrolling the paint and dominating the NBA in Orlando. Howard had 17 points and 26 rebounds in Houston's 96-83 victory over the lowly Charlotte Bobcats. Howard was an intimidator with 2 blocks, and also had some nice touchdown outlet passes after rebounds. We like the new and improved Howard or the version of Howard that doesn't complain and actually just cares about winning rather than numbers.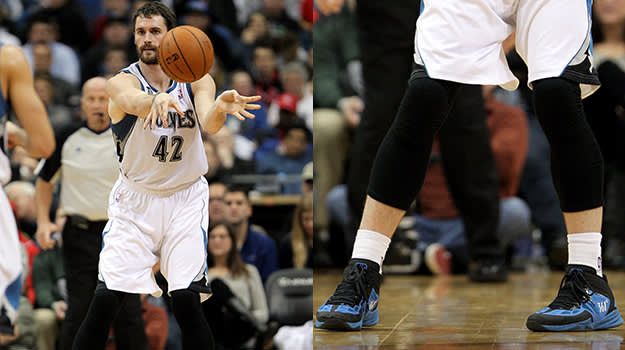 Shoe: Nike 361 Degrees Kevin Love 3.0
Player: Kevin Love
Game: Minnesota Timberwolves vs. Orlando Magic
The beast of Love is back in Minnesota. The Timberwolves struggled last season as they missed star Kevin Love due to his various injuries last season. Love was at his best hitting a clutch three-pointer with 10 seconds left in the game to tie the game 103 and eventually sent it into OT. Love was great with 37 points and 18 rebounds in Minnesota's 120-115 overtime victory over the Orlando Magic.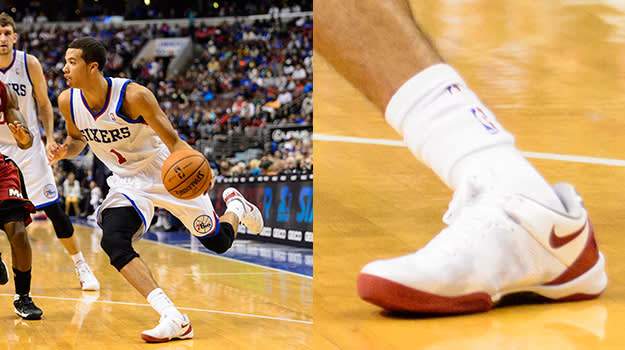 Shoe: Nike Kobe 8 System PE
Player: Michael Carter-Williams
Game: Philadelphia 76ers vs. Miami Heat
Michael Carter-Williams had the debut of the year, and he had one of the best debuts in NBA history. The Sixers guard is expected to learn on the fly as the Sixers are expected to lose many games. The over-under prediction on the Sixers wins this season is at 16.5. They might get a little bump in that win prediction with their 114-110 victory over the Miami Heat. Dwyane Wade didn't play, but we have to give credit to Philadelphia, especially MCW. The rookie guard had 22 points, 7 rebounds, 12 assists, and 9 steals in the victory putting himself on the map. Expect big things from the Syracuse University product especially if he's wearing the Nike 8 Kobe System.
$140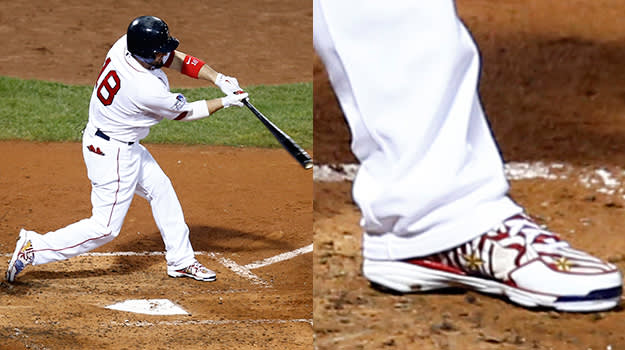 Shoe: Nike Air Huarache Pro Mid Metal PE
Player: Shane Victorino
Game: Boston Red Sox vs. St. Louis Cardinals
Shane Victorino owes some good luck to his his cleats that were created by Casey Custom Sneakers of Philadelphia. The cleats were designed with an American flag motif across the upper, the ankle straps provide further personalization with the names of Victorino's children Kingston and Makenna stamped on. The Boston Red Sox won the game easy and they can thank Victorino and his lucky cleats. Victorino had two hits and 4 RBIs. His signature play came in the bottom of the third inning when he had a bases clearing double that gave the Red Sox an early 3-0 lead. Now the Sox can rejoice in their World Series crown and celebrate the great season.
Rafael Canton is a freelance writer from Queens, NY and contributor to Sneaker Report. Anytime there is a conversation about the NBA, music, or nutella, he can be found in the thick of the discussion. He can be found on Twitter @RafelitoC7.
RELATED: The Shoes That Won Last Night: Boston Red Sox Take 3-2 Series Lead, Seattle Seahawks Win Third Game in A Row
RELATED: The Shoes That Won Last Night: Calvin Johnson Puts Up Historic Numbers, Boston Red Sox Take World Series Game Four