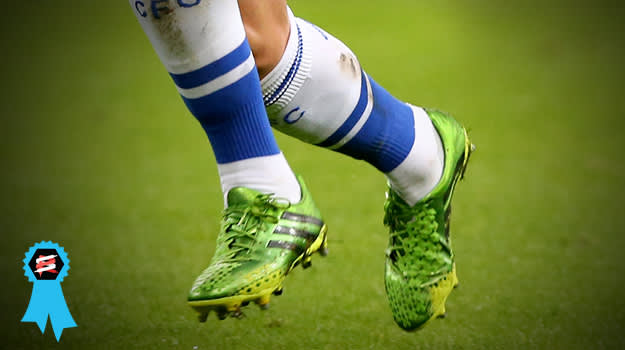 Soccer action took over the day of sports as the UEFA Champions League was on full display. Fernando Torres scored two goals in Chelsea's 3-0 victory over Schalke 04. Torres came up with the ultimate performance to take his team to the promised land with that performance yesterday. Borussia Dortmund was able to defeat Arsenal 2-1 thanks to a goal by Robert Lewandowski at 82' that gave Borussia Dortmund the 2-1 lead for good.
There were five NBA Preseason games on Tuesday. The games included a couple of blowouts as the Indiana Pacers routed the Atlanta Hawks 107-89 behind a strong 17-point performance from Paul George and the Spurs beat the Orlando Magic by 21. Kawhi Leonard was big in the game, as Leonard had 19 points in the easy victory. These are The Shoes That Won Last Night.
Rafael Canton is a freelance writer from Queens, NY and contributor to Sneaker Report. Anytime there is a conversation about the NBA, music, or nutella, he can be found in the thick of the discussion. He can be found on Twitter @RafelitoC7.
RELATED: The Shoes That Won Last Night: New York Giants Win First Game of Season, Derrick Rose Continues to Impress
RELATED: The Shoes That Won Last Night: Andrew Luck Outduels Peyton Manning, NBA Preseason Action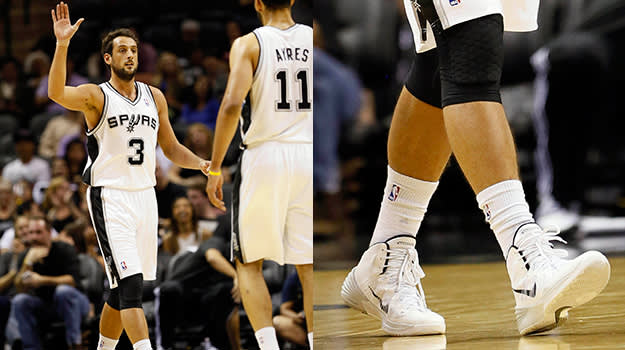 Shoe: Nike Hyperdunk 2013 PE
Player: Marco Belinelli
Game: San Antonio Spurs vs. Orlando Magic
The San Antonio Spurs haven't changed much about their roster, but one addition to their team for this season was guard Marco Belinelli. Belinelli should be a welcome addition to the Spurs bench. His ability to run the pick and roll and shoot from long distance should help an already powerful Spurs offensive attack. The Spurs won 123-101 over the Orlando Magic with Belinelli scoring 16 points in just 19 minutes of action. He hit two three's in the game and will be dialing up from long distance constantly this season.
$140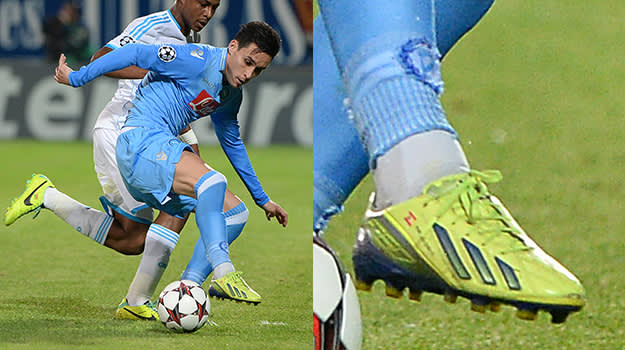 Shoe: adidas adizero F50 TRX FG
Player: Jose Maria Callejon
Game: Napoli vs. Marseille
Napoli wouldn't have been able to win unless they would've gotten a strong performance from Jose Maria Callejon. Callejon was on the striker's wavelength and burst forward to chest the ball down before cutting inside and firing in his low shot. That goal scored at the 42' mark of the game and got Napoli off to the right start in their 2-1 victory against Marseille.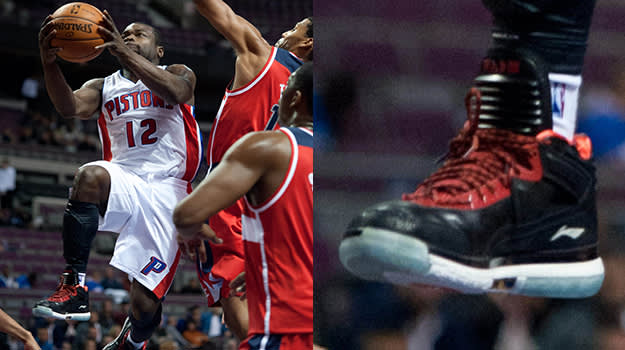 Shoe: Li-Ning Way of Wade Encore PE
Player: Will Bynum
Game: Detroit Pistons vs. Atlanta Hawks
The Detroit Pistons roster seems to be crowded with small guards and that could be a problem for Will Bynum. Luckily, Detroit's starting guards Brandon Jennings and Rodney Stuckey are dealing with injuries, so Will Bynum should get a chance to display the ability that he showed last season when he averaged nearly 10 points per contest last season. In the Pistons' 99-96 victory over the Washington Wizards, Bynum scored 13 points all while dishing 9 assists in the Pistons victory.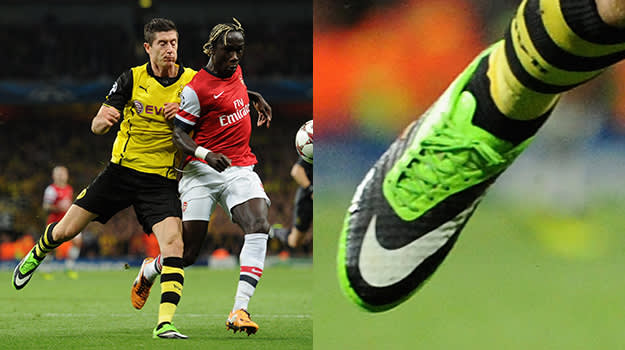 Shoe: Nike Hypervenom Phantom FG
Player: Robert Lewandowski
Game: Borussia Dortmund vs. Arsenal
Clutch goals are clutch goals no matter what way you say or express it. Robert Lewandowski brought the big bad with his Nike Hypervenom's and then proceeded to bring the almighty Arsenal down with a late winning goal kick as Borussia Dortmund was able to complete a 2-1 victory in Tuesday night's Champions League Group F clash at the Emirates Stadium. Arsenal lost in what was a close and competitive matchup and what should be remembered for Lewandowski's late winner.
$225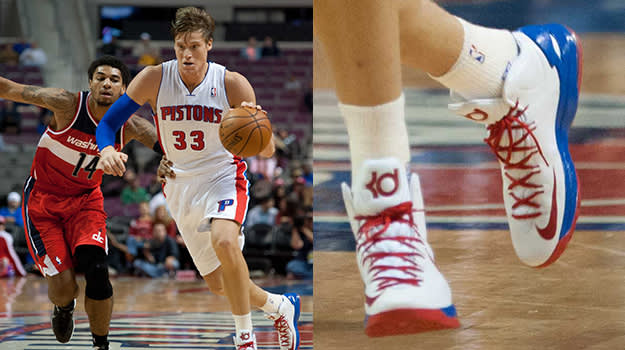 Shoe: Nike Zoom KD V
Player: Jonas Jerebko
Game: Detroit Pistons vs. Washington Wizards
It's going to be a hard spot for Jonas Jerebko this season. He's not guaranteed any minutes with Detorit's deep front line of Andre Drummond, Josh Smith, and Greg Monroe expected to play major minutes. Jerebko can make his case for minutes in the Preseason and did so last night with 11 points, 2 rebounds, and 2 assists in the Pistons win over the Wizards.
$125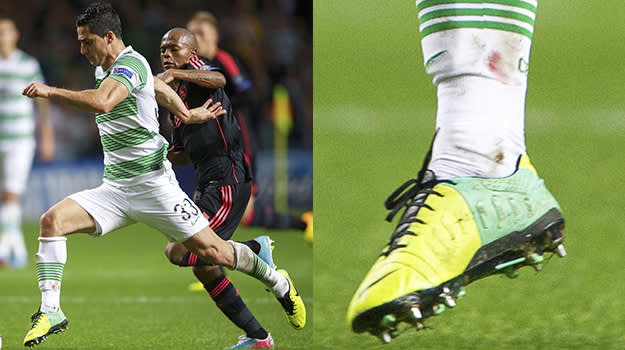 Shoe: Nike CTR360 Maestri III FG
Player: Beram Kayal
Game: Athletic Bilbao vs. Villareal
Athletic Bilbao defeated Villareal 2-1 behind one goal from Baram Kayal. Kayal scored a second goal at the 53' mark to give his team a cushion in their victory. Georgios Samaras crossed from the left to Kayal and at 20 yards from the goal he had a side-footed shot in his Nike CTR360 Maestri III FG's that appeared to take a deflection off of defender Stefano Denswil before nestling behind goalkeeper Jasper Cillessen.
$200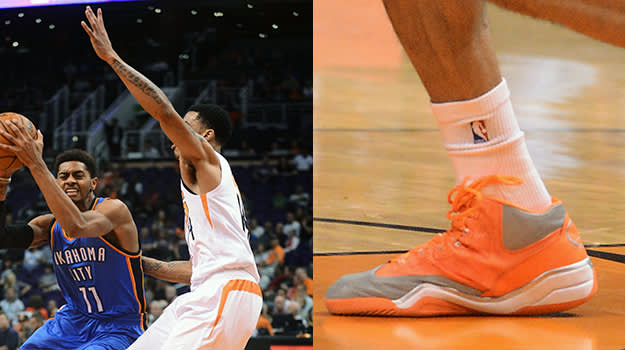 Shoe: Reebok Q96
Player: Gerald Green
Game: Phoenix Suns vs. Oklahoma City Thunder
The Phoenix Suns are expected to be a cellar dwelling team in the NBA this season so Gerald Green should get ample opportunity to produce. The highflyer has been wearing the Q96 on and off in Phoenix since media day and he's been quietly impressive this Preseason. The key is, what will he contribute in the regular season when the games are a lot more serious. In the Suns' win over OKC, Green had 15 points while knocking down 3-of-4 shots from beyond the arc.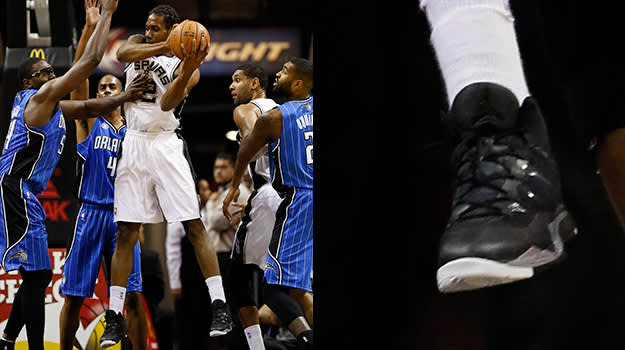 Shoe: Nike Air Force Max 2013
Player: Kawhi Leonard
Game: San Antonio Spurs vs. Orlando Magic
Kawhi Leonard really opened eyes during his NBA Finals performance against the Miami Heat. Although the Spurs ended up losing, Leonard really developed into a swiss army knife type of star for the Spurs. He is an elite defender, strong rebounder, and he's really developed his ball-handling as well as his corner three-point shot. Leonard put up a strong performance in the Spurs blowout of the Orlando Magic. Leonard had 19 points and 5 rebounds in just 21 minutes of action.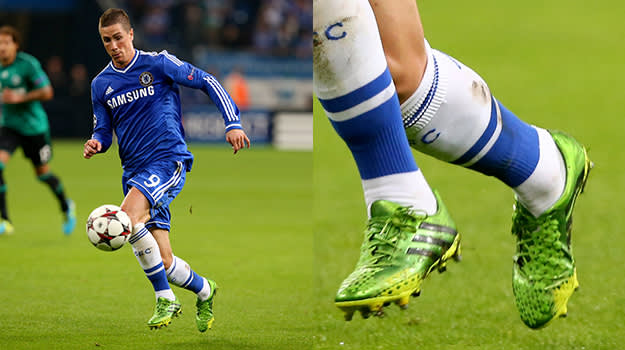 Shoe: adidas Predator LZ TRX FG
Player: Fernando Torres
Game: Chelsea vs. Schalke 04
Chelsea won with relative ease 3-0 over Schalke 04 and they have to thank Fernando Torres. In his 100th start with Chelsea, Torres scored his 38th and 39th goals for the Blues to take his total goal tally for the season to four. Torres put Chelsea in front with a header at the 5' mark. Torres scored his second goal in the second half to give Chelsea some room to be comfortable with a 2-0 lead.
$198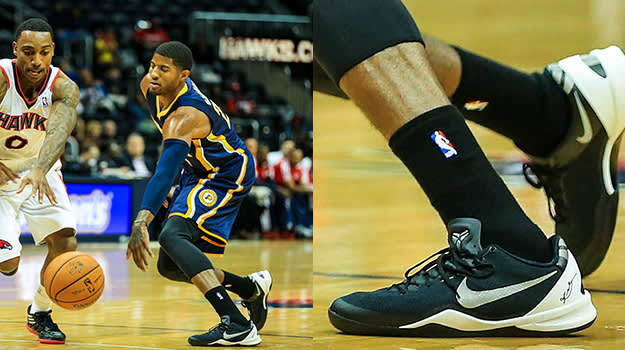 Shoe: Nike Zoom Kobe 8
Player: Paul George
Game: Indiana Pacers vs. Atlanta Hawks
Paul George is expected to be the leader for the Pacers this season and with the added pressure, can he be that as the Pacers go from hunter to the hunted this season? George had a solid outing in the Pacers' 107-89 victory over the Atlanta Hawks. The reigning Most Improved Player of the Year had 17 points and 4 rebounds in just 27 minutes of action while wearing the Nike Zoom Kobe 8's in the victory.
$140
Rafael Canton is a freelance writer from Queens, NY and contributor to Sneaker Report. Anytime there is a conversation about the NBA, music, or nutella, he can be found in the thick of the discussion. He can be found on Twitter @RafelitoC7.
RELATED: The Shoes That Won Last Night: New York Giants Win First Game of Season, Derrick Rose Continues to Impress
RELATED: The Shoes That Won Last Night: Andrew Luck Outduels Peyton Manning, NBA Preseason Action