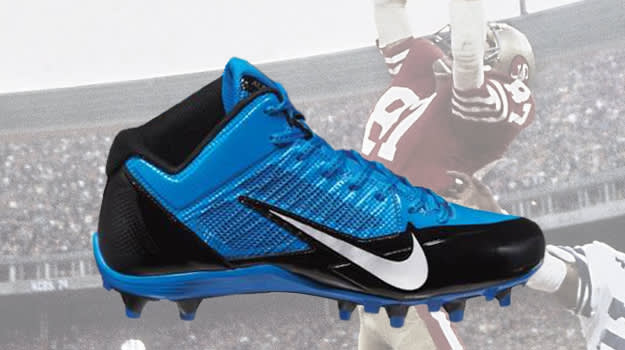 Even quarterbacks who can throw like Tom Brady and run like RG3 meticulously pick out which football cleats to use on the field because every part of the quarterback's body is vital to the success of the team and if you aren't balanced, you aren't accurate.  Whether you are tucking the ball to spring for a first down or releasing the deep route, you need the perfect cleat for your style of play.  This is a list of the ten best cleats for quarterbacks so that when the huddle breaks, you stay on your feet.
Isaac Clark is a Philadelphia-based writer for SportsUnlimited.com. He loves Bo Schembechler quotes and the University of Michigan. He runs his company's twitter account @SportsUnlimited or you can keep up with his literary blog YellowTypewriter.com.
RELATED: How to Pick the Best Pair of Football Cleats for You
RELATED: Testing Out the Stickiest Football Glove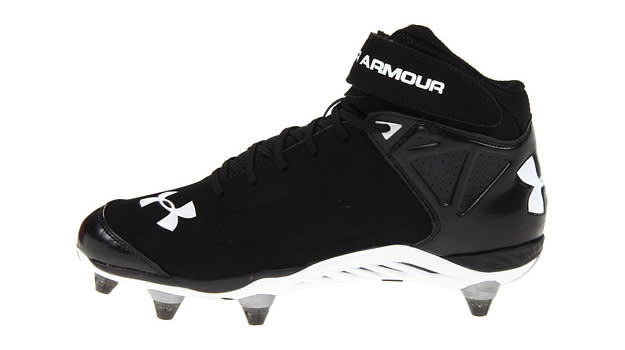 No. 10 - Under Armour Run N Gun D
With the 4D foam footbed and ¾ cut, these cleats are some of the most stable and comfortable cleats around. Quarterbacks can move in the pocket and pick out passes with reduced cleat pressure and a power strap for secure lockdown.  These cleats are heavier than some other cleats, but the detachable cleat plate with secondary cleats for great traction, these cleats are built for performance.
$80
No. 9 - Under Armour Nitro Icon Mid D
Under the pressure of the blitz, the Nitro performs with excellent traction and support.  With a 7-stud TPU plate that works phenomenally on natural grass, you've got the option to tuck and run or stay balanced and release the throw.  Under Armour knocks it out with the style of this cleat and with CompFit collar for a secure ankle, you've got a little extra protection from dreaded ankle rolls.  This is a really solid detachable cleat for the quarterback who needs protection and balance, but has the ability to make a sharp cut up the field.
$90
No. 8 - Nike Alpha Pro Mid TD
The Alpha Pro Mid TD from Nike is another cleat that provides great stability in the ankle as the ¾ height and Dynamic Flywire technology secures the foot for protection and support.  This cleat is remarkably similar to the UA Nitro Icon, but a main difference is that the cleats are molded in the Alpha rather than detachable.  Great for maintaining stability and protection around the ankle, but still provides a lightweight, dual-stage cleat that helps with that explosive first cut.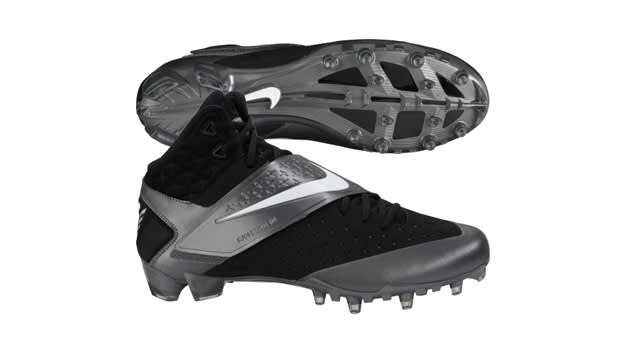 No. 7 - Nike CJ81 Elite TD
Although these cleats were built for Calvin Johnson and Nike claims they were "engineered for speed", these bad boys can work wonders for a quarterback.  Dynamic fit, lockdown stability, and excellent traction all pull together to create an explosiveness and stability that make it look easy out there.  12 TPU cleats provide ridiculous traction and a full-length sock liner makes all that explosion, speed, and stability as comfortable as seemingly possible.
$120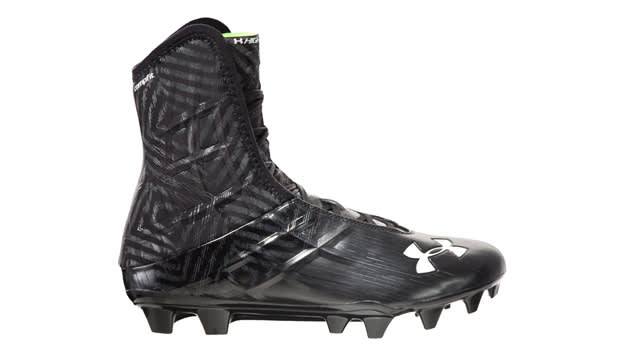 No. 6 - Under Armour Highlight MC
These cleat has gotten a lot of attention since its debut, and rightfully so.  With innovative styling and astounding performance, the Highlight MC is the premiere support cleat.  CompFit sleeve maximizes protection, but is light enough to make you feel nimble.  The CoreSpeed chassis and 4D foam footbed offers flexibility and cushion so that when you're making them miss, your feet feel great.  The Highlight MC features molded cleats that perform on grass as well as turf.  These boots look nasty and play nastier.
$110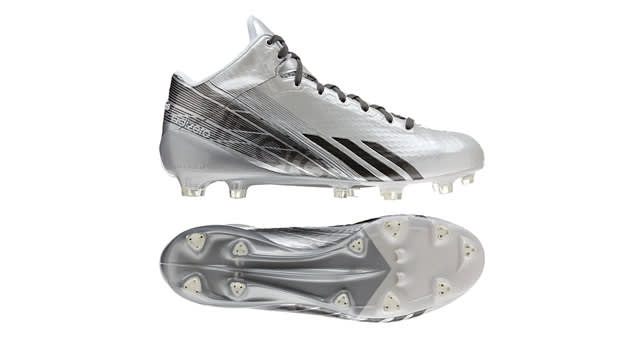 No. 5 - adiZero 5-Star 2.0 Mid
This cleat is wicked for the QB with its absurdly lightweight, but supportive design.  The mid-cut gives great ankle support, but the SPRINTSKIN upper and SPRINTFRAME build are so light you will never feel weighed down.  This cleat is great for pocket passers as well as dual-threat quarterbacks.  The 5-Star features a modern adidas design and the best aspect of these cleats is the weight; there barely is any.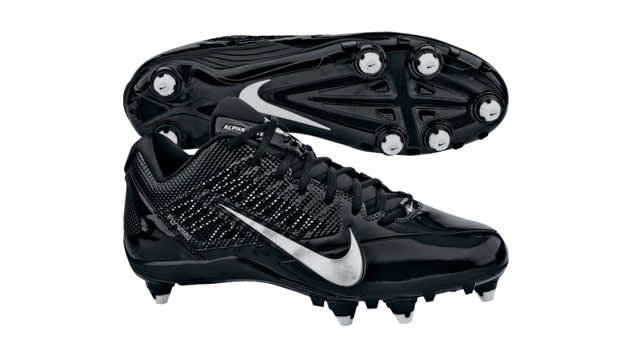 No. 4 - Nike Alpha Pro Low D
The Nike Alpha Pro D are low-cut cleats and are used by many skill position players.  This pair of cleats is geared more towards the dual-threat quarterback who has the tendency to tuck the rock and jet up-field.  The low-cut provides less support for the ankle, but allows for razor-sharp cuts, and great acceleration.  These are detachable cleats and provide great support for a low-cut cleat.  Not meant for the traditional pocket passer who doesn't run much, but rather for speed, agility, and explosiveness.
$95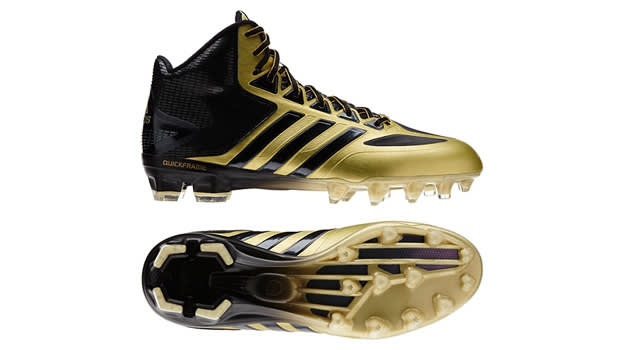 No. 3 - adidas Crazyquick Mid
The Crazyquick are engineered to tear up the field.  Mid-cut, but ultra-lightweight, this cleat provides the protection any quarterback needs, but are light enough to have you making plays all night.  I love the way this cleat is designed with the QUICKFRAME outsole plate with three stud types to improve toe-off traction, lateral movement, and quick stops.  No quarterback can go wrong with these cleats and adidas allows you to customize them on their website.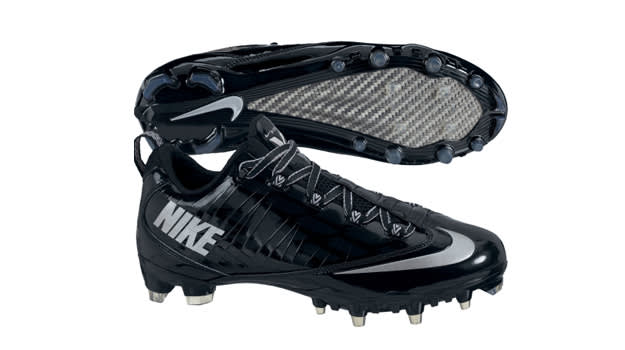 No. 2 - Nike Zoom Vapor Carbon Fly 2 TD
These are beautifully designed cleats that combine strength, comfort, and acceleration into the lightweight performance cleat sought after by the best of the best.  These provide less stability than the mid-cut cleats, but the Nike Flywire technology locks your foot down so it doesn't slip.  If you value speed and quickness in your game, these Vapors are the cleats for you. They are fully customizable even down to the type of stud-plate you want on Nike's website.  With a solid pump-fake, you can take your eyes down and that first down marker is the starting point, not the target.
$150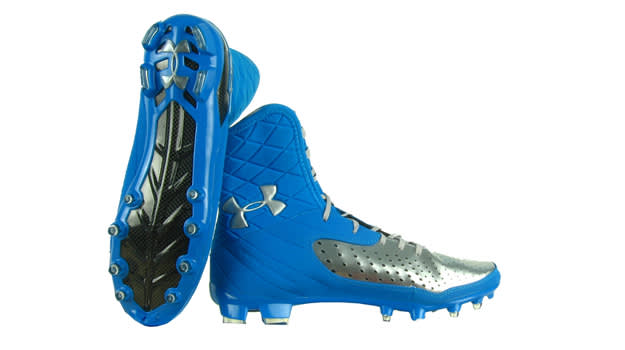 No. 1 - Under Armour Cam Highlight MC
The ultimate combination of strength, speed, and stability, the Cams from Under Armour are a testament to the ultimate quarterback.  Built with Under Armour's latest and greatest performance technology, the Cams provide ridiculous support up the ankle and innovative comfort design with the 4D, foot-forming, foam bed. Carbon fiber "wings" lock your heel into place and 3D-molded tongue gives comfort in the upper.  Super-lightweight at 10.2 oz, these cleats are the ultimate of the ultimate in quarterback performance.  Whether you love him or not, Cam Newton and Under Armour got this one right on target.
$160
RELATED: How to Pick the Best Pair of Football Cleats for You
RELATED: Testing Out the Stickiest Football Glove