With the new season just upon us and the transfer window closing in 3 weeks, teams are starting to place some extra impetuous into making their marquee signings. We see the same trend every summer, but this year has been especially hectic with large transfer amounts being thrown around like monopoly money. Even now there are several huge rumors floating around about players that will being moving to new clubs. Here, we take a look at some potential transfers we will see in the next few weeks and uncover the boots that these players are currently wearing. This is The Soccer Cleats Worn by the 8 Best Transfer Targets.
[Editor's Note: As of posting, none of these transfers had taken place.]
Bryan Byrne is the founder of 
RELATED: The Verdict: Nike Premier vs adidas Copa Mundial
RELATED: 10 Things To Look For in Your Next Pair of Soccer Cleats
<!--nextpage-->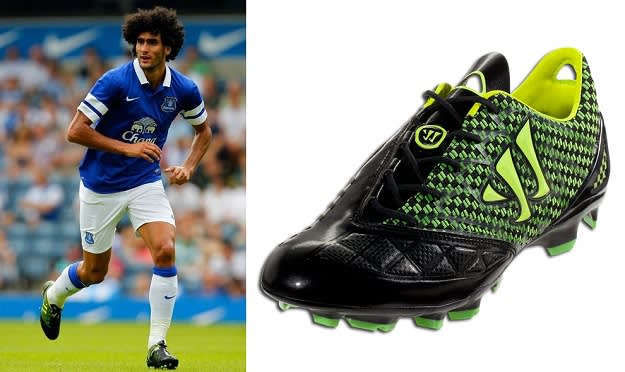 Marouane Fellaini x Warrior Gambler
Everton to Manchester United
Rumors are starting to increase about Fellaini reuniting with his former employer at Old Trafford. His gritty nature would add a missing dimension to the United midfield and he is also pretty decent in the air.
Fellaini has become a key figure for Warrior Sports and a move like this could really elevate the stature of the brand. Where Warrior is doing it right is in signing players that have tremendous potential to move up and on to top clubs. In an unusual move, we now see Fellaini sporting the Skreamer over the initial Skreamer release. The Skreamer is a boot that offers players an additional level of strike power, with the ArrowHead Forefoot Vamp adding some additional pop as well as an unusual design. The Gambler is more about control and keeping the ball close to your feet. Seeing as he is a center midfielder, it seems like th Gambler might offer more all-round performance to match his requirements.
<!--nextpage-->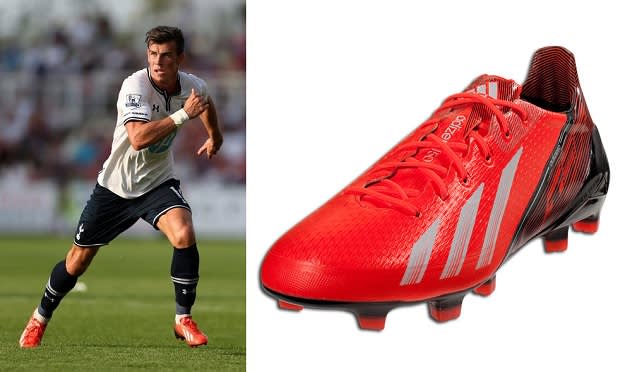 Gareth Bale x adidas F50 adiZero
Tottenham Hotspurs to Real Madrid
The numbers being thrown around in this potential transfer are absolutely astronomical. Some sites are reporting that upwards of $150million could be spent securing Bale's services. It is tough to know how accurate these numbers are, but if there is truth behind them the transfer record fee would be smashed.
Bale is the ultimate winger, with deadly speed and the ability to strike shots top of his game. Wearing the F50 adiZero makes complete sense and they are one of a limited number of boots that would complement his style. The lightweight nature of the boot offers him a fast release and acceleration as he makes cuts and pushes the ball past defenders.
<!--nextpage-->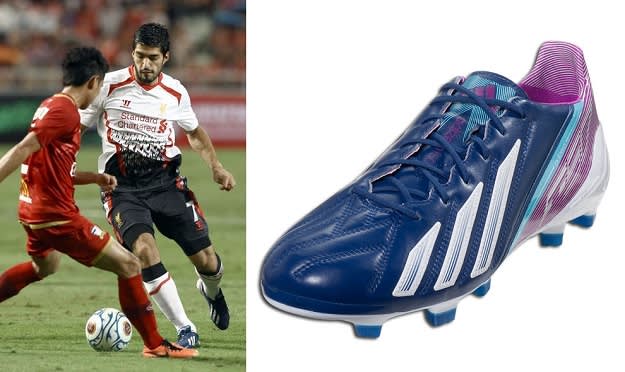 Luis Suarez x adidas F50 adiZero
Liverpool to Arsenal
There is a very emotional level of feeling behind Suarez transfer, with fans now realizing the Uruguayan striker has a strong desire to leave the club. Liverpool has a rich and stories history, so his desire to leave in order to play Champions League football will leave fans with an extremely sour taste in their mouth.
Suarez is not the type of player to hide from controversy and the same is true about his playing style. He is always front and center of the game, with very few moments where he is not offering some sort of dramatic impact. The F50 is a boot that provides him with a lightweight feel and clean touch on the ball. Plus, they usually feature wild and imaginative colors, something I am sure Suarez appreciates in order to keep him in the spotlight.
<!--nextpage-->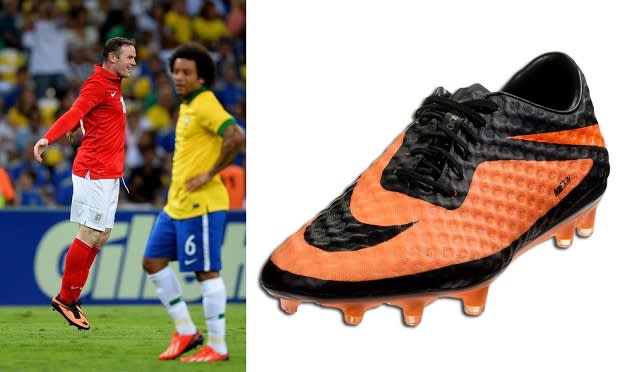 Wayne Rooney x Nike Hypervenom
Manchester United to Chelsea
Rooney has not publicly stated he wants a transfer, but if his actions in 2010 are anything to go by, he is probably looking for a fresh start. Who can blame the guy for wanting a move considering the amount of rumors that have circulated about his relationship with the Old Trafford hierarchy over the past year, but United fans will be hoping he is persuaded to stay. Chelsea has other ideas!
One of the players left making a decision about where to go post Nike T90 Laser IV, Rooney jumped onto the Hypervenom bandwagon. In fact, he was the first player to score in a pair when England played Brazil a few months back. The Hypervenom is all about agility and offering players a clean, uniform movement on the ball as they look to chop and change direction without losing control. Rooney is a very different style of player to Neymar (who is lead of the Nike's Hypervenom campaign) but this shows the flexibility the boot has for attacking nature players.
<!--nextpage-->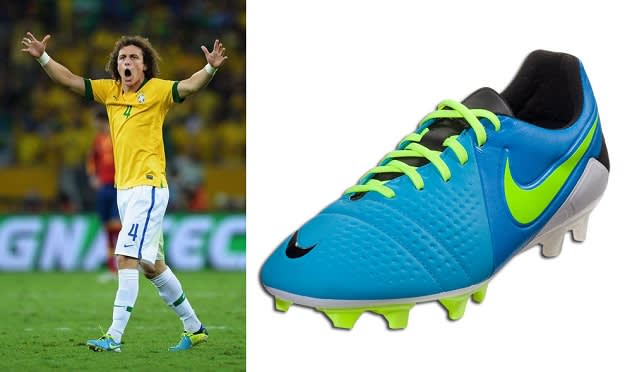 David Luiz x Nike CTR360 Maestri III
Chelsea to Barcelona
With many question marks hanging over the fitness of Barca stalworth Carlos Puyol, it seems like a new central defender is desperately needed at Camp Nou. Because of that, rumors have started to circulate that David Luiz is currently top of Gerardo Martino wishlist.
On his feet, Luiz wears the Nike CTR360 Maestri III. They are specifically targeted toward attacking style players with the likes of playmakers getting the best deal from wearing a pair. Luiz is a central defender, but he also loves to make galloping runs forward and get involved in the attack. Over the past few seasons he has scored plenty of goals with some fantastic strikes included in his numbers. In essence, if you are a center back in the mold of Luiz, the CTR360 is a boot that will probably suit your style. It is the layer of stitching that sits across the forefoot that makes this boot for me, as it provides a nice, natural flex across the top of your foot.
<!--nextpage-->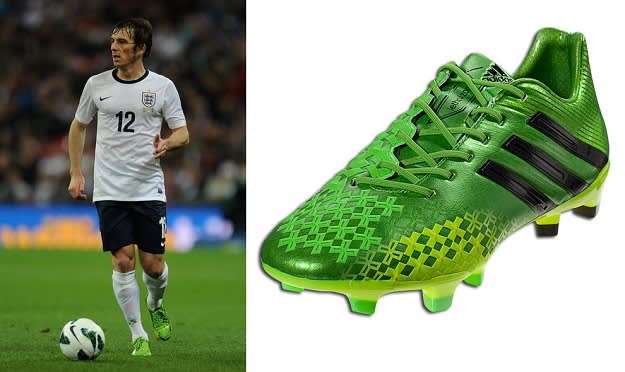 Leighton Baines x Adidas Predator LZ
Everton to Manchester United
There has been plenty of speculation surrounding Baines move to Old Trafford and a second bid for the right back is headed into Everton hands, if media speculation is anything to believe. There is not an immediate need for a left back, but I'm sure Manchester United fans would approve the signature of one of the best set-piece specialists currently playing the game.
And for his set-pieces, Baines chooses to way a very well suited boot – the Adidas Predator LZ. This version of the Predator is seen to a hybrid, with the concept of a focused power boot replaced by the idea of an all-around performer. For any player looking to add a little extra swerve on shots, the Power Zone of the Predator LZ offers an ideal complement. You can get some extra grip on the ball and this will add spin.
<!--nextpage-->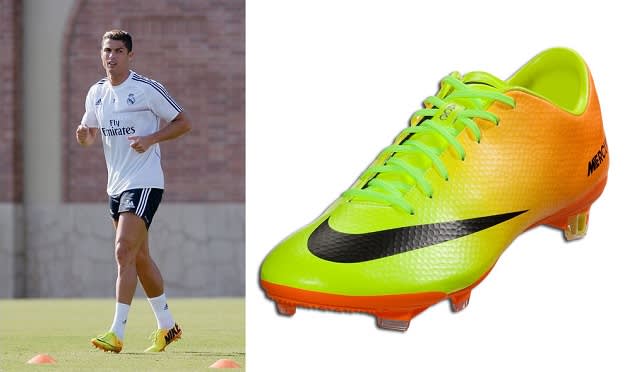 Cristiano Ronaldo x Nike Vapor IX
Real Madrid to Manchester United
If Gareth Bale ends up moving to Real Madrid, there might be some room for a potential return to Old Trafford for Cristiano Ronaldo. It is the player's insistence that his future is not sorted out that has led to the continued speculation surrounding a sensational move. Personally, I can't see it happening either way but if it did, cheers from Manchester would be heard in the US!
If you didn't already know, Ronaldo is the key figure in Nike's arsenal. His goal scoring prowess and ability to impact games is second in the game only to Messi (many would argue this point) and he has already grafted a name for himself in the history books of soccer. Nike regularly releases personalized boots just for CR7.
Currently, Ronaldo is wearing the Nike Mercurial Vapor IX, and the colorway he has gone with dazzles just like his abilities on the pitch. The Vapor series is all about speed and acceleration, with this version of the boot featuring a dimple textured upper for added control on the ball. You also get the unique two blade heel design that is intended to provide fast penetration and release from the surface. If Ronaldo does make the move to Old Trafford, expect to see him make his debut in some sort of personalized pair.
<!--nextpage-->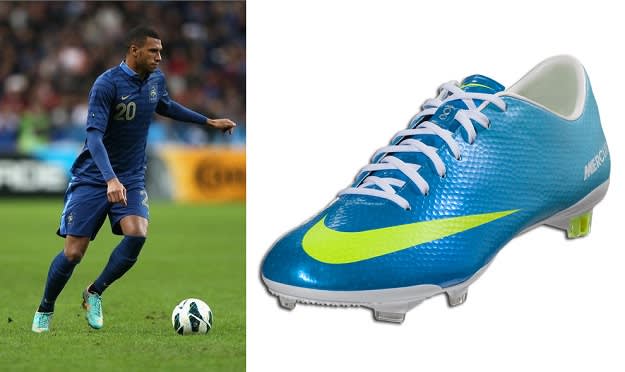 Etienne Capoue x Nike Vapor IX
Toulouse to Tottenham Hotspurs
There is intense speculation right now the Spurs are on the verge of signing the capture of sought after midfielder Etienne Capoue. He is seen to be a center mid, but his tall frame makes him and equally adept center back. As far as reports go, this one is a done deal.
As far as boot choices go, this one is the only odd one on the list. We are familiar with the Vapor IX range being worn by attack minded players. Even though he scored 7 goals last season, Capoue is seen to be a pretty defensive player – or are the boots actually impacting his game in a positive way? The Vapor series is all about speed and acceleration, with this version of the boot featuring a dimple textured upper for added control on the ball. You also get the unique two blade heel design that is intended to provide fast penetration and release from the surface.