Looking back on the week of May 20-May 24, there were a number of developments in performance sneaker news, including the first glance at two new LeBron James sneakers and the debut of a new women's adidas Barricade style. In Performance Sneaker History, both Michael Jordan and Dikembe Mutombo had postseason accomplishments. Check out The Week in Performance Sneakers: 5 Things We Learned.
RELATED: The Week's Greatest Moments in Performance Sneaker History
RELATED: The Week's Greatest Moments in Performance Sneaker History
<iframe width="200" height="30" frameborder="0" scrolling="no" src="//platform.twitter.com/widgets/follow_button.html?screen_name=SneakerReport&amp;showcount=false&amp;show_count=false"></iframe><!--nextpage-->
No. 1 - Michael Jordan Wins Fourth MVP Award in the Air Jordan XI
On May 20, 1996, Michael Jordan won 109 of 113 media votes to be selected as the 1995-96 NBA MVP. Considering Jordan led the Bulls to their historic 72-10 regular season record, and would eventually lead them to the NBA title, there's no wonder why the results were nearly unanimous. Weeks after winning the MVP, His Airness would lead the Bulls to their first championship of their second three-peat. Jordan repeated as MVP in 1997 and 1998, finishing his career with six total Maurice Podoloff Trophies.
Tinker made them shine, and Mike made them fly. During '96, Jordan wore the cutting edge Air Jordan XI. The Air Jordan XI pushed the envelope with its patent leather and ballistic mesh construction, along with a supportive Carbon Fiber midfoot shank. If you're looking to pick up a pair, you'll have to wait until this holiday season.<!--nextpage-->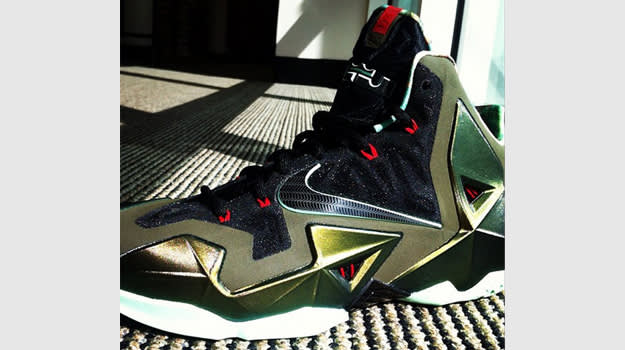 No. 2 - FIRST GLANCE: Nike LeBron XI
Spotted on the feet of King James over the weekend, we now have an idea of what LeBron's next signature sneaker from Nike will entail both in terms of performance and aesthetics.
An even more beefed up version of the LeBron X, the LeBron XI features an asymmetrical design on the upper, as well as a re-worked version of Foampsite material that's being referred to as Armorposite for foot support and stability. Dynamic Flywire makes its return on the upper, though it's not quite as visible as it was on previous LeBron models. The biggest noticeable change on the shoe is the lack of a visible full-length Zoom unit. Although, surely there's got to be Zoom cushioning tucked away somewhere underneath.
The LeBron XI is set for an October 2013 drop, with a price tag of $200 for the base model.<!--nextpage-->
No. 3 - Dikembe Mutombo Sets Playoff Blocks Record in the adidas Mutombo 2
No, no, no. Dikembe Mutombo may be all smiles in his Geico commercials, but the towering 7'2″ center was one of the biggest defensive forces of the NBA during the '90s. An eight time NBA All-Star and four-time NBA Defensive Player of the Year, Mutombo finished his career with a total of 3,256 blocked shots. This total is the second best of all time next to Hakeem Olajuwan.
On May 21, 1994, Mutombo had two swats as his Denver Nuggets were eliminated from the NBA Playoffs by the Utah Jazz. He recorded 38 total blocks during the seven-game series, which broke a record previously set by Hakeem Olajuwan and stands as the most of all time. During this series, Mutombo was laced in his second adidas signature model, the adidas Mutombo 2. Although there's no word on a re-release of this model, the original adidas Mutombo will be releasing this fall.<!--nextpage-->
No. 4 - H&M Brings Fashion to the Tennis Court
Last year, retail giant Uniqlo made headlines in the tennis sphere by introducing a line of performance apparel for Novak Djokovic. This year, Uniqlo is being joined by another well-known brand that is looking to test the water of the tennis market.
Hennes and Mauritz, more commonly known as H&M, is the No. 2 fashion retailer in the world. But since earlier this year, the brand has delved into performance with the help of tennis vet Tomas Berdych. While H&M hasn't quite released an official tennis collection just yet, Berdych has been rocking the brand on the tour for since January. When the H&M court collection does drop, it will be interesting to see what other players (if any) go for the fashionable look.<!--nextpage-->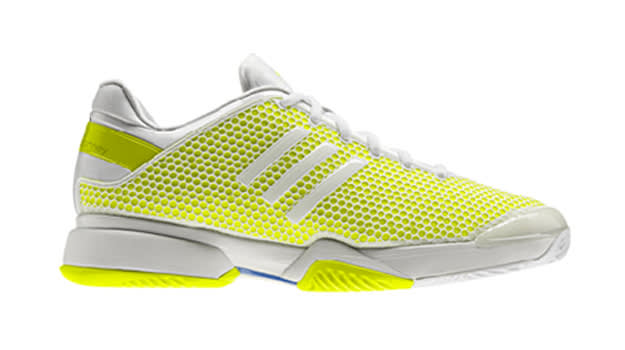 No. 5 - adidas by Stella McCartney Barricade
Following the launch of the adidas by Stella McCartney Barricade spring apparel collection, the Three Stripes has rolled out a new version of the popular tennis shoe to be worn by Caroline Wozniacki at the upcoming French Open.
The shoe, which features the trademark adidas by Stella McCartney look, fuses the best of performance and style to give female players a boost of confidence on the tennis court this summer. Featuring an all mesh upper for improved breathability, the adidas by Stella McCartney Barricade comes in a lightweight package designed for speed, and lots of it. Despite its lightweight build, the shoe still manages to offer proper support and durability to get you through even the toughest of matches.
With a price tag of $125, the adidas by Stella McCartney Barricade will be available starting June 1.