Young Thug, M.D., has come strapped with a stethoscope. The biopsy has confirmed a diagnosis: cancer. The treatment: slime radiation therapy. The prognosis: a hit single.
Inspired by Lil Boosie's recent battle with kidney cancer, I'm Up's straightforwardly titled lead single, "F Cancer," brings awareness to the pervasive disease by using one of rap's hottest, most avant-garde artists as a platform.
Unlike Boosie's song, "Cancer," in which he laments his own diagnosis and speaks quite openly on the emotional toll it took, this song is not sad. It does not bemoan the countless lives taken by cancer, nor does it highlight people's heartbreaking experiences dealing with it, but it directs a triumphant energy toward our war against it. Coinciding with the apparent success of Boosie's nephrectomy (surgical kidney removal), Thug's single serves as a battle cry for all those afflicted, survivors, relatives, and otherwise.
It opens: "Fuck cancer, shout out to Boosie. I fucked your main bitch, I gave her cooties." Thankfully for her, the cooties infection contracted by your main bitch is benign or at least curable. Thug then goes on to self-medicate with cannabis, a bottle of Actavis codeine syrup, and half of a Percocet. Whether or not he took the Hippocratic Oath in medical school, these are all self-written prescriptions by Dr. Thug.
The other surgeon in the operating room is Dr. Quavious, or "Quavo," as his hospital colleagues lovingly refer to him. Quavo spent his residency under the attending physician, Gucci Mane, and went on to start his own medical practice with fellow practitioners, Takeoff and Offset. Their specialty? The extremely contagious, pandemic disease known as "Brokanese." After years of training in that field, Quavo offers his expertise to Dr. Thug's clinic.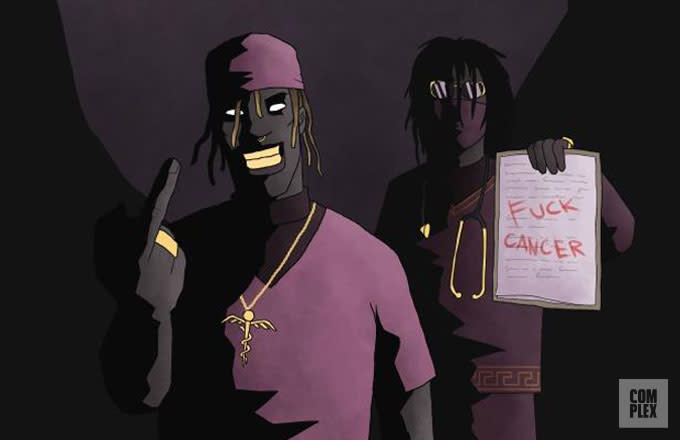 "I put ice in all my watches, came in in Versace. Perc and gas, molly, we got plenty options," opens Quavo, for the song's second and final verse. Versace, apparently, designed an unprecedented, custom pair of scrubs for the Migo doctor. He does not address cancer at all, but his presence and encyclopedic pharmaceutical knowledge is always appreciated.
But of course, we would be remiss if we did not pay homage to a certain medical pioneer, Lil Wayne. Back in 2008, his song "Dr. Carter" envisioned a world in which he treated struggling rappers, specifically. He dedicates a verse to each one of his patients, who are suffering from lack of concepts, originality, flow, style, and a host of other terrible, crippling rapper ailments. Unfortunately, despite his best efforts, all of his patients perish. At the time, he could not resurrect hip-hop.
Years later, Dr. Thug carries the caduceus forward. That is, the traditional symbol of medicine, depicted by two snakes winding around Hermes, the winged messenger of the Greek gods. Perhaps Thug foreshadowed himself serving the people in this capacity when he said, "They rocking Jordans, you in a Hermes dress," back on the 2013 song "Scared of You," from his 1017 Thug mixtape.
Like many of its predecessors, Young Thug's new song will probably metastasize into a huge hit. It will be difficult to suppress, spreading like a virus until it eventually lodges itself in the brains of every rap listener.