You know how DAD does; we're not fans of hearing that people's music has been stolen. And when we hear a new story about music being jacked, we have to investigate. Here goes: Earlier today, Parisian duo AGLORY has called out ETC!ETC!, accusing the moombahton/trap producer of stealing their track "Chromaggus" for his remix of "No Stopping Us" by Dirtyphonics, which dropped on Dim Mak just this week: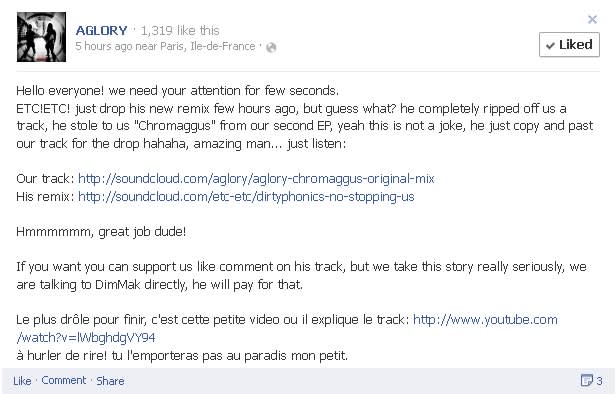 This would be an interesting development in an on-going series of accusations of stolen music this year, with everyone from will.i.am to Juke Ellington being caught up in some kind of music stealing scandal this year. The SoundCloud link of the remix to ETC!ETC!'s page had been removed, prompting us to check out his Twitter page to see if he made any comments, and found this tweet: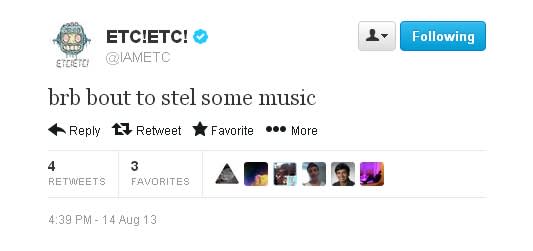 When we asked ETC!ETC! for his side of the story, he let us know that he'd not heard their track until today. He does admit to using a sample pack, which could have been the same one AGLORY used, and linked us with a couple of videos as proof of working on the track (where you can see the Ableton sessions):
This Vine, which was posted on June 4:
This preview, via Dim Mak's YouTube page, was posted to on August 8: We'd inquired about the reason the SoundCloud page was taken down, which ETC!ETC! explained: "I reached out to AGLORY this morning first thing when I woke up because my phone was blowing up. Went online to find this entire mess. Reason I took it down was to show my respect, that 1) I mean no harm and 2) that I would contact Dim Mak to make another remix because as a man, I felt like a douche." He said that he's not a fan of "people stealing other peoples work, as it has happened to me in a bigger way, but that's neither here nor there." ETC!ETC! did reach out to AGLORY, who told him that they are "peaceful guys" who "don't want problems," but then one has to wonder why they'd post about this on their Facebook after they reached out to (and apparently spoke to) Dim Mak about the situation. Don't be surprised if this ends up back on ETC!ETC!'s SoundCloud. We'll keep you updated with more information on this as we receive it.
UPDATE Both ETC!ETC! and AGLORY have told us that they've spoken and reconciled their differences.
@DoAndroidsDance etcetc and us talked together, this story is now finished.

— AGLOGLO (@AGLORYmusic) August 15, 2013
(Walmer Convenience, Elektrokill)