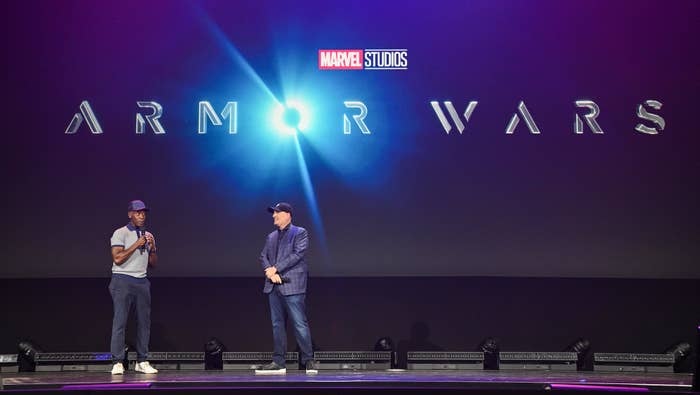 First, the bad news: Marvel has reportedly pulled the plug on its much-anticipated Armor Wars series. The good news? It's being reworked into a feature film.
The project was originally planned as a Disney+ original starring Don Cheadle as Colonel James "Rhodey" Rhodes, a.k.a. War Machine. The actor and Marvel chief creative officer Kevin Feige teased the show during this month's D23 Expo, where they revealed its official logo. Though they kept details to a minimum, the Oscar nominee and the Marvel Cinematic Universe mastermind confirmed Armor Wars would be a six-episode series that followed the events of the forthcoming Secret Invasion.
Now sources tell the Hollywood Reporter that Marvel has scrapped the TV show in favor of a full-length movie. The magazine writes that "the studio was committed in getting the story told the right way and in that process realized that a feature was better suited for the project," insiders said, adding that it'll get a theatrical release. 
Cheadle spoke about Armor Wars during a recent interview with ComicBook, saying it would showcase a new side of Rhodey. "It's going to be very surprising to a lot of people," said the 57-year-old, who debuted in the role in 2010's Iron Man 2. "And the great thing is that there's just going to be so much opportunity for him to learn a lot about himself and for us, hopefully, to be able to really get behind what makes him tick."
The 2021 Disney+ series The Falcon and the Winter Soldier was Cheadle's eighth appearance in an MCU project.
Armor Wars was expected to start filming 2023. It's unclear how the shake-up will affect the production schedule. Sources say Cheadle will remain on the project along with Yassir Lester, who was tapped as the show's lead writer.
D23 also saw the reveal of the trailer for the aforementioned Secret Invasion, starring Samuel L. Jackson's Nick Fury and featuring Cheadle as well as the return of Captain Marvel alum Ben Mendelsohn, Agents of S.H.I.E.L.D. actress Cobie Smulders, and Martin Freeman as Everett K. Ross.