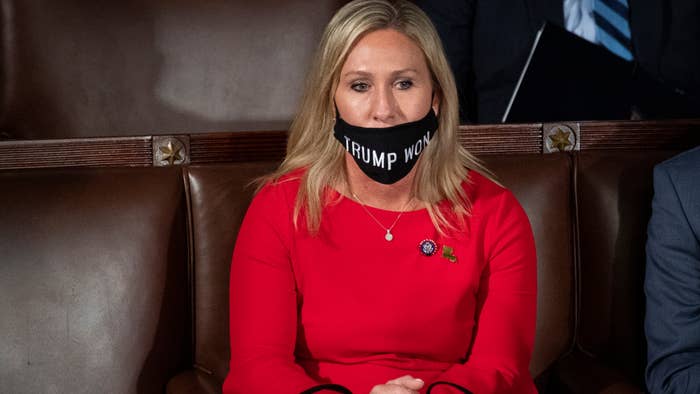 House Speaker Nancy Pelosi said Thursday that Republican Rep. Marjorie Taylor Greene's recent "verbal assault" on Rep. Alexandria Ocasio-Cortez could result in an investigation by the Ethics Committee.
During a press conference, Pelosi referenced the incident, saying that Greene had engaged in "verbal assault" and "abuse." The incident, reported on by the Washington Post on Wednesday, occurred outside the House chamber and saw Greene first shouting at Ocasio-Cortez. When she did not stop walking to respond to Greene's screaming, Greene—whose QAnon-linked far right ideology has repeatedly spurred baffling headlines—is said to have shouted at Ocasio-Cortez about Black Lives Matter activists (falsely referring to them as a "terrorist" group). Greene, per the Post, also shouted something about "radical socialist."
Greene has denied this, saying in a tweet on Thursday "there was no screaming."
On Thursday, Pelosi said Greene's behavior marked a dishonor to what's expected at the House.
"It's so beyond the pale of anything that is in keeping with bringing honor to the House, or not bringing dishonor to the House," Pelosi said, per NBC News. "It's so beyond the pale that you wonder … it probably is a matter for the Ethics Committee."
This type of behavior, Pelosi added, can be particularly traumatic for other members of Congress due to the fatal Capitol riot earlier this year. While Republicans in the House should craft a "respectable behavior standard" for their members, Pelosi further explained, this could "rise to the level of an ethics complaint."
Previously, a spokesperson for Ocasio-Cortez called on the Sergeant at Arms to take "real steps" toward ensuring Congress was a safe place for all. The spokesperson also noted that one member of Congress has already been forced to move their office due to Greene's behavior.