 Modern dating apps have revolutionized the way we approach relationships, but when it comes to race and dating, we're still very much stuck in the past.
Since Tinder's launch in 2012, millennials have tried to understand the app's place in our sexual lives, only to conclude that "hookup culture" is largely insidious. Journalist Nancy Jo Sales best illustrates these frustrations in her recent Vanity Fair piece, "Tinder and the Dating Apocalypse." By detailing the cavalier online-dating experiences of upwardly mobile twentysomethings, Sales paints a dysfunctional portrait of our generation's collective love lives. What she fails to note, however, is how factors like race can have a significant impact on how millennials navigate apps that are supposed to help us find love.
POC dating FOMO As a 22-year-old black woman, I read the piece—and Tinder's impassioned Twitter rebuttal—with a mix of amusement and awe. Sales' piece included much of what I'd learned to dread about modern dating: the endless swiping, the overabundance of "f*ck boys," and the callous one-liners from my male peers. But one notable difference between my experience with dating apps and those of Sales' millennials is their sheer volume of Tinder hookups. While reading her piece, I felt like the first-time spectator of a secret sport, fascinated by the chasm between their "body count" and mine. Were these millennials really using the same app I'd been deleting and redownloading for two years?
I felt a twinge of FOMO, as if I was somehow missing out on the sexual revolution (or devolution) of which Sales wrote. To my black girlfriends and I, Tinder was just another app showcasing the worst our cities had to offer—that is, on the rare occasions we even matched with anyone. My experience with it looked nothing like Sales' fiery apocalypse, and everything like an arid desert.
When we talk about hookup culture, we often fail to specify exactly who is hooking up—and that matters (Sales doesn't divulge the races of her interviewees, but they're mostly monied millennials). In 2009, OkCupid released a watershed study that quantified online dating's uncomfortable racial bias, confirming what many people of color already knew: It's just another another platform that allows racism to thrive.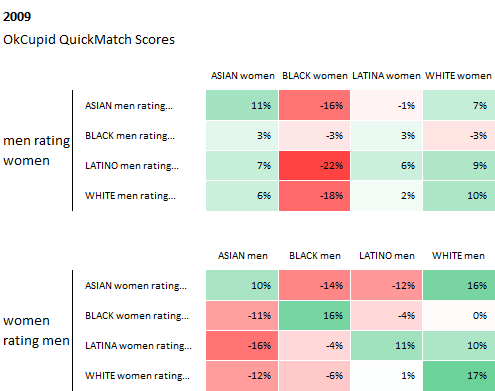 Niche dating apps to the rescue?
But alternatives to general dating apps like Tinder are emerging. In a bid to produce better matches, some require users to answer myriad questions about themselves, then analyze the large trove of responses. This big-data approach to dating—or "big dating"—reflects our generation's desire for stronger romantic connections, and contrasts sharply with how previous generations used to think about romance, when proximity was often the defining factor of a match. In 2003, an early mobile dating app called Proxidating helped users find nearby matches via Bluetooth. Thirteen years later, most dating apps are designed with user location in mind, so entrepreneurs are brainstorming new ways to stand out from the pack.
The result? Niche dating sites that attract people with very specific areas of interest. There are sites for farmers (Farmers Only), dog lovers (Tindog), appreciators of bearded guys (Bristlr), and those who like tall men (Tall Friends), among many others. Last year, Stylecaster praised niche dating apps as an alternative for those looking to hook up and stay hooked up. In other words, shrinking one's dating pool may actually help people find long-term romantic success.
It's no surprise, then, that race has also inspired niche dating apps. Newcomers like SoulSwipe, MiCrush, and AsianDate explicitly cater to black, Latino, and Asian users, respectively, by making race their main selling point. General dating apps, on the other hand, treat it largely as an afterthought.
"People gravitate towards race-specific dating apps because they fill a need or void that the individual is looking for, and not finding on general dating apps." Wale Ayeni, co-founder of Meld, a dating app for black professionals, told NTRSCTN via email.
Despite the recent launches of multiple race-specific dating apps, suggesting user interest, some commentators question their usefulness. Last year, writer Collier Meyerson asked, "Are black dating apps really necessary?" and spent a week experimenting with Bae, Meld, and SoulSwipe. Ultimately, she concluded that such apps benefit millennials of color because they're "creating agency for black singles" and expanding their options.
It's a benefit that sex educator Michelle Hope echoes.
"In general, [race-specific] dating apps add a number of available options–especially for women," she told NTRSCTN. "There's this idea that people want to be connected to who they have common interests with, so it becomes easier to date."
Hope added that such apps also provide value by validating minorities' attractiveness and likeability.
"[They provide] validation that you're attractive, and that someone liked you enough to swipe right," she said. "In some ways, they provide that instant gratification that some people are looking for."
But the question shouldn't be if we need race-specific dating apps, but rather why we need them. Exactly what do users get out of using these apps?
Fighting fetishes and stereotypes
Dating is hard enough already, but for millennials of color just looking for a swipe, it can get downright depressing. When OkCupid revisited its "Race and Attraction" study in 2014, the site found that not much had changed when it came to users' racial biases. As in 2009, black people and Asian men consistently received the lowest response rates on OkCupid, confirming similar results from a 2013 Facebook study.
Last year, writer Ravi Mangla recounted his discouraging experience with dating apps. "People of color open to dating outside their own race must resign themselves to the fact that large portions of the dating pool, white or otherwise, exist outside the sphere of possibility," he said.
That same year, women of color began to write candidly about their negative Tinder encounters, noting suitors' fetishization of their race. For her part, writer Eternity Martis said, "Not much has changed the minds of men who think that black women have no talents except those in the bedroom."
Sexpert Hope said such fetishization is common in spaces where people have limited exposure to other races.
"Often, white men want to date [women of color]; they just don't know how to approach them," she explained. "They've been told that women of color are X, Y, Z, or they've bought into the misrepresentation of them in media."



white men want to date [women of color]; they just don't know how to approach them.
Dating apps connect users to people they're less likely to encounter organically. While some seize the opportunity to learn about those from different backgrounds, others bombard users of colors with racist messages. Although there's no guarantee that race-specific dating apps will help minorities avoid this fate, many such apps do try to confront the problem.
Unlike their mainstream counterparts, apps like SoulSwipe, Bae, and Black People Meet positively highlight race as part of their marketing strategies. For example, SoulSwipe's tagline is "Black Dating, Done Right," while Bae promises to "connect you with more people of color." This approach, then, tries to ease any racial anxieties users of color sometimes experience while dating online.  
"We've also seen data from our app [showing] that African-American females are more active, and feel more comfortable, when dating within the community," SoulSwipe cofounder Gianni Coleman told NTRSCTN via email. "We see that individuals of the same background are more responsive to one another than anybody else."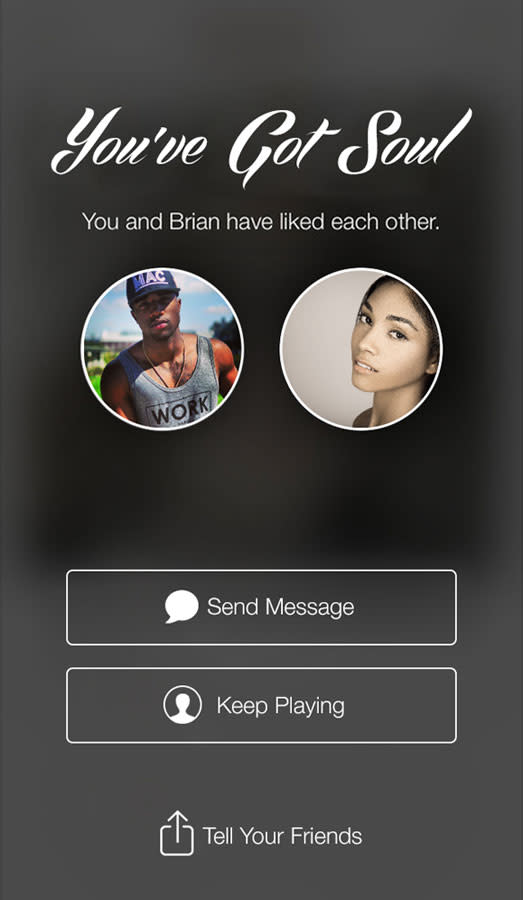 For his part, Bae founder Brian Gerrard positions his app as a safe place for black daters to connect.
"As a black man with black male and female friends, [I] know that mass-market dating apps were simply not made for us," he told NTRSCTN via email. "I have asked our users what their experience was like on Tinder, and they all have similar responses: 'There is no one there who looks like me, or is looking for someone who looks like me.'"
Every founder we interviewed, however, emphasized that their race-specific dating app isn't exclusive, with SoulSwipe, Bae, Meld, and Black People Meet open to interested users of other races. The difference is in the heart of their business plans: to improve the online-dating experience for people of color.
The future
As people seek deeper and more meaningful romantic connections, the "big dating" industry will inevitably grow. In addition to race-specific apps, general dating apps are now rolling out new features to cater to users' specific needs, à la Tinder's STD-testing locator and OkCupid's offering for polyamorous users.
"Niche mobile dating apps will continue to gain a lot of traction simply because of the inherent nature of mobile apps in general. It is fair to assume that people will have several dating apps on their phone; ultimately, you find love where you find love," said Meld founder Ayeni.



ultimately, you find love where you find love.
"Sometimes, the foundations of long-lasting relationships simply start with having shared common experiences and mindset."
It's nice to imagine a world in which race doesn't play a factor in who we love, but our favorite apps show us the stark reality that biases are alive and well, according to Bae founder Gerrard. "What dating apps don't filter, the user will anyway. People choose who they are interested in based on preferences—whether it be height, personality, or race—and I don't expect that to change," he said.
As long as these biases exist, then, race-specific dating apps will continue to have a place in our smartphones and our lives.
This post originally appeared on NTRSCTN.com