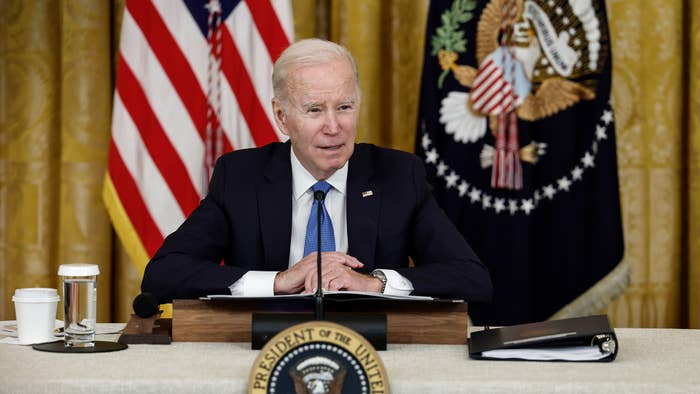 UPDATED February 11, 5:35 p.m. ET: On Saturday, Canadian Prime Minister Justin Trudeau ordered a takedown of an unidentified object that violated Canadian airspace.
CNN reports Trudeau spoke with President Joe Biden, confirming that Canadian forces will recover the object. It is unclear if this object is related to another object that was shot down in Alaska or the Chinese spy balloon from last week.
See original story from 2/10/2023 below.
Less than a week after the U.S. shot down a suspected Chinese spy balloon, the White House has confirmed a "high-altitude object" flying over Alaska airspace has been shot down, NBC News reports.
During a briefing at the White House on Friday, National Security Council official John Kirby announced the object was shot down. "The object was flying at an altitude of 40,000 feet and posed a reasonable threat to the safety of civilian flight," said Kirby. "Out of an abundance of caution, and at the recommendation of the Pentagon, President Biden ordered the military to down the object and they did and it came inside our territorial waters and those waters right now are frozen."
Kirby added that the Pentagon will address the situation as more information is made available. The U.S. military currently does not know where the object came from, or who it belongs to. Kirby said that it doesn't appear to be a balloon, and it's being referred to as an object "because that's the best description we have right now." He said it's unclear whether it's state-owned, corporate-owned, or privately-owned. "We just don't know," he said.
"A recovery effort will be made and we're hopeful that it'll be successful and then we can learn a little bit more about it," he said. The object was shot down by pilots in fighter just off the northeast of Alaska, by the Canadian border and over the Arctic Sea. The size of the object has been described as "roughly the size of a small car." Kirby said that it doesn't appear as though the object could move independently like the balloon shot down last week.
The Biden administration ordered a suspected Chinese spy balloon off the Atlantic Ocean coast outside South Carolina on Saturday, Feb. 4. Shortly before the balloon was shot down, the Federal Aviation Administration issued a ground stop order for airports in the area "to support the Department of Defense in a national security effort."