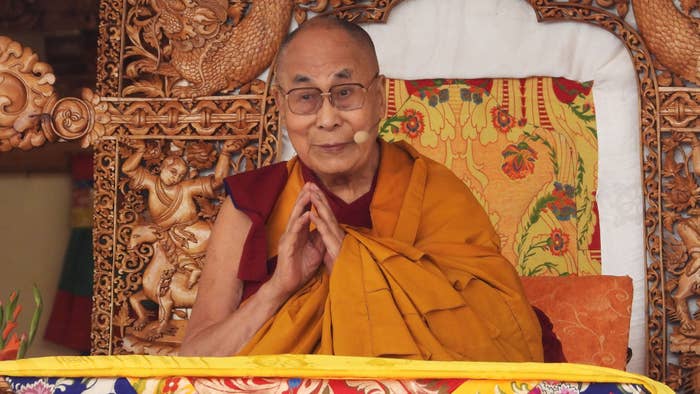 The Dalai Lama has issued an apology after a video showing him asking a child to "suck" his tongue sparked outrage online, per CNN.
"A video clip has been circulating that shows a recent meeting when a young boy asked His Holiness the Dalai Lama if he could give him a hug," said the office for the Dalai Lama on Monday. "His Holiness wishes to apologize to the boy and his family, as well as his many friends across the world, for the hurt his words may have caused. His Holiness often teases people he meets in an innocent and playful way, even in public and before cameras. He regrets the incident."
The video was taken in the city of Dharamshala, India in February, and shows the young boy approaching the Dalai Lama and asking to hug him. The 87-year-old pointed to his cheek and said, "First here." The boy kissed him on the cheek and gave him a hug, at which point the Dalai Lama pointed to his lips and said, "Then I think finally here also." He pulled on the boy's chin and kissed him. "And suck my tongue," he said before poking his tongue out.
The spiritual leader—who was named the 14th Dalai Lama in 1940—has been based in India following the 1959 Tibetan uprising that effectively exiled him from the Chinese-occupied region. The Delhi-based children's rights group Haq: Center for Child Rights has condemned the video, and refuted the assertion that the act has anything to do with "showing tongue" in Tibetan culture.
The boy in the clip has not been identified. 
In 2019, the Dalai Lama caused controversy after he suggested that if his successor is a woman they should be "attractive." He issued an apology for that incident, too, and suggested the comment was intended to be humorous but it got lost in translation. He asserted that he supports gender equality, and denounced the objectification of women.