LeBron James, Meek Mill, and More React to George Floyd's Death
The image of a white officer kneeling on a black man's neck has been juxtaposed with Colin Kaepernick's #TakeaKnee protest against police brutality.
Getty
Image via Getty/Carlos Gonzalez/Star Tribune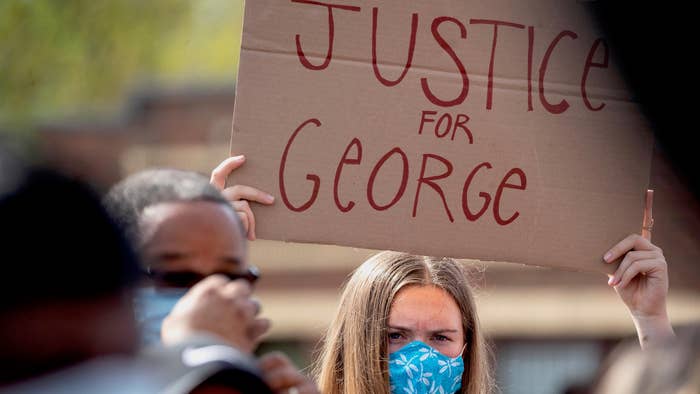 Notable figures across entertainment, sports, and politics are speaking out against the death of George Floyd, an unarmed black man who allegedly suffocated while being detained by police.
The tragic incident occurred Monday in Minneapolis, after officers attempted to arrest Floyd on suspicion of forgery. A passerby filmed an officer kneeling on the back of Floyd's neck, as the 46-year-old was face down on the pavement screaming, "Please, I can't breathe!" The officer ignores Floyd's pleas and refuses to release the man from his hold. Moments later, Floyd goes quiet and appears to lose consciousness. He was transported to the hospital and was pronounced dead.
LeBron James and Snoop Dogg were among those who juxtaposed the disturbing image of the kneeling officer to a photo of Colin Kaepernick's #TakeaKnee demonstration against police brutality. Kaepernick's girlfriend, Nessa, retweeted the side-by-side pictures, which showed "This ..." over the officer and "...Is Why" over the former 49ers QB.
Retired NFL athlete Donte Stallworth echoed the message in a tweet that included footage of Floyd pleading for his life.
Minneapolis Police Chief Medaria Arradondo confirmed Tuesday that the four officers involved in the incident were no longer with the department. City mayor, Jacob Frey, shared a subsequent tweet stating the unidentified officers had been terminated.
The FBI and state Bureau of Criminal Apprehension are investigating Floyd's death, while the Hennepin County Attorney's Office is working with federal prosecutors to determine if criminal prosecution will be pursued.
"We promise a thorough, expedited review consistent with our on-going commitment to justice," the county attorney's office said in a statement. "Every person is entitled to fairness; no person stands above the law."
On Tuesday night, thousands of protestors flooded the streets of Minneapolis calling for an end to police brutality as well as justice for Floyd. According to Star Tribune, demonstrators were met with police in riot gear who fired tear gas and sandbags. The outlet reports protestors were seen throwing water bottles and other items at officers, causing police SUV windows to break.
"This will happen again if we don't get out in front of this," community activist Al Flowers told the Tribune about the clash. "[This is] one of the most egregious murders I've ever seen."
Flowers added that the officer who kneeled on Floyd's neck should face prosecution. 
When civility leads to death, revolting is the only logical reaction.

The cries for peace will rain down, and when they do, they will land on deaf ears, because your violence has brought this resistance.

We have the right to fight back!

Rest in Power George Floyd
After another night of protests erupted, Colin Kaepernick took to Twitter to make his thoughts be known, writing, "We have the right to fight back!"
Celebrities, politicians, and sports stars have made calls on social media using the hashtags #BlackLivesMatter and #GeorgeFloyd.
You can read some of the reactions below.
You deserved your breath, your dignity, your life. Not to die in the street, murdered by a white cop's knee on your neck. You deserve our tears, our prayers, our rage, our action. We must act - for you - and for all of those were no cameras are present. We must.

#GeorgeFloyd pic.twitter.com/JeMNUtkXv6
The black community needs our help. They have been unheard for far too long. Open your ears, listen, and speak. This isn't politics. This is human rights.