It's bad enough when you have to work through the Fourth of July while the rest of America is enjoying a nice day off. Now imagine your day at the office was spent surrounded by sweaty, smelly people, and one of them proceeded to puke all over you while you were live on camera.
That's the exact predicament facing KTLA reporter Wendy Burch, who spent her July 4 on assignment at the annual Hermosa Beach Ironman competition in Los Angeles County. The Hermosa Beach Ironman isn't your ordinary test of endurance, and includes a special twist at the end of the race—competitors follow up the running and swimming portions of the program by attempting to chug a six pack of beer, separating the true warriors from the weaklings.
While Burch is busy interviewing one of the contestants, you can see things start to go poorly around her. One bikini-clad woman is on the ground on her knees, with the crowd losing their minds as the pukes up her beer. Undeterred, Burch continues interviewing her subject-of-interest, and then disaster strikes—a cascade of vomit flies in from off-screen, soaking the interview subject and Burch all at once.
As you can tell from his reaction, the man who got the majority of the puke on him has seen some shit.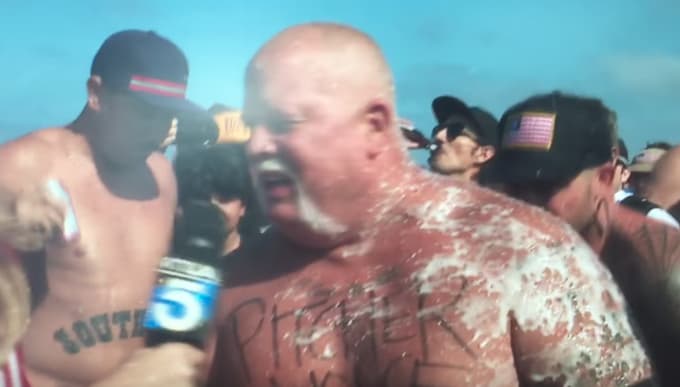 If you can stand there and continue going through the interview while some rando is reenacting The Exorcist all over your the left side of your body, you are really about that life. Burch's first reaction isn't as calm, but a follow-up video shows she continued to conduct interviews after the anonymous puker let loose, and she admitted in a blog for Huffington Post she did not not know her video feed cut out on the broadcast, and so she carried on thinking she was still on TV. Tragic.
Then again, that's the mark of a true professional. You can catch the original broadcast of the indecency up top, and laugh right along with her co-workers as Burch has her moment of infamy.