If the No. 1 thing you're complaining about in the world is how much a president's traveling costs taxpayers, then you probably need to build a personality based around something other than constant criticism of politicians you don't like. It's expensive. Reasonable people know that. They're not traveling on commercial planes by themselves.
But President Donald Trump just happened to build up his political name by criticizing just about everything he could about President Obama, including stuff that was just made up, and therefore it seems more than fair to point out some pretty blatant hypocrisy.
For instance, when he was still basically just trolling for re-tweets, he sent out this pair of messages that criticized the apparently too-exorbitant-at-the-time expenses of Obama's presidential travel: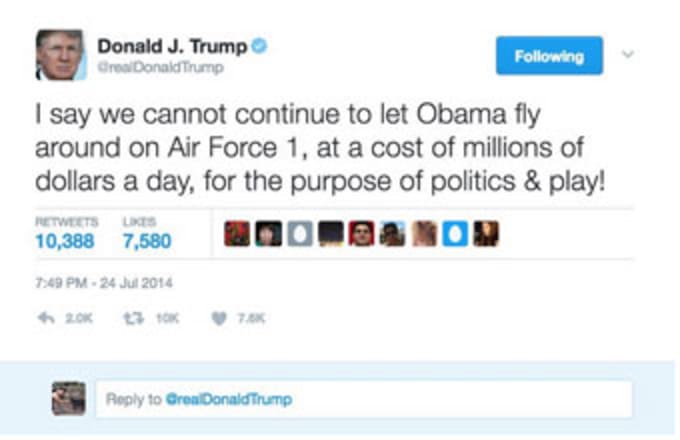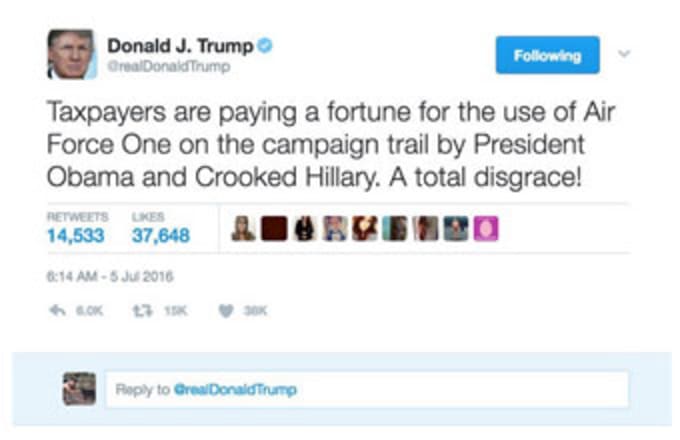 You may be wondering why this is relevant. Well, according to a recent report by The Washington Post, the three weekend trips he's taken to his private Mar-a-Lago club in Florida have probably already cost almost as much as an average year of travel during Obama's presidency.
"[Those getaways] probably cost the federal treasury about $10 million, based on figures used in an October government report analyzing White House travel," the Post said. "[I]ncluding money for Coast Guard units to patrol the exposed shoreline and other military, security and staffing expenses associated with moving the apparatus of the presidency."

Those trips were then combined with an estimated cost of $1.3 million that had to be spent on Secret Service protection for a pair of overseas trips for Trump's adult sons. That adds up to about $11.3 million, which is just $800,000 short of the $12.1 million average that President Obama spent on travel annually. Sounds like it's easier to tweet than govern, who would've thought?
We reached out to for a comment from Donald Trump's PR, but have yet to receive one.
Also, you can read a breakdown of Obama's expenses here.