ComplexCon returns to Long Beach Nov. 6 - 7 with hosts J. Balvin and Kristen Noel Crawley, performances by A$AP Rocky and Turnstile, and more shopping and drops.
Secure your spot while tickets last!
A new poll that has rolled out in the wake of the Republican National Convention shows that the event made Donald Trump a bit more popular: The GOP presidential nominee is now leading Hillary Clinton by a slight margin in some battleground states.
The CBS News Battleground Tracker poll, released Sunday, shows that support for Trump has risen to 42 percent, up two points from 40 percent before the convention. Democratic nominee Hillary Clinton's numbers have held steady at 41 percent. The poll tracks opinions from voters in Colorado, Florida, Iowa, Michigan, North Carolina, New Hampshire, Nevada, Ohio, Pennsylvania, Virginia, and Wisconsin.
Of the 23 percent of voters who said the convention made them "much more positive" toward Donald Trump, 34% were over 65 years old. Only 13 percent of younger voters ages 18-29 reported feeling the same. Conversely, 24 percent of those polled said the convention made them feel "much more negative" toward the candidate.
Those who felt "much more positive" toward Trump were also overwhelmingly conservative—46 percent self-identified as Republican (compared to 3 percent of Democrats and 22 percent of Independents who reported the same), and 39 percent identified as "White Evangelical."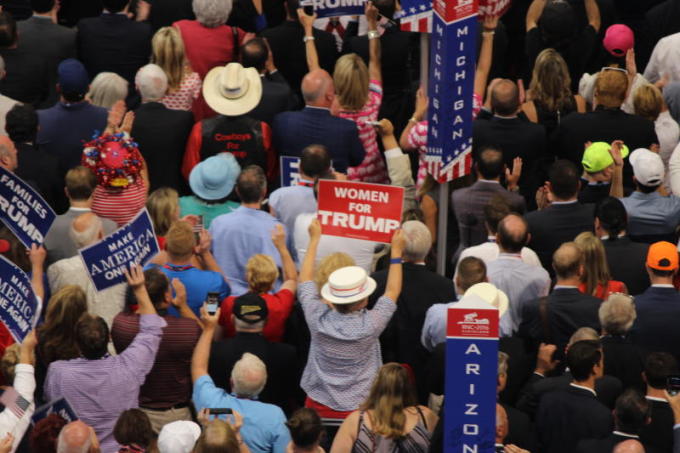 In remarks at the White House last Friday, President Obama responded to parts of Trump's RNC speech that claimed illegal immigration and violent crime are threatening the safety of U.S. citizens. 
"It turns out that the rate of illegal migration into the United States today is lower by two-thirds than it was when Ronald Reagan was president. We have far fewer undocumented workers crossing the border today than we did in the '80s or the '90s or when George Bush was president," Obama said, according to a CNN report.  
The Democratic National Convention begins July 25 and will run through July 28.